Laneia, Executive Editor
I'm not sure I can talk about what it means to be an adult in my thirties without telling you what it meant for me to be an adult in my teens.
All I ever really wanted to do was leave my hometown. The only way people seemed to do this was to go to college out-of-state, so that's what I'd always assumed I'd do. But there was always something kinda unbelievable about that dream. Like when people asked me where I wanted to go or what I'd study, my answer was usually a rehearsed and empty lie involving schools I'd never get into. So when I got pregnant and married at 17, those dreams ended, and although it was depressing and disappointing (not to mention terrifying), it was a relief, too, because it meant I wouldn't have to figure anything out now. I wouldn't have to try hard and risk failure, or navigate things I'd never seen another human navigate! I could just follow the path that I'd been watching other people take all my life! I told myself I was doing the things I would've done anyway — get married, have kids, set up house with a man, learn how to make lasagna — I was just doing them sooner than I'd imagined.
From the age of 17 forward, I had nothing in common with the rest of my peer group. So instead of venturing out into the world and "finding myself" like most people in their late teens and early twenties, I folded back into my family. Slade was raised with extensive help from his grandmother and great-grandmother for the first three years. Finishing high school and finding pride in my role as a housewife and mother hinged almost entirely on the acceptance and support of my matriarchs, so they became my peer group.
For me, being a queer adult has been one great reconciliation. It's meant forgiving — actually forgiving — myself for finding happiness in things that I'd deemed 'straight people things.' Like realizing that my brand of parenting was queer before I even identified myself as such.
Sometime around my mid-twenties I had an epiphany that actually, I probably wouldn't have "eventually" done these things I'd been embracing, because it turned out I was gay, so marrying a man and having kids with him shouldn't have been in my cards. And yet there I was! They were totally my cards, and I'd been playing them for so long on autopilot, and without peers I could relate to on levels beyond familial attachment, that they didn't even feel like mine anymore. I didn't realize how dangerously depressed I was and I thought just coming out and leaving my husband would fix everything, but of course it didn't.
I tend to burn every single bridge right down to the ground when I embark on major life changes, and coming out was no exception. But this time I torched bridges to my own self, and it took several years to start building them back. I'd stopped cooking, my relationship with my children grew detached and unfamiliar, I coddled an extremely cynical view of anything I deemed 'heterosexual', like marriage, parenting, capitalism, or anything that looked too easy or too fun. I was depressed and hurtling toward a jagged little rock bottom, which I slammed into a few times. Rebuilding those bridges back to myself has been the most interesting personal shit I've handled in a while.
For me, being a queer adult has been one great reconciliation. It's meant forgiving — actually forgiving — myself for finding happiness in things that I'd deemed 'straight people things.' Like finding happiness in a world that isn't radical to the untrained eye. Seeing myself in a Sunday Scrapbooking project. Lying completely down on a bed of knowing I have two weeks of homemade meals planned out and half of them are frozen. Realizing that my brand of parenting was queer before I even identified myself as such, and drawing real strength from that. (I owe this realization to Aja, during our parenting discussion group at last year's A-Camp, which I talked about here.) These things have been invaluable, and I wouldn't have had them without this queer peer group.
We talk a lot about how much we've learned and what we know as thirtysomethings, but there are a lot of times that I look to my thirteen or twenty year-old self to guide me to the realest shit, because those are the times I got elbow-deep in unselfconscious self work. I try to balance those selfish findings of myself with what I've learned of the world as an aware adult, and that's led me to some of the best conclusions: that I can be excited about a girl, that I can marry her, that I can plan dinners for weeks in our tiny freezer, that we can make plans because even if we fail, I'll still have her.
This is the first time I've felt on par with my peers since 1998. I'm embracing what feels authentic to me and just me, regardless of where it falls on some spectrum of authentic queerness or authentic radical motherhood. It's helping me feel ready to do the scary shit, like move back to the woods and homeschool these weirdos and grow my own cucumbers because why in all fuck am I depending on anyone else to do that for me? This is just the most basic housewife bullshit and yet it is the most alive I've felt because I got here on my own terms this time. Like I surrendered and suddenly found every single one of my muscles and now I'm just aching to use them.
---
Infographic #3: LGBTQ Parenting

---
Bren, Doer of Things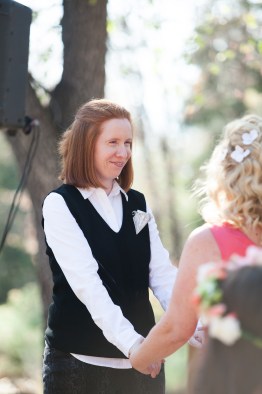 The major difference between my adulthood and that of my non-homotastic friends is that everything has been delayed so so much. I just got married last year. They'll be celebrating anniversaries of 5-13 years. I'm just now thinking about having kids and they already have them. Their kids will be graduating from college when I'm picking out a pre-school. They did the thing in their early 20s where they tried crazy things to "find themselves." I didn't do those things. I felt like the gayness was all my parents could deal with. If I started changing my major every Quarter, smoking the marijuana or broke my arm while water skiing on a plywood board with my feet duct-taped to it they'd really lose their minds. I was a model student/human.
So at 30 I went coo-coo-bananas and quit my very well-paid and stable job and moved out of my comfortable home with central air and across the country to a tiny apartment with ONE window A/C unit to be un/under employed so I could find myself. I'm still looking, but the search area has greatly diminished.
Things I've thought about as an adult that had never before crossed my mind:
Why is my water bill so high?
Mutual funds
We can't possibly be using this much water (while looking at water bill)
Grass (the kind you mow)
Our water meter must have a leak
Having kids
Why do I pee so much now?
All the ways I'm probs gonna mess up my kids
I should get a pee bowl for the car, just in case.
The most efficient time to run sprinklers
What music I'd want at my funeral
The consequences of my actions
---
Next: Alley and Gabby
Pages: 1 2 3 4See entire article on one page