Infographic #2: LGBTQ Relationships & Marriage
---
Riese, CEO / Editor in Chief
My Mom had me when she was 24, so that age was burned into my head as the age at which one has their first child. Obviously, realizing at 23 that I didn't want to marry a man at all, let alone bear his children, delayed that early goal. But whenever I'd panic that I'd not yet reached this or that life stage yet — marriage, pregnancy, financial security, better physical health, owning instead of renting— I'd just tell myself, "it's okay, you're not 30 yet." I thought my twenties would last forever.
But there was something else going on, too, something that I felt and have tried to write about here and there but don't know how to explain: underneath it all, I fully believed I'd die before the age of 35. I was gonna live fast, get a lot accomplished in an abbreviated amount of time, and die young. When questioned about various reckless life decisions, I thought to myself, "Oh these silly people who think they're going to live forever! So worried about long-term repercussions! Who wants to go tanning with me and do six drugs at once?"
I'm not sure how I managed to hold onto this misconception while also clinging fervently to the belief that I'd have children and a family one day. I guess both of those ideas just sat in my head, fighting for attention.
Regardless, I didn't achieve everything in my twenties. I didn't live fast enough, despite living as fast as I possibly could. I turned 30 and realized that I needed more time. I needed to live past 33! I mean, I've still gotta make Autostraddle and A-Camp into world's best self-sustaining employer of queer women, I've gotta have a kid, I've gotta write a memoir, a novel, and a YA series… and that means I need a lot more years, which means I gotta get healthy.
But it was a daunting prospect: everybody told me that the thirties were the best years, but all I saw in the mirror was somebody who'd lived way too hard in their twenties. Being a catastrophe lost its charm when the results came in. But what the fuck was I gonna do about it?
I worry that the social anxiety and introversion that made me seem like a weird or quirky twentysomething makes me seem like a misanthropic and deranged grown-up.
When I turned 30, I had more barriers than ever to making a grown-up life for myself — I was less financially stable than ever, living in what was becoming the most expensive and therefore least sustainable-for-me American metro area, my girlfriend wasn't sure what she wanted out of life yet (or if she wanted to spend it with me) and I was still drinking way too much. This business I started — Autostraddle and A-Camp — had become its own kind of child, and she gets more and more time-consuming every year. I'm responsible for putting food on a lot of tables besides my own. Plus there's the stress, the hours, the instability. I feel like the nature of this job — and the fact that I have to wean myself off all my psychiatric medications before I can get pregnant — means there'll never be a Good Time To Have Kids, and sometimes I wish I could just get pregnant on accident (like my Mom did!), you know? Almost all my straight peers have married and had kids, even while doing med school residencies or starting businesses of their own. They make it work, right? As queers, we're expected to select an opportune and financially stable time to have children, since for us it's always a conscious decision. That's hard to do.
Last summer the breakup that I thought would kill me ended up being the push I needed to embrace the positive aspects of adulthood. Ever since turning 31, I'd felt like I was sliding down the mountain towards death… but it turns out there's a huge plateau up here with lots of good sites for camping and the cliff is a long ways off. My present girlfriend and I talk about that stuff a lot, so it feels more real now — marriage, kids, a house, moving to a reasonably priced metro area. We talk about the future and what we want out of it, for our families and souls. I drink a few times a month at most. I'm still hungry for experience and adventure, but I want comfort and stability, too. I've had to leave behind self-destruction in favor of consciousness, but I like it. I also think my politics have gotten a bit less radical and more pragmatic.
There remains so much I thought would magically fall into place by my age that hasn't yet, and I don't know why or what to do about it. I worry that the social anxiety and introversion that made me seem like a weird or quirky twentysomething makes me seem like a misanthropic and deranged grown-up. Sometimes I feel bad that I still dress like I did ten years ago, but luckily I'm gay, so as long as Ellen still wears sneakers and jeans every day, I can too, right?
---
KaeLyn, Contributing Editor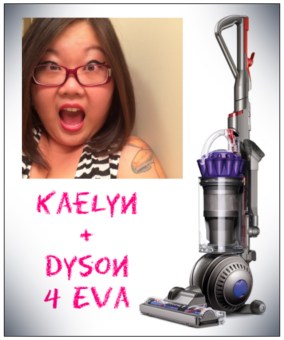 There are some days I feel like I'm the epitome of everything I never wanted. And that's not necessarily a bad thing. Let me back up. I never dreamt of my wedding or having babies when I was a kid. When my first grade classmates played "house," I voluntarily self-cast myself as the family dog. I liked playing veterinarian with my Pound Puppies over playing with Barbies. I imagined being an artist, an actor, a writer, a veterinarian, a marine biologist, a Greenpeace activist (True story: I asked my mom if she would bail me out of jail for cutting whale nets when I was about six years old. She said, "Nope. Don't get arrested"). I never imagined being a wife or mother. As I got older, I entertained romantic notions of being a starving poet living in a barren industrial flat in NYC. I imagined being part of a social movement, going to rallies in Washington, D.C. I imagined living with mangy cats and casual lovers. I couldn't imagine anything beyond my mid-twenties. I didn't know what that would even look like. I never wanted to be "normal." I never wanted white picket fences.
Somehow along the path between 20 and 30, though, everything changed. I don't want to live in NYC anymore. Being crammed into a crappy apartment with roommates sounds like a nightmare. And though I suppose I do regret never doing it, I don't regret the reason why I never did it. The last semester of my senior year, I started dating my current partner and we've been together since. We got together when we were stupid in love and willing to overlook the very real issue that we wanted different things when it came to big stuff: family, children, small town v. big city. We were 22 and 23, respectively, and that stuff seemed so far away. Life was fun. We were in lust. I personally thought we would sizzle and then fizzle out because I couldn't imagine life together that far down the road.
I couldn't wait to be 30 because I felt like people would finally start taking me seriously.
But a decade later, we are still in love. We have both gotten some of what we want and made compromises on other things. We moved to a larger (but not major) city for a job I accepted and ended up putting down roots here. Waffle was willing to go to a bigger city for me, but it turns out I never forced the decision. My work goals have been met with abundance. Waffle gives me the support and space to focus on my career. I'm not rich, but I'm doing work I love for a very livable wage. We also got married — something I never ever thought I'd ever do — and bought a house that's all ours. We're planning on making a human kid in the near future, something Waffle has always dreamed of. We have weird grown up things like supplemental life insurance policies and a crude financial plan and a fancy latex mattress. We're content and happy and making it all work.
The other thing that changed is that I just let go a lot in my thirties, personally. I couldn't wait to be 30 because I felt like people would finally start taking me seriously. I think that did happen, a little, but surprisingly, passing the 30 mark let me take myself less seriously. I no longer feel like I'm sitting on a ticking bomb. I have patience now. I just have less fuks to give, too. I care less what people think and I demand to be respected instead of worrying about whether or not I am (and believe it or not, that actually works). I still have idealist radical politics, but I have more focus and pragmatism. I am slowly changing out my heels for sensible flats. I'm more forgiving and less quick to judge. I have less tolerance for straight-up BS. Time is racing by and I can finally imagine a future beyond the next five years.
No, this is not the future I dreamed of as a kid, as a teen, as an early twenty-something. If anything, it is more conventional than I ever imagined. Largely, this is because I'm more comfortable with myself and because I feel like I have less to prove. I never wanted to be one of those white picket fence people who stay in their hometown and never leave. And I'm not that. Every decision I've made has been with intention, not because it is the status quo. So here I am and I'm damn glad. I can't wait for my forties just because I want to know what that tastes like. And I hope I get more grey hair.
---
Next: Laneia and Bren
Pages: 1 2 3 4See entire article on one page