---
Alley, Contributing Editor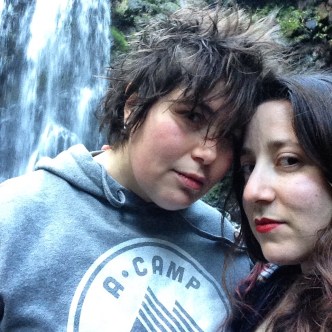 Figuring you when you're going to be an adult and what that means is never easy. We've constructed whole genres around it. But there have always been models. One of the most scary and exciting parts about becoming an adult when you're queer is that we're expected to make up our own rules about what that looks like. One thing I've noticed is that our style doesn't tend to "grow up" in the same sort of "mom jeans" way our straight counterparts embrace. Sometimes this means we have less professional jobs, but sometimes it doesn't. In Portland, the workplace tends to be a lot more casual, but Silicon Valley's wunderkind-in-a-hoodie culture has also made wearing jeans into the office a norm. So, you know, just one more way heteronormative culture has seen us be cool and happy and wants to appropriate it. But I'm happy to share as long as we get our due (I'm looking at you Bieber haircuts).
Speaking of "career and education," I don't really know why I never thought past college but I didn't. I didn't live quite so hard that I thought I'd definitely die, but I wouldn't have been surprised if I did. Honestly, sometimes I'm surprised that I haven't bit the dust, considering how often I've come close for various self-destructive reasons. I'd still rather live free and happy until 60 than give up my vices to reach 80. However, 60 does sound a lot more like a real age than it did ten years ago! So while I haven't completely given up things like alcohol or going out all night and will indulge whenever I damn well please, I do indulge slightly less than I used to.
In high school, I'd fantasize about being one of those dyke punks living in a house with five other dyke punks but instead of working at the local coffee shop like the others, I'd get a "real job" and enjoy the best of both worlds. For the most part, I've been able to do this. I've struggled with employment, but since a brief stint in food service back in '99 when I was 19 and lived in Olympia, I've never returned to the barista life, and I've lived in plenty a punk house. Now, I've moved up a notch to living in a three-bedroom with just one other queer human!
Now I'm on the cusp of home-buying, though it's a cusp I've been on a long time, since I was laid off from OregonLive.com in 2009. I've managed to save a sizeable amount for a down payment, without any familial assistance, but it never seems to be enough. Every time I get a raise, save more, get pre-approved for a higher loan amount, I find that home prices have also risen to beyond my new means. Maybe that's a blessing, though. I spent my twenties working hard for the man, maybe it's time to take that down payment and use it to see the world. Being an adult means you can make big decisions, even if that decision is to play a game that sounds like it's just for young people. I'm not done with the adventure, but when I am, it might be time to face the most grown-up decision of them all.
I used to think I wanted children. Or really just one child. But as I approached my thirties (I'm 33 now), partnerless since my early 20s and largely fine with that, I started to give up that idea. I was happy with my life and busy enough that I couldn't imagine how I could fit in raising a child to an already overwhelming schedule. Sure, I thought, I like kids, and I'm even vain enough at times to want to see a little me running around carrying on my weirdo legacy if not my mental health genes, but I can also borrow friends' kids and go to the science museum on my own. Maybe it was always in the back of my mind, or maybe it started when I started watching The Fosters with my roommate but at some point, I just accepted that if a child was meant to come into my life, she would. Maybe I'd foster children, or date someone with a child. I'd recently done the latter, and her 7 and 12-year-old were fabulous, crazy individuals, and I got to skip their gross baby years, too! Something else has happened, too: the last couple people I've dated were significantly younger than me, but also positive that they wanted babies. There's no guarantee my current relationship will survive, let alone produce offspring, but being in it has got me thinking about kids again.
I would say I'm grown, but I'm not all that different from the human I was at 15. I have seen more. I have partied enough. I have changed my mind. Bringing another human into the world or caring for a human as one of their primary parents would change my life incredibly, but it wouldn't have to change who I am. I have seen alternative parenting around me. I have seen my queer community rally around genderfree moms, dads, and kiddos. I have seen our community raise little humans with flair, aplomb and so much free childcare. I'm excited at the prospect of being a part of that.
I am pretty mad I don't have my first novel written yet, but I've been doing real good work on making the memories and material to go in it. Now it's time to sit down and reflect.
---
Gabby, QTPOC Speakeasy Content Editor & In-house Loverboi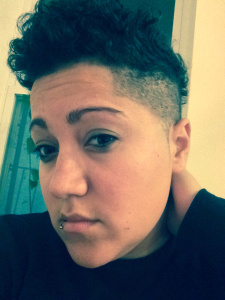 I'm 32 years old.
A year ago, I had a dream job. I was working with kids in the Bronx, making films and sharing my skills as a storyteller. Great salary, insurance, and close to home. My job connected to my creative passions and love of working with youth. It gave me a place in the world. For the first time in my life, I felt like a proper grownup.
If you had asked me last year how I felt about my ability to adult, my whole response would have been some 'work hard, follow your spirit and the universe will open itself to you' monologue.
Part of me still believes in that monologue even though it tends to leave a bloody bitter taste in my mouth. Sometimes when people talk about the universe and its interaction in their life, it sounds too similar to the way people speak about being blessed or right with God, as if hardship comes from not honoring the galaxy every night or lighting enough Virgen de Guadalupe candles. No really and truly sometimes life fucks with you. Sometimes that grant that funded most of your department falls through, sometimes the white guy you work for just doesn't think you're good enough to continue, sometimes the universe makes you fall.
So you fall. I fell. I am falling.
And here's where I have to take a pause.
In my twenties, I wanted to be a hot n fresh queer filmmaker. I worked in tv/film, got cash for my first short film, made some waves, had a sexy party girl girlfriend and I thought my shit couldn't ever stink. I went to all the parties, drank all the liquor, did all the reckless shit I could possibly do and waited for the world to discover me and congratulate me and make a name for me.
In the middle of all the partying, I tried hard to work on my craft. I wrote more screenplays, I reached out and kept reaching and no one would reach back. No one would invest money in the work I was trying to do, in the work I was doing. I kept getting offered entry-level film positions, unless I really really knew someone who was doing the hiring, then maybe i'd get a bump up.
I hadn't developed the consciousness yet to understand why no one would bump me up high enough, even though I was just as talented and hard-working as anyone else. I started to feel the weight of my worth, my real worth, the worth that had nothing to do with partying and being a flaky, flagrant jackass. Once I scraped away at all that and pulled myself out of the all nite revelry, I saw my craft and my skills and knew I could be better.
I think that's the start of my adulthood. It took my best friend dying, my party girl turned addict girlfriend finally leaving me, and me fully and wholeheartedly realizing that I was worth more than all of it, for me to attempt any real progress.
The universe isn't always pretty nor does it always leave warm sunshine kisses on cheeks. No, sometimes the universe stomps on your fucking heart and leaves you with Grey's Anatomy on repeat for a month or six.
This is life. Life with addiction, depression, life as a creative person, life as any kind of person, really. Life with death. Life with trauma. Life as a fat brown dyke. Life on the struggle bus. Life as someone soaring so fucken high there is no end, only horizon.
In this life, there are things that slow us down.
I'm learning that adulthood, for me, is seeing how well I can recover from what comes my way.
Right now, I have a contract for my first novel. The process has been extremely slow but so incredibly thorough. Younger me wouldn't have had time for this. 32 year old me is like yes, lordt deliver me.
Slow and steady.
Right now I'm in this good stable and romantic love thing with a woman who has life goals and takes steps every single day to achieve them. She's a gentle soul who doesn't judge my artsy weirdo ways and encourages me to keep pushing as a writer, as a youth mentor, and as someone who believes in the general goodness and beauty of people in this world. She is a source of strength and encouragement.
We've finally gotten comfortable enough to fart around each other, btw.
And one day, I know she and I will be proud mamas and we will teach them how to survive and be strong and believe in themselves.
We will teach them how to make pizza and write poems in finger paints and on Sundays, we will all pray together to the Universe.
That's real love, to me, adult-ish love. Love I can believe in.
I'm broke-ish. The dream job helped me save some money. It's more money than I've ever had but could also be used by someone to buy a name brand purse or a high fashion pet. But it's there, waiting for me. It's my mad money, my get out of jail free money, my maybe I could put a down payment on a little house somewhere with the sweet girl money.
My relationship with my parents is the best its ever been. Without them, I'd be lost, hungry and possibly homeless. No hyperbole.
As for employment, I just quit a retail job because it was sucking the life out of me. And I know that sharing my financial situation leaves me open to criticism: well how dare you quit a job if you're broke. etc. Well i'll be broke if it means I'm not having panic attacks or riding the subway for 3 hrs a day. I'll be broke if it means not having to pretend like I give a fuck about what some middle management dude has to say about who I am.  I'll be broke if it means I have the time to write and look for a better job, something I can sink my teeth and my heart into, I have to believe that job exists. It did once. So it has to again, right?
Lots of days I feel like the living embodiment of every statistics-based article on the quality of life for queer women of color: under/unemployed, no insurance, high levels of depression, more likely to drink above the recommended daily allowance, living under or at the poverty line, mad fucking smart, under appreciated, will work for respect. will work for deliverance. the one you wanna hug. the one you want at your party. the one who is a force.
Struggle bussing the whole way, y'all.
Struggling also because I won't settle for less than I'm worth.
And I don't have to prove the value of my choices to anyone and it's so liberating. I don't need anyone's approval anymore. I used to thirst for it. Now I make the decisions I need to make at my own pace and it's so satisfying.
I want to write, speak, teach, and travel around meeting all of the people. Is there a job interview for that? Basically it means I just have to keep doing what I do until more opportunities open up and that's scary.
Cuz for someone like me:
queer, latina, masculine presenting, chubby, nerdy, not able to function when bored, uninterested in math or science or tech or the latest app, a daydreaming fierce weirdo writer artist mentor who wants to spread love and tell stories and share knowledge
There's no path. I read Audre Lorde and Erika Lopez for guidance. I look to latina writers and media makers in my life. I read the things Riese writes and I read the things Roxane Gay writes because I need inspiration. But still it's all on me to pay my bills and make my way.
I'm still learning how to do that.
My path through life is much more honest now. I don't sugar coat how I feel or put someone else's needs – imagined or otherwise- before mine. I no longer stay in situations that are detrimental to my health, spiritual, physical and/or mental.
I only accept love that is healing and gentle.
I listen to myself.
I love myself.
I am healing every day.
Pages: 1 2 3 4See entire article on one page