Day Three: Saturday, May 24th
Saturday Morning: 
Sunrise Eagle Cafe // Outdoors Yoga (Dani Orner) // Knit Your Way To A Better Life (Rachel & Whitney) // Mommy Queerest (Laneia, AB Chao, Aja, Liz Rubin) // Sad, Mad and Rad (Sarah Evan, Riese, Taylor, Sophia, Dani RDS, Meredydd, Liz Castle) // Even More Than Words: Make-Your-Own-Words Workshop (Cara) // Haus of Vogue (Emily Gigler) // Mixed-Race/Biracial/Multiracial Discussion Group (Laura, Carmen & Kaylah) // The Road Best Straddled: A Solo Traveler's Symposium (Cee, Vanessa, Hansen, Rory & Crystal) // AB Chao Design Camp: Interior Design (AB Chao) // Everyday I'm Beautiful: Hair and Makeup Tutorial with Marla Verdugo // Nature Stencils (Hansen) // Nurture vs. Nature: A Gender Feelings Hike (Kip & Rory)
Soph: I was so nervous for Sad, Mad and Rad. I know it's natural but damn I was biting my nails before we went on.
Riese: I felt especially insane this morning so it was a great panel to kick off the day! This was another panel that we'd done last time that we wanted to do again BUT BETTER and I think we succeeded with aplomb.
Sophia: It was such a thoughtful panel and I really appreciated the strength from everyone who spoke; these are folks whom I don't know as well as I would like who shared a part of themselves and I admire that. This is what I come to A-Camp for, this sort of discussion, regardless of the wonderful silliness that happens.
Cara: Saturday was my first time leading a workshop by myself, and I was full of nerves. But these were soothed instantly when I realized that all the attendees of Even More Than Words were bursting with awesome ideas and linguistic experience, and could probably have led it for me (plus I had an amazing talking easel named Ali). Over the course of the workshop, we filled a bunch of gaps in the language with new concoctions, including "queernaut" (someone who orbits a queer community before joining it) and "Pagentleman" (a new gender identity based on Ellen Page). It was fantasterrific.
Rory: I love love loved Gigler's Voguing Workshop. I fell into it kinda accidently and I'm so glad I did. All those wiggly little minxes flinging their limbs around at wild angles. I've been practicing since too so maybe I even learnt something.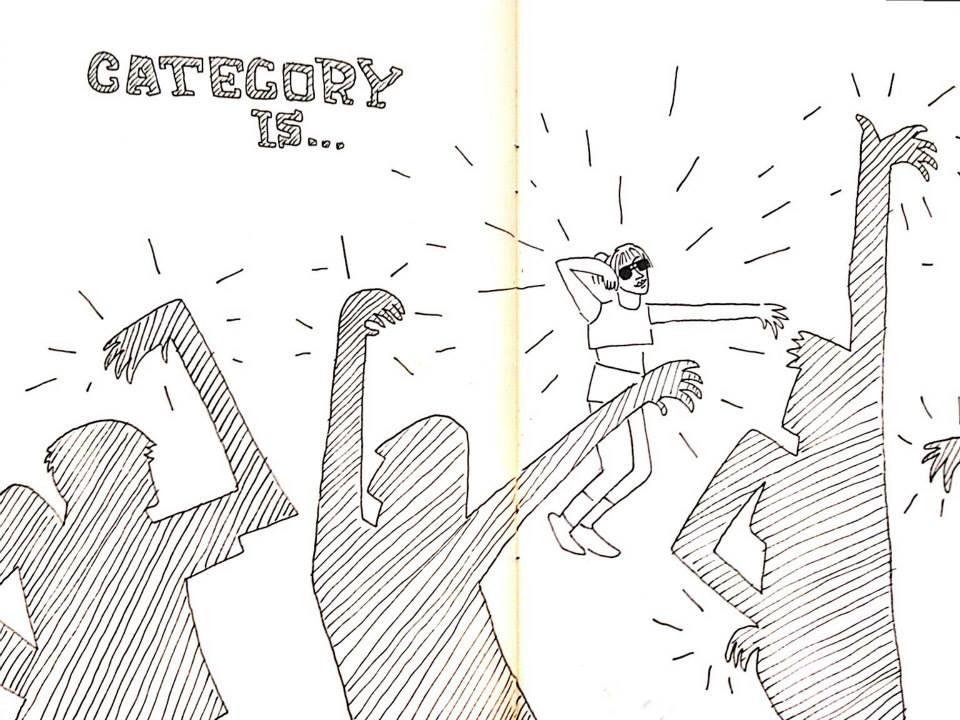 Stef: The most time-honoured tradition for me at A-Camp is rehearsing musical projects with Marni and Cara while Riese sits on her bed, frantically editing her piece for the staff reading and occasionally giggling at what ridiculous lunatics we are. That's what we did on Saturday.
Riese: It's a transformative experience.
Robin: Marla Verdugo, makeup artist on the 2014 Autostraddle Calendar, came up to teach a makeup class, which was sponsored by Obsessive Compulsive Cosmetics. Marla did a makeup demonstration and each student in the class received a goodie bag with makeup they could use to practice new techniques.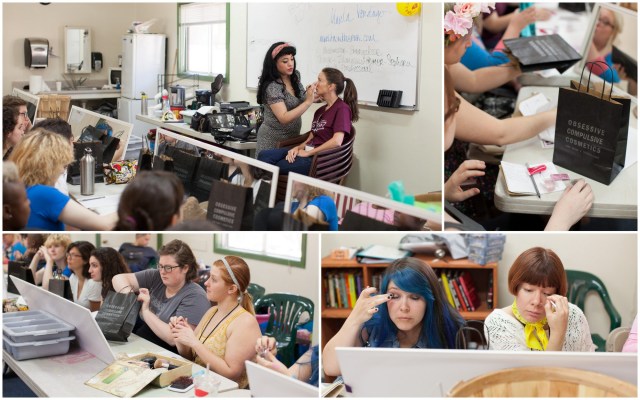 Soph: The Travel panel was really fun, I loove traveling and I learned so much because everyone has such a different experience from traveling: I felt like everyone in the audience could have been on that panel almost, but we had such a great discussion.
Cee: Travel is one of my favorite things to do and talk about so I was really happy to participate. We had a great group discussion about the best parts of travel, our experiences, travel hacks, things we've learned while traveling and more. At the end we all put tiny dot stickers on a map to show where we've been. Between everyone in the room, we covered a large part of the world.
Crystal: It was so great to hear such a diverse range of travel experiences. Everyone who attended had such great questions and answers. The allotted hour flew by and so it was cool that a lot of people stuck around to continue the conversation and leave their mark on the map.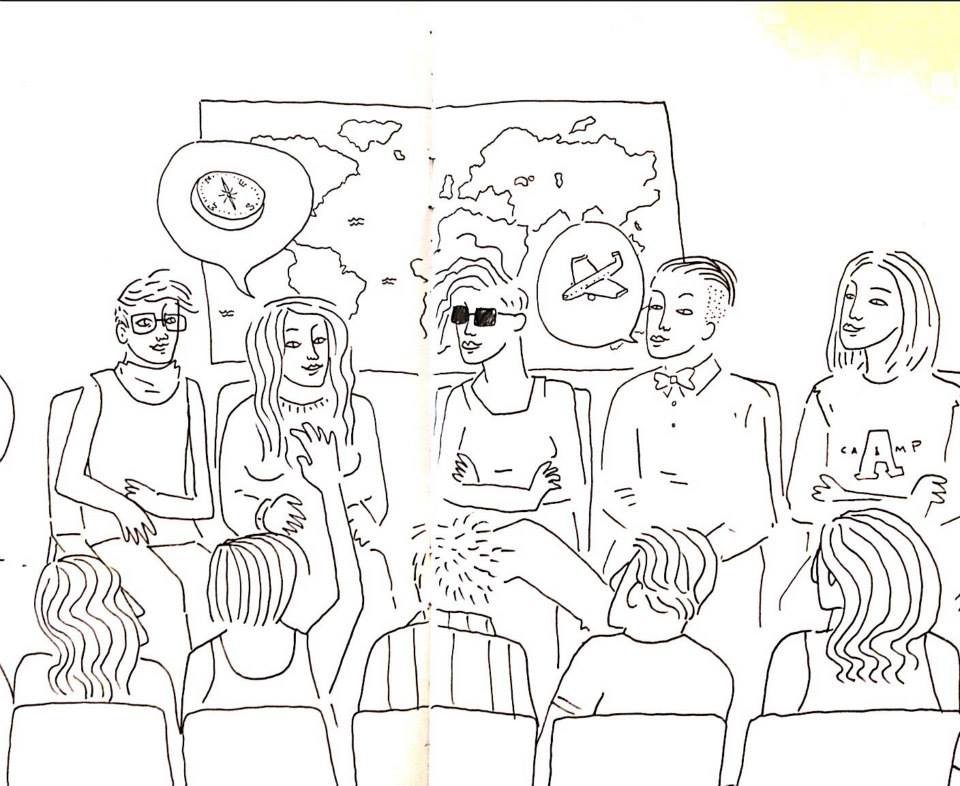 Carmen: The Mixed-Race Discussion group was actually amazing. I'd never felt less alone! I'd never felt less crazy! And I'd also never felt less like I had to prove my ethnicity to anyone… until Gabby forgot I was Puerto Rican. But I forgave her, duh. Props to her and B for coming as non-mixed-race-minority-allies.
Aja: When I agreed to participate in The Mommy Queerest panel, my brain went, "Pfft, sixteen years of experience, might as well do this in our sleep." I am never nervous about the right things!
Laneia: The panel gave AB, Aja and I the chance to talk with other queer parents, queers planning to be parents, and queers just interested in hearing about parenting.  Lizz was on hand to talk about the medical options available, which was super insightful and appreciated.
Lizz: It was amazing. The crowd had a bunch of moms in it too and it was just great how involved all the campers were in the discussion. I felt like whole group really bonded.
Laneia: One of my favorite moments was when we were going over what was unique about how we raised our kids, as queer parents, and I couldn't really come up with anything from my experience. Aja discussed raising her daughter with feminist values first and foremost, and how similar/hand-in-hand that was with her queerness, and then it clicked — I realized that we do have this shared experience that goes beyond wondering how classmate's parents will react to us and is actually more about trying to raise the kind of people who'll respect all the other kinds of people.
Aja: The panel was right after breakfast and I am not a morning person, but suddenly a sizable room full of people were asking really tough, serious questions about parenting, the kind I usually only answer after getting to know a person for months, maybe years, if they are asked or answered at all. I'd done this batty thing and committed to total openness and people were counting on me; my cocksure brain would only go so far (and honestly not very). I am incredibly protective of my daughter and therefore I am incredibly protective of mothering. This panel forced me to push against the boundaries I'd set and left uncontested for years. It humbled me, and it was deeply touching.
Laneia: I feel like I'm talking in circles here but just know that this discussion group was amazing and I was so grateful for the chance to hear other stories and answer some questions!
Lizz:  I for one came away with a lot less anxiety about some of the schematics of being a gay mom. Actually, what I loved the most was hearing everyone talk about what their kids call them! I feel like there was everything from "mommy" to "baba" to first names and totally made up phrases. It was adorable.
Aja:  A few months after A-Camp, I started working for an organization that connects, supports and represents LGBTQ families nationwide. We all deserve that kind of community in our quest to create, build and protect our families on and off the mountain.
---
Saturday Afternoon
'90s Pool Party // Scissoring 101: Swizzle Sticks and Fringe Garlands (AB Chao) // CAMP Talks // Yo! A Camp Raps (Courtney Nash) // Look After Yourself With Drawings: A Self-Portraits Workshop (Rory) // Canoeing/Kayaking (Marni) // We're Gonna Make A 'Zine In A Day (Riese, Rachel, Laneia & Vanessa) // Mindfulness and Meditation (Liz Castle)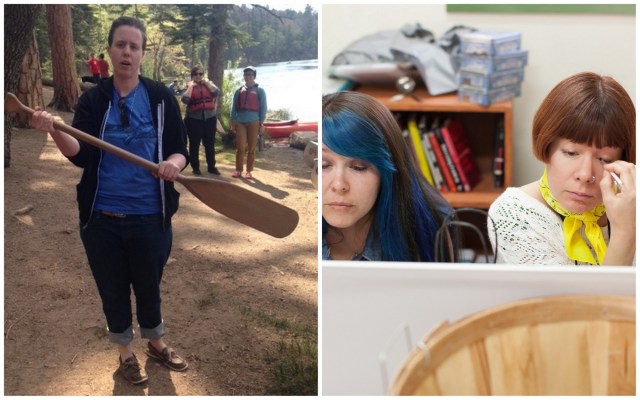 Riese: Saturday afternoon was a long block for longer activities, admittedly an idea I had mostly because I wanted to make an entire 'zine at camp. Past 'zine-making workshops had always ended with good intentions to swap and share the work we did together but it never happened — it seemed like we could prevent that this time by having us all make a 'zine together, and we could use printer/copiers to put it all together right then and there. Thus, We're Gonna Make a 'Zine In A Day was born.
Rachel: I've always really enjoyed our zine workshops at camp, and they are always a quiet magical space in the middle of what can be a really hectic and overwhelming camp experience. But it's always been a short respite, and I never really made anything I was proud of (except for one time when I got halfway done with a combo Mean Girls/Katy Perry page called "I Kissed A Mean Girl And I Liked It."). I was hiding my zine-making light under a bushel.
Riese: We were SO excited to have Pioneers Press on board as a sponsor — they're a small-press anarchist 'zine distro whose publications focus on health, gender, sexuality, social justice and sustainability. We handed out lots of 'zines for campers to take home and write about for the website.
Rachel: We had so much time and space and playlist this camp that I feel like everyone, including me, was able to really blossom into the making of the zine. And the end result is SO beautiful, I've been showing it to everyone. Autostraddle campers are a mighty and powerful zine-making force.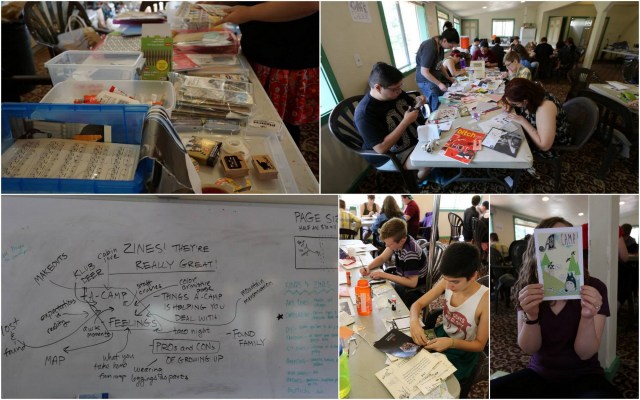 Robin: In the afternoon, I swam and relaxed at the 90's Pool Party. I got to float around the pool and have some really lovely conversations with campers about their experience at camp so far. My favorite moments at camp are the rare one-on-one chats I get to have with new members of our camp family.
Brittani: The best part of the pool party was developing a long, complicated bit with Carly and Carmen about whether or not the EchoMic was on. It's one of those you had to be there things but I'm going to put it here so that I never forget it happened because I still crack up just thinking about it.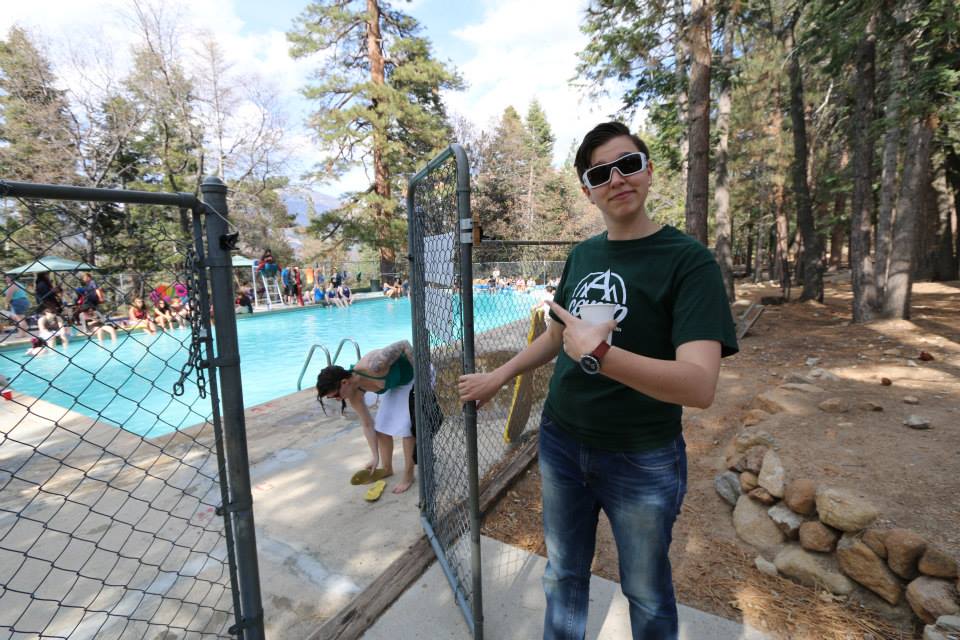 Carmen: Guest DJ-ing the '90s Pool Party completed my life. I drank champagne poolside, yelled into an Echo Mix ("is this thing on?"), and even took photos with the crazy shit Gigler had brought along as decoration.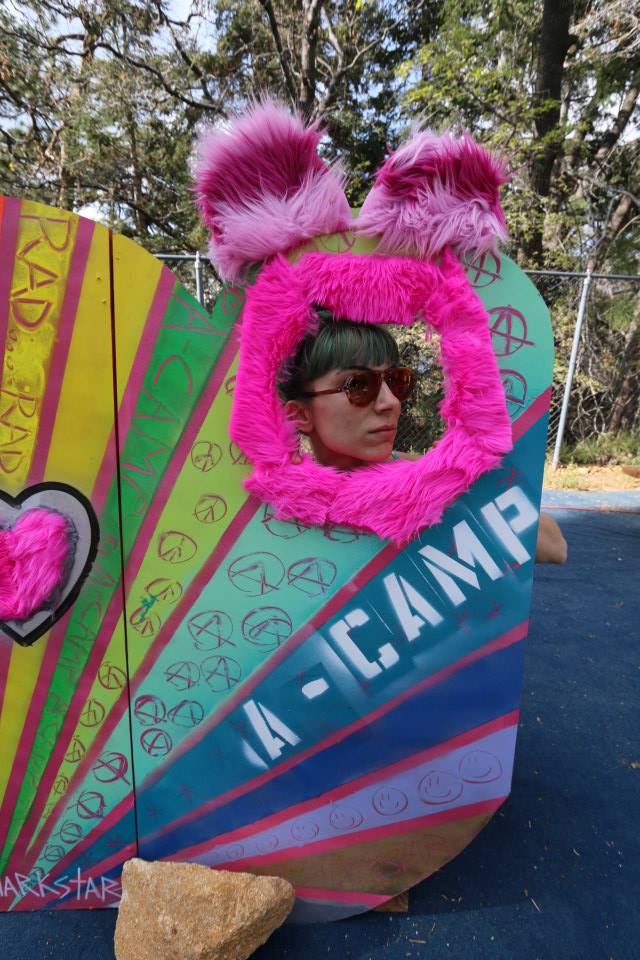 Gigler: Babes in bathing suits. Pool games. Dancing by the fold out DJ table. Pool noodle limbo. AJ Sharkstar's adorably retro critter art. Believing with all our hearts in that plastic microphone from 1996. Kickin it with Kaylah and laughing so hard all afternoon. "In a 90's kinda world, I'm glad I got my girls."
Carmen: The Camparazzi were out in full force at this point.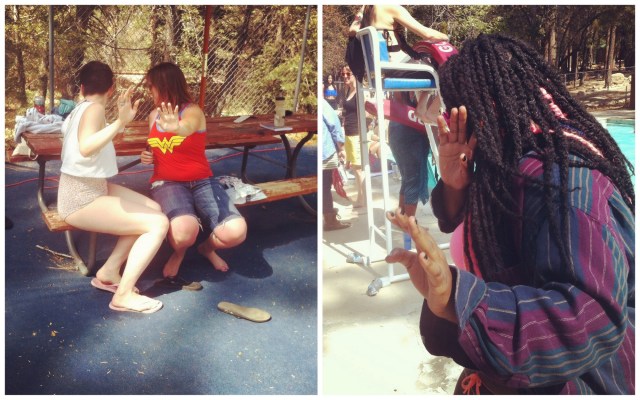 Gabby: Seriously if Court does Yo! A-Camp Raps Again, y'all queers better show up. It was Court, Marisol, and me and we laughed, had some whisky, and spit some ridiculous bars.
Marni: A 30-strong contingent of us trekked out to Jenks Lake and paddled around for the afternoon Canoe Adventure. It always feels great to be able to take a little time to get away and be on the water.
Stef: I decided to hit up canoeing, which I'd sadly missed last camp.
Marni: Not everyone may be familiar with Bill Mason, Canadian canoeing legend and father of whitewater paddling technique, but that's neither here nor there — as a student of his technique, it is always my honor and pleasure to welcome Kip, A-Camp barber and Style Icon, as my bowman and tribute to Bill Mason's 12-year-old video co-star Paul Mason, on A-Camp's canoeing trips to Jenks Lake or, as friend of A-Camp and New York-based rockstar and new mother Somer Bingham calls Jenks Lake Pond. It's not a big lake, is the thing.
Stef: First off, there was a really hot girl in charge of the boats and lifejackets; her name was Becca and I'm pretty sure she was stoned out of her gourd. She explained that only ten boats were allowed on the lake at any given time, and when someone asked why, she told us she had no idea but that those were the rules, and "whatever, man." She may or may not have been a fever dream.
Stef: Fortunately, Marni knows everything about canoeing, and taught everyone proper paddle techniques. My camper Alana and I enjoyed a pleasant jaunt around Jenks Lake in a kayak. Marni was observed paddling Kip and Aja around in a canoe, and shortly thereafter she embarked upon a majestic solo journey across the open sea. The sun was hot, the air over the lake was cool, and I felt very fashionable in my giant poofy lifejacket. It was really weird to see non-camp people hanging at the lake, cis men walking their dogs and fishing like it was NBD, completely oblivious to our queer lake utopia.
---
All-Camp Photo
Marni: After the all-camp photo, Robin and I told the staff that they all had to stick around for an important meeting. This camp was the longest camp we'd ever done, and everybody was running on fumes at that point. We had one full day left together, and we wanted to do something to show our appreciation for everyone so we broke out some cava and toasted their efforts as loving and committed volunteers and stewards of the A-Camp mission. We knew we weren't going to be able to do this again for a year, so it was a really special moment.
---
Saturday Night
Slam Fire // Staff Reading
---
Slam Fire
Gabby: I can't remember everyone that read a poem at The Slam Fire. It was magical to see almost 60 weirdos huddled in the dark, listening to people pour their heartbeats into the fire and giving them so much love. The people snapped their fingers, gave each other respectful silence, and honored each other as warriors in this insane existence. Shelby and Lisa, I can still feel the waves on my skin from the super real life pieces that you both shared. Thank you forever.
---
Staff Reading
Whitney: The Staff Reading is always one of my favorite parts of A-Camp. Why? Because I get to hear stunning, jaw-droppingly beautiful writing produced by the people at Autostraddle – people I am so incredibly proud to call my friends and my Autostraddle family. Everyone was dressed in black and looking so good. I had butterflies in my stomach most of the day.
Mey: Although this was my third A-Camp, this was my first time participating in the Staff Reading. Now, if you've ever witnessed this activity, you know it's just amazing, so I was absurdly nervous. But it ended up being a totally great experience. Before it started I was talking about how I had recently cried while watching a McDonald's commercial about a mom and dad ordering food from their teenage son at his first day on the job (I'm legitimately tearing up writing about it right now), so when people open up their hearts in front of me and several hundred other queers, I just bawl.
Ali: The Staff reading is 100% the pinnacle of every Camp experience for me.
Gabby: I wept during Laura's piece. It's an honor to read with these guys camp after camp. I never feel more dignified, respected, and like a real fucking writer than when I'm up there with all of you.
Ali: Laura's essay about experiencing gun violence made my entire body go into this weird fight or flight mode and I had this overwhelming desire to, like, run up onstage and tackle her to the ground and put my body between her and danger even though it was Camp and she was not in imminent danger? I dunno, that state of being made it really difficult to be funny about a sandwich after that.
Whitney: Laura's piece shook me to my core. It was so beautiful and so brave, and I have all the admiration in the world for her.
Kai: It's like all my favorite movies wrapped up in one. I laughed, I cried, I was scared  at one point.
Whitney: I read a piece at the Staff Reading that was published on Autostraddle earlier this year – an essay called "I Would Grow My Hair to Cover the City." It was such a privilege to be able to read it out loud and share it with everyone at A-Camp this year. Thank you, to everyone who listened – thank you for being there with me.
Kai: Whitney's reading wrung my heart that night. So much so that I read it again, and again. I called my friends and made them read it.
Soph: I cried so much at the staff reading. Dani RDS held me and I'm pretty sure wiped the tears from my eyes as Whitney read, it was too much.
Hansen: When I first emailed Riese asking if I could read "Top Five Things I've Panic Ordered At Restaurants" I expected her to say I should write something a little more serious, but she seemed excited for it, which made me nervous.
Riese: I LIKE LAUGHING I JUST WANT EVERYONE TO LAUGH.
Hansen: But when I was up there, and I read the line "The weirdest corn dog I've ever had in my life" I realized how silly the whole thing was, and how grateful I am to be involved in the kind of community that entertains these weirdo thoughts in my head, and how this could ONLY happen at A-Camp, and I couldn't stop laughing. That was the defining moment for me, honestly, just being surrounded by the most supportive people in the most supportive space, giggling about corn dogs together.
Ali: I loved Chelsea's poem, "Julia Roberts" and hearing Gabby read "Fat Booty Butch Wears Leggings, Confuses World" in her own voice was just the best. Lizz Rubin read my very favorite thing that Lizz Rubin has ever read or possibly ever written, and yes that includes her performance at October Camp.
Riese: This year there were two pieces I'd given feedback on in early incarnations — Mey's and Lizz's. I'm always blown away by how incredible these pieces turn out to be when I hear the finished product.
Lizz: Because I'm completely self-involved, I always adore the staff reading. This year I actually changed things up a bit and read a piece that wasn't just for laughs. I mean obviously it was partially for laughs, but it was also an exploration of my inner brain space and an attempt to make sense of some stuff.  I mean, don't worry, there were a few sex jokes.
Riese: Also rumor has it that Rachel managed to extract 3,000 words from Lizz's essay that very afternoon but it was still 20 minutes long. Regardless it was damn good, and so was Mey's.
Mey: I had only ever shared my piece with two people before I read it that night, but the love and support everyone at camp gave me really made my whole life. I love all of you guys.
Whitney: Mey's piece was so incredibly honest and well-written. Her reading was incredibly beautiful and heartfelt – there's a kind of emotional honesty in her writing that I really admire and that I hope for in my own writing. Her piece about family, about identity and about gender was lovely.
Laneia: I wish we could have a Staff Reading every Saturday night forever. Oh my god can you even imagine?
Chelsea: Apparently I missed the memo that we were all wearing black for Staff Reading. I asked if anyone would give me the shirt off their back, and the chivalrous Gabby Rivera offered me her button down. Someone from the audience offered me their pants too, but I didn't want to start a sex riot.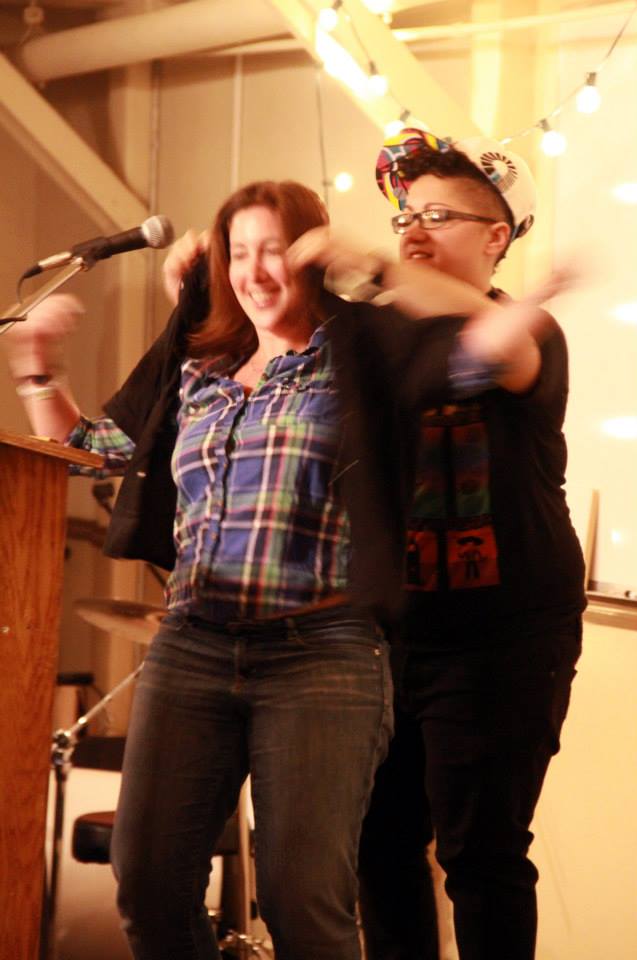 Ali: I really love hearing Laneia read "It's More Fun When We're Co-Conspirators," I think she should just read it every time. Like a favorite bedtime story. I loved everyone's pieces, actually. Too much to really even recount in a paragraph. It's just my very favorite thing at Camp, hearing everyone read their work.
Carmen: The staff reading always makes me wanna vomit and die. But this time, when I got to the podium, I heard a distant cry of comfort: Kaylah yelling "memembah?" a la Drake's Worst Behavior. I responded with a quick "mothafucka" before moving on.
Kai: I will never stop admiring how Autostraddle  writing staff bares everything through their keyboard.
Mey: Hansen and Ali were hilarious, Laura knocked my socks off, Lizz was funny one minute and making me cry the next, Gabby moved me, Riese was brilliant and Whitney read one of my all-time favorite essays that I've ever come across in any format. And of course I cried. A lot.
Riese: And five billion hours later (seriously shit got LONG) it was time to PARTY.
---
Klub Deer
Carmen: Brittani and Gigler DJ'ing Klub Deer always means it's a good night in Klub Deer. Always. I danced my ass off, and I even silly string'ed some bitches.
Ali: As always with May, my birthday is on the 23rd. Which means the past two times Camp has been in May, what you're actually attending on that day is just a massive birthday party for me. But I did something a little different this time. Have I told y'all that, up until this Camp, I'd never been to Klub Deer? This time, when it turned into May 23rd at midnight, I hit up Klub Deer! For the first time ever! And I was happily received by The Outsiders (heavily consisting of the Outlaws and the Wildcats, my cabins from Camps 3 and 4) and the illustrious, wonderful, talented, beautiful Foxes. I danced until I was so sweaty I felt like I was sweating out my eyeballs. Turns out I like the club environment when a) you know everyone and b) everyone is gay.
---
In next week's recap you can look forward to seeing those Photobooth pictures you've been craving all your damn lives long! A-Camp will take place from May 30th through June 4th, and registration opens January 27th.
Pages: 1 2 3See entire article on one page