Once upon a time (May 21-26th, to be specific) in a land far far atop a mountain two hours outside of sunny Los Angeles, approximately 300 queer humans gathered for five days and five nights of revelry, renaissance, intellectual stimulation, dance parties and deep sea bonding. They called it A-Camp 5.0, and it was beautiful! This is the second of three fantastic recaps which serve to ease our collective separation anxiety, give you a behind-the-scenes look at how your A-Camp soysage is made, enable us to wax nostalgic over times gone by and provide prospective campers with a brilliant glimpse into the A-Camp Experience.
A-Camp was the genesis of an idea Riese had at 3AM in July 2010: the concept was to take the spirit of the website into three glorious dimensions by renting a summer camp in the off-season and jam-packing a long weekend with panels, workshops, discussions, crafts, sports, entertainment, parties and so much more! We gave the idea a spin with an abbreviated, smaller edition of A-Camp in April 2012, followed by full-size full-length camps in September 2012, May 2013 and October 2013.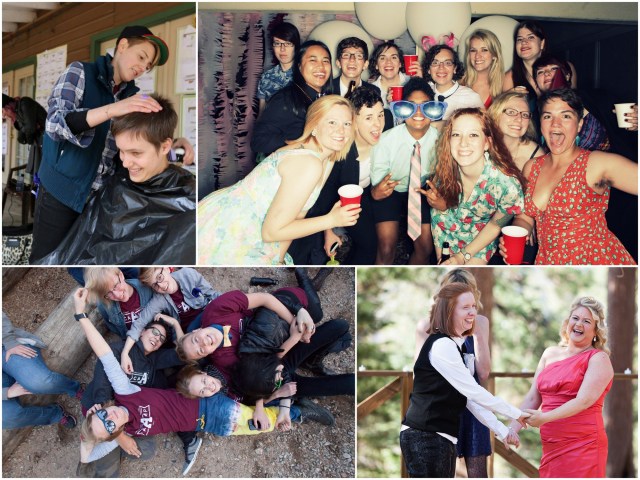 This camp was our longest camp yet, and it still wasn't enough time to spend with you weirdos. We were pleased to provide a resplendently fresh roster of special guests for you this spring like comedian Elicia Sanchez and musician/heartthrob Mal Blum. We were also blessed by the presence of new media superstar Hannah Hart, Little Horribles creator Amy York-Rubin, femme icon Aja of Fit For a Femme and home design expert AB Chao.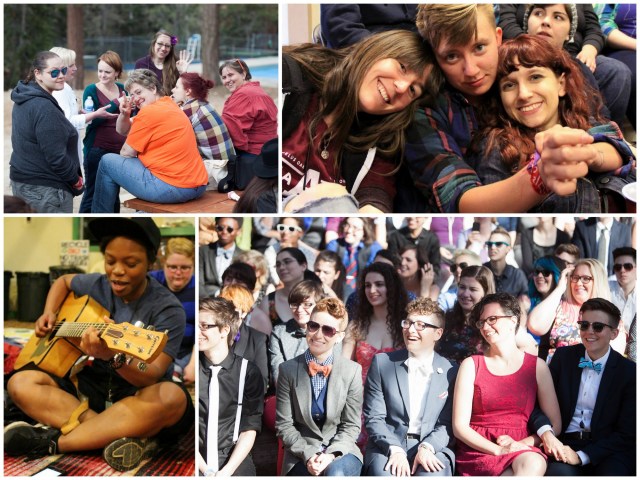 ---
Day Two: Friday, May 23rd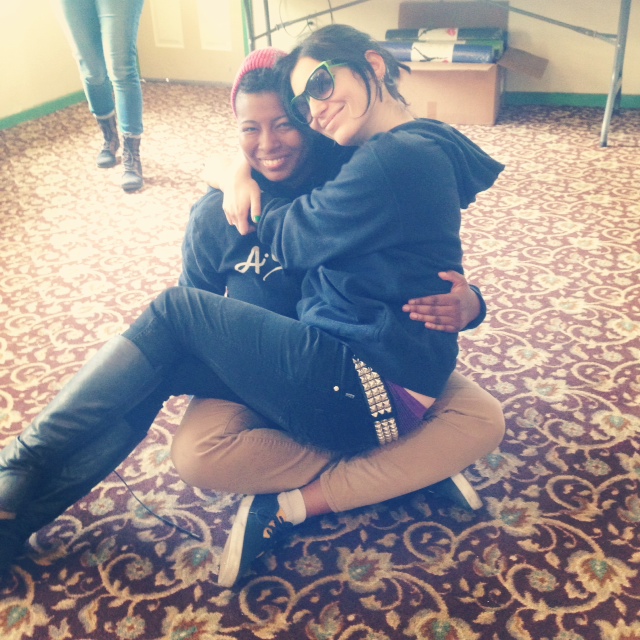 Let's Talk About The A-Camp Bee
Marni, A-Camp Co-Director: One day on G-chat I casually observed to Laneia that I thought it was cute when local papers were called the [town] Bee, and that gave way to the idea of an A-Camp daily paper called the Bee. And it was in that moment that the A-Camp Bee was born.
Laneia, Executive Editor & Runaways Counselor: I couldn't stop daydreaming about the A-Camp Bee. It suddenly became one of the most important aspects of camp for me.
Chelsey, Editorial Assistant & Blackhearts Counselor: A month or so before camp, Marni and Robin emailed me to let me know that Laneia and I would be putting out a daily camp newspaper called the A-Camp Bee. I could not at this time fully grasp how beautiful and magical this thing would actually end up being.
Cara, Contributor & Ghost World Counselor: Unlike regular publications that must earn their stripes, The A-Camp Bee was a storied institution from the get-go (that's why it's called the bee! pre-striped). I admired it long before I knew it existed and was delighted to FINALLY, finally be asked to contribute a column. To see "More Than Birds" in print alongside Hansen's Horoscopes, Stef's Emoji Weather Report, and other greats was a dream come true. And watching Grace and Chelsey work hard to pull the paper together every morning inspired me to keep my head in the game as well.
Hansen, Contributor & The Con Counselor: The A-Camp Bee was the stuff of legend. Chelsey and Grace are amazing humans and committed so hard to making The Bee amazing. I jokingly suggested that we need some horoscopes and suddenly I was writing Homoscopes with Hansen. I consulted the stars and wrote the first one, which seemed to be spot on, so I think this is my true calling in life.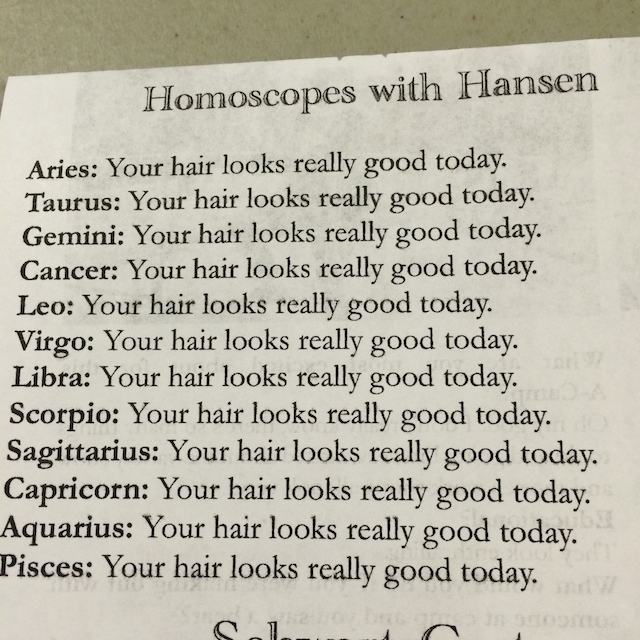 Stef, Music Editor & Firebrands Counselor: My contribution to the A-Camp Bee was SchwartzCast, a weather and general life forecast consisting entirely of emoji. It was pretty accurate, I guess.
Chelsey: I feel pretty confident saying that the A-Camp Bee is possibly the greatest achievement of my life. Every morning Intern Grace and I would meet up in Wolf lodge and put together the day's Bee along with my lovely staff of columnists (a big thank you to Stef, Cara and Hansen for always meeting your deadlines) and my intern, Cara. It was such a cool thing to put it together and then see in the hands of the campers! I was just so in love with everything that was happening that I couldn't stand it. We have so many ideas for next time on how to get this into more hands and get it out every single day. Basically, the future of the Bee is pretty fucking bright and everyone should invest in some shades.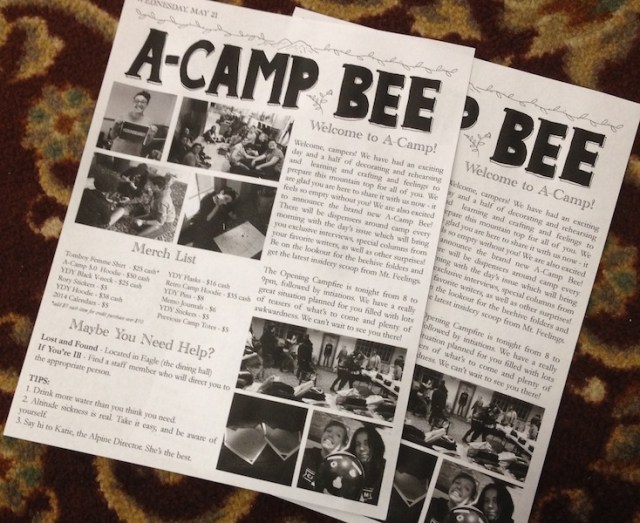 ---
Friday Morning
Pop 'n Flow Yoga (Dani Orner) // Once More With Feeling: The Buffy Musical Singalong Spectacular! (Chelsey, Chelsea, Vanessa, Laneia) // Profesh Pantsuit Power Hour (Taylor, Cee & Meredydd) // Brittani On the Mountain (Brittani) // Kink 101 (Dani RDS, Ali, Carolyn, Lizz Rubin) // Geek Trivia (Elicia, Mey, Whitney)
Riese, CEO/Editor-in-Chief & Runaways Counselor: Another bonus to having an extra day of camp was that Friday morning we let everybody sleep in a little and only scheduled one slightly longer activity block!
Brittani, Sports/Music Editor & Firebrands Counselor: Brittani on the Mountain of course was fun because I got to present my weird opinions and unpopular beliefs as facts and use an EchoMic which came in handy at several points during the rest of camp. I also watched Carly pop out at people from behind a tree and I think a video of that could probably end any war.
Carmen, Straddleverse/Feminism Editor & Gladiators Counselor: As much as I wanted to be at Pantsuit Power Hour, I'm a woman of my word – so I spent the morning helping B with Brittani on the Mountain. Since it was her own creation, it was hilarious. Kai and I had a great time quizzing people on whether or not the names we were saying were those of Autostraddle staff or L-Word guest stars. I was even more pleased whenever someone was wrong about which I was.
Laura, Contributing Editor & Outsiders Counselor: I was a "runner" during the "Brittani on the Mountain" scavenger hunt, and my job was pop out from behind a tree and ask trivia questions about One Direction and Taylor Swift. If the player got a question wrong, they could redeem themselves by tickling a teammate for 30 seconds. It was both awkward and hilarious. Would do again.
Carolyn, NSFW Editor & Bloody Valentines Counselor: The Kink workshop is always my absolute favorite to lead. Lizz, Ali, Dani RDS and I mixed beginner and intermediate subjects with live flogging and restraint demonstrations so that beginner and intermediate practitioners could bring something new into their play.
Lizz, Contributor & Mockingjays Counselor:  One thing that is always hilarious is how the first few row of people are like the usual suspects of folks who come each time. Then the middle and back rows tend to be a lot of new faces. Finally, there's always a group of huddled staffers in the background snickering. I absolutely love getting to talk about safe bondage during the bondage 101 workshop.
Carolyn: Campers also got to try out flogging (on a chair) and bondage (on each other) in a safe, guided environment.
Lizz: Seriously, though, you shouldn't hit your partner in the kidneys! I'm always floored by how many campers are willing to open themselves up to an honest discussion about bondage. I think that being able to speak freely about taboo topics like BDSM is a big part of normalization of all sorts of sexual behavior and making sure everyone is able to enjoy themselves in physically and emotionally safe ways.
Meredydd, Outsiders Counselor: The Profesh Paintsuit Power Hour was born out of the feedback from last A-Camp. Campers wanted a chance to talk informally with each other about careers and career challenges in lots of industries. I thought that sounded like a great idea.  I have lots of experiences I like to share and love talking to others about their experiences. This meet-up was so much better that I ever imagined. I know A-Campers are amazing, but learning about the amazing things they are doing with their lives was inspiring. I think I may have got more out of it than anyone.
Chelsea, My Bloody Valentines Counselor: When Vanessa and Chelsey told me that they were going to act out the Willow and Tara ballad "Under Your Spell" for the Once More With Feeling Singalong, I was obviously into it. What I did not expect was that they were going to pantomime the sex scene at the end of the song. It was literally the gayest thing I have ever witnessed and it was magical. Next year, I want to invest in a pulley system and have them fly around the stage Peter Pan-style.
Chelsey: My favorite part was performing "Under Your Spell" with Vanessa, where we got to blow bubbles in each other's faces and I got to whisper "I think you're supposed to be going down on me now". Only at A-Camp, folks.
Laneia: Oh my god all the campers singing along and blowing bubbles and booing at Dawn! Chelsea was a super pro at hosting and made sure everyone got into the spirit. A Buffy Sing-Along had been a dream of mine since the year before and it was really special to see it finally happen!
Bren, Editorial Assistant & Coordinator Of Logistics (COOL): The #1 thing that I'm heartbroken to have missed – The Once More With Feeling Buffy sing-a-long. This has long been a dream of Laneia's and I was very much looking forward to it. But alas SOMEONE had to drive down the mountain to pick up the beer for Ali's gay craft beer tasting. Silver lining though… I now know what a "growler" is!
Mey, Trans Editor & Ghost World Counselor: Elicia, Whitney and I had a ton of fun leading Geek Trivia. It's really spectacularly amazing how many obscure Harry Potter characters A-Campers can name.
Riese: The "we are here to be wild queer animals" vibe was at its peak when Brittani decided to settle the tie from her activity by having a Lip-Sync-Off at lunch.
Brittani: I'm not sure why it took us this long to find an excuse for people to Lip Sync for Their Life at camp but it finally happened when we needed to break the tie that resulted during Brittani on the Mountain. There are no words to describe what happened but the EchoMic played a major part. It was like the closest thing to feeling like you're at a Beyonce concert. Probably. I've never been to a Beyonce concert. Shout out to everyone that participated and everyone that helped pick the songs we used.
Mey: This was also the day we had the first ever official A-Camp Trans Women Coffee Hour. I really love the way Autostraddle and A-Camp are so trans women positive, but it was nice to be able to have a safe space like this where we could talk about anything. This was definitely a great first attempt at something like this, and we brainstormed some really good trans women based activities for the next A-Camp.
---
Pages: 1 2 3See entire article on one page