We're celebrating Autostraddle's Fifth Birthday all month long by publishing a bunch of Top Fives. This is one of them!
---
Restaurants stress me the hell out. I am perhaps the world's pickiest person. I also have really strange food allergies to the point where people think I'm making them up (like bananas, but only if they aren't ripe, and sometimes when they're cooked but only sometimes). This leads me to have a lot of restaurant menu anxiety. In my brain, a normal adult human being can go to a restaurant and find something that looks not only edible but delicious on the menu.
Me? It works more like this: That looks good, but will they let me take out the cranberry-orange relish? And I wonder if they made that pesto with walnuts. I know it's supposed to be pine nuts but sometimes people cheat. Is that unspecified vegan cheese cashew based? This salad looks good, but will everyone at the table think I'm strange if I order a side house salad? Will that even be enough? What if it's that huge iceberg lettuce and I can't fit it in my mouth? Two bites will be awkward. Oh gosh, the server is here and everyone already knows what they want – Uh yes, I will have…. uhhhhh ummmm oh gosh oh gosh oh gosh THIS.
Then I promptly forget what I ordered and it's a big, fun surprise when it comes out to greet me.
Sometimes this leads to amazing food, sometimes this leads to intense regret. Sometimes, when I'm in another country (you'll see) I panic even worse and fall blindly into the trap of "What is one thing in America is the same thing in another country" because I'm an asshole.
Here are the top five things I have panic-ordered that I can remember right now:
5. Sarsaparilla
Unknown touristy and overpriced restaurant, Sunshine Coast, Australia
First, whoever says that sarsaparilla is just like root beer is kidding themselves. I am a root beer fanatic, so when I lived in Australia and couldn't get it for less than $3 for a can of A&W (a price I willingly and desperately paid a few times), times got hard. While on vacation on the Sunshine Coast, my girlfriend's cousin told me that she heard sarsaparilla was just like root beer. So, when the server came and asked me what I wanted to drink and everyone else was ordering it, I quickly ordered it as well. NOPE.
Sarsaparilla, on top of having way too many silent letters, is a hoax. It's disgusting. It's spicy? I didn't drink this whole bottle. Sarsaparilla is like root beer's shady cousin who tells you he can get you a fake ID and then gives you one where your name is Jane Smith and your birthday is in the 70s. Don't believe its lies.
---
4. Beers the size of my face
Various bars and restaurants 'round the world (some Vegas casino and Dave 'n' Busters pictured below).
"Uhhhhhh beer" is often something I panic-order in a restaurant when everyone has ordered cocktails. I love beer, it's true, but when it comes to fancy cocktails:
This almost always ends up with me accidentally ordering beers the size of my head. Oh, damn, guess I'll just have to drink the whole thing. The good thing about beers the size of your head is it's a lot of beer right in your hand. The bad thing about beers the size of your head is you're going to have to go to the bathroom about twelve times to get through it. And also it gets warm at the end. Yuck.
---
3. Corn dogs at this monster truck rally.
A freaking monster truck rally.
Is it fried? Is it kind of sweet and also savory? Does it contain questionable meats? Is everything else available a steak or a chicken salad? I'm in.
This particular corn dog was at a monster truck rally, I kid you not. A MONSTER TRUCK RALLY. If anything freaks me out more than food stands, it's food stands around really noisy events. Panic ensues, I order the first thing on the menu. Now, let me just say that the batter on this thing is amazing, like the way I've always wanted a corn dog to taste. What made this a memorable experience is the fact that hot dogs in Australia are super weird. Here's an example:
Whoa there, bright red casing. Are you even edible?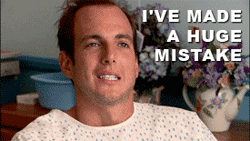 ---
2. Vegan Truffled Mac 'N Cheese with Tempeh Bacon and Balsamic Glazed Collard Greens
Unnamed restaurant because the server already probably hates me, Fort Collins, Colorado
I don't have a picture of this exact mac and cheese experience so I'm going to lead you on a visualization journey with me. Ready? Let's begin.
Imagine you're at a small, organic, vegetarian place. You're there with your girlfriend. You just taught your first class of the semester and it went great. Now you want a coffee and something delicious to eat before your evening class. Let's say it's cold outside. You're in Colorado, you can bet it's cold outside. You go in and order a latte. "Do you have soy milk?" you say (you're lactose intolerant, stay with me here). The server says, "Have you tried our homemade brazilian nut milk? You want that." Did she just roll her eyes? You pause. You don't want that at all, actually. Brazilian nuts? Are they like walnuts? You're also allergic to walnuts, let's say. It'd probably be fine, but ehhhh. You pretend like it sounds delicious, but you say, "Just soy, thanks." Your girlfriend orders the brazilian nut milk shit. You're positive your server likes her better than you. Did they just have a moment? When the server brings your soy latte, you're almost a tiny bit convinced she snuck the brazilian nut milk bullshit into your drink. You ask your girlfriend. She thinks you're being dramatic. When the server who hates you comes back, you pretend like you haven't been freaking out over her latte sabotage and you look over the menu super quick while your girlfriend is ordering. Everything has walnuts (nope), cashews (nah), or some other weird ingredient (hi, wtf is in "mock chicken" exactly?). Your eyes drift over "Vegan Truffled Mac 'N Cheese with tempeh bacon and balsamic glazed collard greens." You are into at least three of those adjectives. The server says, "Gluten-free or gluten-filled? That'll take a little while, are you sure?" Is that a trick question?
When I ordered macaroni and cheese, here's what I thought I was getting:
Instead, I got something that appeared to be: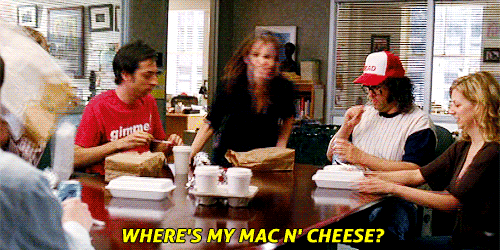 Bland, burnt, way too crunchy, then way too chewy. All around disgusting. It even came in a ramekin my grandmother owned in 1970 that was too hot to touch (burnt my wrist on it anyway!). You know what, though? I hate-ate that mac and cheese. I did it. And the tempeh bacon was kinda good. The collard greens had walnuts in them. Joke's on me.
---
1. The Mother of all Chicken Pot Pies
The Daily Grill, LAX International Terminal
'Twas the day after A-Camp and for those of you who haven't been to A-Camp, let me cut to the chase and let you know that we have a kosher kitchen at camp. That means no mixing of meat and dairy. There's a lot of other rules I'm glossing over here, but that's the one that sticks out in my mind.
So when we got to the terminal, Ali, Cara, Carolyn and I found ourselves a nice little sit down restaurant called the Daily Grill. Open daily. Do you know how many things they have on their menu? Do you know how mentally exhausting it is to have the most fun ever around a million queers on a mountain for a week?
I found this entry:
Chicken Pot Pie
Fresh Chicken, Carrots, Onions, Peas and
Mushrooms, Topped with a Flaky Crust 17.95
Please Allow 12 Minutes
I asked if I could get it without the mushrooms (just out of pure hatred of mushrooms, not an allergy) and the server grimaced and said, "Well, it's a mix, so." First red flag. Second red flag: "Are you sure?" Are you sure? It rang in my ears. Was I sure?
Heck yes I was sure. Chicken. Pot. Pie. (Third red flag: Eighteen dollars for a chicken pot pie? Uhhhh, less sure about that part.)
The server mimed how big it was at some point but I neglected to process that emotion. I had just spent a week processing my feelings with a bunch of queers and I was done. I was ready. Bring me all the meat and dairy.
Then it came. It was the size of a small house. I could fit a Ford Focus inside of that pie. Maybe even my niece. It was, in reality, the size of my torso, which is approximately forty-five times the size of my stomach. "Do you see my pie?!" I asked innocent passerby. My pie was a conversation piece. I mean, this pie is STILL a conversation piece. But it was tasty! I didn't even mind the mushrooms. The crust was flaky and buttery and the chicken was tender and the whole thing came from a mix but I'm blocking that part out for posterity.
And that's how the chicken pot pie became the single most ridiculous food experience of my life. I laughed, I cried, I tried eating the whole thing. It ended about the same way as most panic-order food experiences end: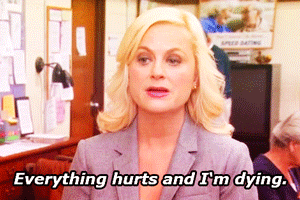 Header by Rory Midhani