Our last A-Camp back in May was a bit of a departure from the usual scheduling structure. Instead of regular hour-long activity blocks throughout the week, we gave ourselves three long hours on Saturday afternoon to really dig into some important things, like community building, self-portraits, canoeing, education and, my personal favorite, zine making! We wanted to go beyond the single-page mini zine, so we challenged the 50+ workshop attendees to help us create a full half-size (that's when you use 8.5″ x 11″ paper folded in half) that we could compile and print out that very day! We were wildly ambitious and high on altitude.
We wanted to show the campers that the creative possibilities with zines are seriously endless, so we reached out to Pioneers Press for help. Pioneers Press is a like-minded publishing house and small-press distro that's keenly interested in supporting learning and movements around health, gender, politics, food, sustainable living, sexuality, and social justice. We've loved Pioneers Press for years, so when they sent over a giant box full of zillions of different zines, we were GIDDY. Like, actually giddy. The campers were, too, and they pored over these zines for hours and let them inspire their own pages for our compilation A-Camp zine.
Some of the zines from Pioneers Press went home with some of the campers so they could tell us what they thought! You can read those blurbs below and follow the links to grab your own copies. While you're at it, spend some time looking through the posters, buttons, patches, shirts and stickers Pioneers Press has to offer! This scissors print from Sean Tejeratchi is currently #1 on my wish list.
We're so grateful for Pioneers Press for supporting A-Camp 5.0, and in turn we want you to support them!
---
Edited by shyla ann & robnoxious
Review by Catherine Reidy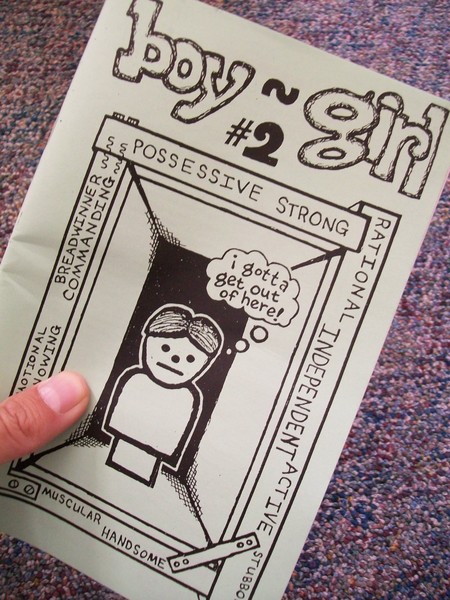 There's a lot going on in this double edition flip-zine. Open one side and you get a reflection on how the toilet seat oppresses cis male humans, flip to the other to read an essay on sex positivism from a college Feminist Philosophy class. In between are musings on polyamory, 'consent is sexy' 101, the benefits of non-traditional kid wrangling, sexism in the punk scene, alternatives to mass produced tampons and more. It's like an edgier, more accessible version of your Gender Studies class readings. I can imagine 15-year-old me swiping this from a pile by the door at the local queer bookshop, glancing around nervously to see if the cute butch working at the counter had noticed. I guess today's self-conscious baby queers avoid that whole situation with that handy new-fangled Interwebz thing. Highly recommend this one for sending to newly out queermos and also anyone else in your life who needs a of 'don't be an asshole' 101-level educating.
---
by Adam Gnade
Review by Riese
This is a nifty little 'zine for creative ambitious outsiders who wanna achieve big dreams but get derailed by self-doubt and depression. It felt a bit basic and sometimes even naive to me at first until I realized that the kind of stuff he's saying is the kind of stuff a lot of my A-Campers just now embarking on their own creative life journeys always want and need to hear — and often want to hear from me, since I guess I'm living the super painful and difficult dream he describes herein. (Which's also why most of what he says was a bit DUH to me) So if that sounds like you, you would like these wise words and pep talks and solid advice, both abstract and specific.
---
King-Cat Comics & Stories #65
(these aren't on pioneers press site anymore, but you can find them on amazon)
by John Porcellino
Review by Riese
This 'zine made me homesick in a good way, like how it opened with this thing on how Illinois felt like home, and this cartoon he did about finding a perfect lake in Kansas in the big quiet night. Issue #65 is from 2005 — this guy has only gotten more popular since — and is all about places, like Kansas, Texas, Illinois and Colorado. The comics are understated and witty and full of sea and roads, and the stories remind me of Dream Whip.
---
by Ayun Halliday
Review by Riese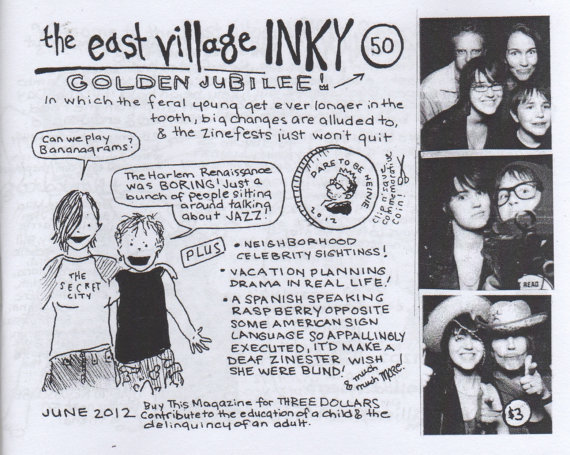 Ayun Halliday's handwritten, illustrated, quarterly 'zine East Village Inky is epically popular and long-lived. She writes books too. The 'zine is about the size of a back pocket on men's jeans. Maybe you've seen her at a zinefest 'cause this issue's all about 'zinefests, like maybe some you've been to. It's chock-full of travel tales, cute cartoons, familial situations and reviews of fests and the 'zines made by the humans she meets & loves. There was also a part of the 'zine where I felt personally called out for avoiding eye contact with zine-makers at zinefests. Halliday's from Indiana, so she gets heartland points, and her writing is densely energetic and she's got some kiddos, too, so she's got a lot of things in common with Laneia.
---
Carrie used to write "My Brilliant Mistake" which I've never read but would probably love and maybe you've read it, I don't know your life. 'Zines are sometimes just this fat open window into somebody's life and nothing can compare to that window, not even a blog or a book. A 'zine is like holding somebody else's everything in your hands. I realized this while reading My Aim Is True #3, which's about the authors' breakup with her trans boyfriend who she's still in love with (you can tell that she wants him to read this and come back) and also she talks about her own queer identity, and her mother saying she needs a "real man" and she talks about fears and love. She also quotes things you love. Maybe Carrie is your friend. I feel like she would be your friend.
---
by Kerri Radley
Review by Riese Bernard
The author, who is deaf but is able to read lips and speak "normally" enough that people don't always notice at first, writes in this issue about how hard it is to get a job when you're deaf. It turns out that I didn't know jackshit about ADA accommodations for disabled people and I am very greteful for the education. This little bit was compelling, educational and emotional all at once.
---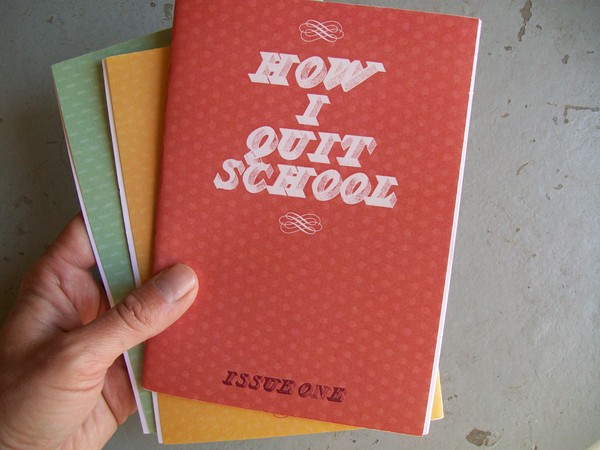 In the beginning, there was "women's moon cycle tea," Julie, and the anomalous world of un-schooling. "How I Quit School" navigates the radical concept of quitting the formal education system through a familiar and compelling narrator. High school's numerous stressors are present on every page, from descriptions of anxiety-inducing assignments due to consequential dangerous "what-if's" regarding self-harm. Dropping out of high school isn't always an easy concept to understand, but you'll find yourself supporting her decision and even rooting Julie on as you progress towards the final meeting with her guidance counselor.
---
by Kelly
Review by Molly
Shortandqueer #13 has the intimidating task of tracing in detail the music that accompanied the authors coming of age. In 27 pages, Kelly goes through his personal history from middle school in the early '90s to the present, outlining the songs that were important both in the cultural consciousness of the time and to him personally. This includes but is not limited to navigating the perils of relationships, moving around the country, and his queer and transgender identities. While the sheer amount of anecdotes Kelly includes at times renders a result that reads more like an annotated bibliography than an autobiography, Shortandqueer #13 accomplishes its goal in reaffirming just how intertwined music is in our personal histories.
---
Julia Eff's Every Thug Is A Lady: Adventures Without Gender, is a fast-paced, quick witted, tiny zine that offers incredible insights into their life as an Andro. It's packed full of mega-important gender expression definitions, and thought provoking questions like, "WHY ARE THE CLEARANCE RACKS GENDERED?!" (in regards to the gender-queer fashion watering hole that is Urban Outfitters.) This zine has it all, including gratuitous pictures of David Bowie and a preemptive content warning to end all content warnings.
"WARNING. THIS ZINE CONTAINS WRITINGS THAT SOMETIMES MENTION THE SEXY-REGIONS. IF YOU'VE YET TO GET YOUR HANDS ON PORN FOR THE FIRST TIME, PLEASE DON'T READ IT. YOU'RE STILL A WEE BB. SAVE YOURSELF." -Eff
Equipped with a fun, Getting Ready for Work Drinking Game, this zine is entertainingly quippy from start to finish.
"Take a drink:
Every time you change t-shirts and debate the inherent gendered traits of each one.

If you get frustrated by the t-shirts and put on a flannel with no undershirt.

Every time you unbutton or rebutton the top two buttons of said flannel, fascinated by how it can change your perceived gender."
If you've "got 99 problems but a gender ain't one," you can get this zine here.
---
by Liam Warfield
Review by Ali S.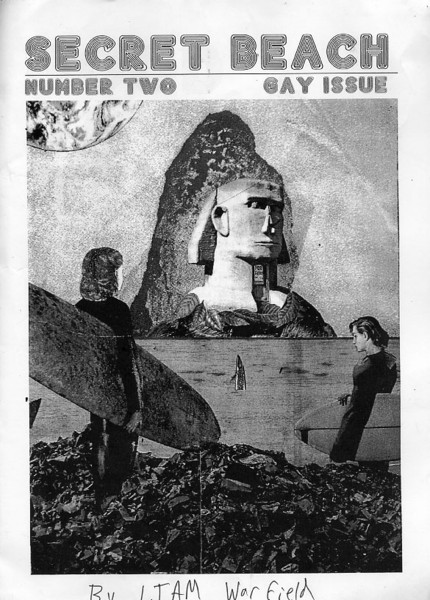 Liam Warfield isn't a name I'm going to forget anytime soon. In Secret Beach, Number Two: The Gay Issue, Warfield asks the right questions to the right people at the right time to create a piece of text which, bound by only two staples, contains words just as powerful as some three hundred page novels written by authors known far and wide to be pioneers of great prose and big ideas. To be honest, I wanted to hate it. I wanted it to be so awful and full of it's own virtue that, after reading it, I would be able to reaffirm that I prefer things called The Normal Issue over The Gay Issue. As I expected, every few pages, I had to put this zine down. What I didn't expect was that it was because I was so floored by some of the words in this zine that I had to physically take a breather and accept life as a changed person before I could read on any further. This 'zine got deep, guys. In the final pages, deep into an essay by French queer theorist, Guy Hocquenghem, you find this guy…
"We too often forget that dissimulation, the homosexual secret or lies, were never chosen for themselves, through a taste for oppression: they were necessary for projecting a desiring impulse towards the underworld, for a libido attracted by objects outside the laws of common desire."
-Hocquenghem
Whoop, there it is. *Has immediate and complete understanding of life as a queer person as we know it* Okay, maybe not complete, but pretty damn close.
Secret Beach, Number Two: The Gay Issue, by Liam Warfield, y'all. Read it. It's available here for a dollar. A low cost for an insight into some point of views worth understanding if you ask me.
---
by Sarah Rose
Review by Trystan
One of the greatest strengths that zines have, as a medium, is their potential for revolutionary work. This is certainly true in the case of Sarah Rose's Dangerous Damsels: Feminist Fairy Tales. In the zine's introduction she writes, "There are a thousand ways that growing up, we, as women are programmed to assume that the answer to our problems will come at the last moment when a handsome prince in shining armor rides up on a white steed to rescue us. Or that the end goal of our lives is marriage and procreation. Certainly, it's time for those outdated stories to be updated." She does this with seven classic tales, retold or reinvented with a feminist (and often queer) twist. They're not all perfect, but all in all Dangerous Damsels is a pleasant, subversive jaunt for those willing to make the trip.
---
Have you read any of these zines? What's on your Pioneers Press wish list? Let us know in the comments!
Follow Pioneers Press on tumblr and twitter, and like them on facebook!