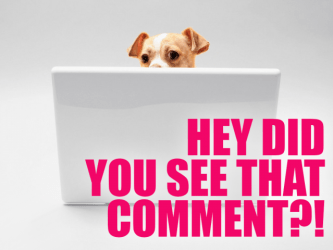 Holy snowballs, are we really on the cusp of December? There are still cardboard bats hanging in my apartment from Halloween. They're going to look so cute wearing tiny santa hats.
The seasonably responsible humans among you will probably enjoy these team-curated gift guides for humor, craft, thrift, music and book lovers. Also, don't forget to order the 2013 Autostraddle Calendar — the $14 pre-order price ends December 1st!
In other happenings, DeAnne Smith suffered a cute cat attack, Gabby dropped some knowledge about holiday breakups and resident butch Kate had all of the feelings. Then Lizz recapped Glee, Carmen interviewed Eileen Myles and Gabrielle talked about queer RAs.
Do you remember where you were when Tegan and Sara released their first video with actual queer content (besides Tegan and Sara)? Also. Also.Also., who doesn't want to dress like Jenna Lyons or umm, I don't know, THE GALAXY?
Now let's starsweep to this week's comment awards!
---
On Four Spring/Summer 2013 Runway Trends That Are Worth Following:
The "PTSD" Award to Dena: "I'm so glad that I'm not the only one who is scarred by Jenny wearing doilies."
On Holiday Breakups: 10 Reasons to Buck Up And Do It:
The "Relevant Username" Award to Lone Wolf:

On Motif of the Week: The Queer Grrl's Guide to the Galaxy:
The "I Hear They Call It the Milky Way" to dizzy: "I like the galaxy underpants. I've always suspected the contents of my pants were the centre of the galaxy."
On The Thanksgiving OPEN THREAD:
The "They Should Call Them Autostraddle K-Cups" Award to megan:

On Also.Also.Also.:
The "Glad I'm Not the Only One" Award to Kade: "I HAVE A VERY CONFUSING CRUSH ON CORY BOOKER!"
On College Lesbianage Class of 2016: Halloween, Snow and Elections, Oh My!:
The "Gaymerica the Beautiful" Award to Liz W:
The "Fan Fiction Are You Listening?" Award to Emily: "I feel like a Boxcar Children/Glee mash-up show would be infinitely more watchable than what is currently happening."