When it comes to the holidays, clothing-related gifts are a given. From your girlfriends' handmade scarf to your nana's annual Christmas sweater, almost all of these items will be of the winterwear variety. After New Years', you'll likely get four months' wear out of those mittens and peacoats, tops. If you're looking to buy someone you and/or someone you love an item of clothing this year, consider purchasing spring or summer clothing instead. Along with great markdowns on seasonal clothing, you'll be able to beat the crowd to some of next season's coolest style trends.
Lace
By normative standards, lace is hardly the most masculine material. Regardless, designers like Carlo Pignatelli and Pierre Cardin  threw their middle fingers to the gender police this year by showcasing lacy menswear. Paired with this years' fixation on clothing with cutouts, the Richmond top pictured above makes for an easy DIY project involving a secondhand lace dress, a slim fitting polo, and some scissors.
Lace also has a big presence in dresses and blouses (Dolce and Gabbana, Alexander McQueen). Lest you resemble Jenny Schecter in a doily dress, just know that less is more when it comes to the material.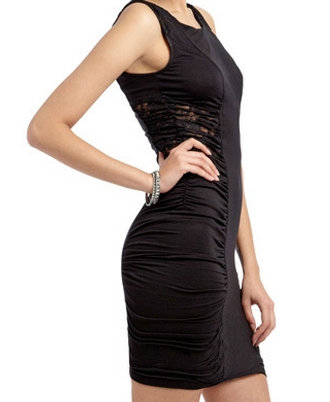 Alternative: Side Lace Dress by Classique, $58
Body Harnesses
Between the revival of Helmut Newton's BDSM-themed black and white photography and the seemingly nonstop cultural references to 50 Shades of How To Not Do Sadomasochism, body harnesses have become a staple for many designers, most notably Alexander McQueen. Fortunately, many of the harnesses on the runway look a little less like a prop from Secretary and more like something you could actually wear home without making your mother faint. Made out of everything from leather to metal to elastic, harnesses can be worn over form-fitting dresses or tops. They also look just as hot — if not more — when worn beneath a sheer and androgynous oxford shirt.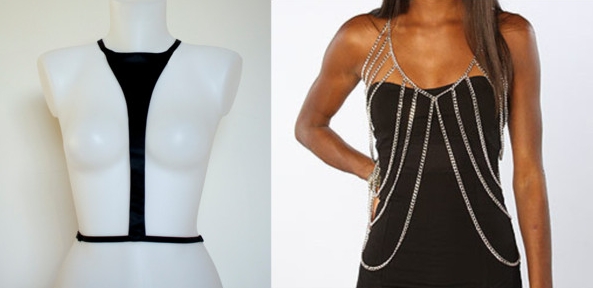 Alternatives:
Black body harness c/o Etsy, $35
Jailbird Stripes
If you've ever harbord a secret desire to be Beetlejuice or Elvis circa "Jailhouse Rock," 2013 is the year to do it.
Alternatives:
Tripp NYC Overdyed Super Strip pants, $69
Are You Free Tonight? dress, $59.99
American Apparel striped oxford, $15-52
Seafoam Green
Like lace, aquatic colors such as seafoam have been heavily featured in many spring/summer 2013 collections for all genders mermaids and mermen alike.
Alternatives:
Spring In Every Season jeans, $53
Bethany Tuxedo top, $39.95
Ethereal Elegance dress, $59.99