Happy Wednesday that isn't the day before Thanksgiving! Last week was crazy, and now that it's over we can spend our days catching up on the stories we missed. What a wonderful world.
State of the Union
The most loathed person in my Internet, Chris Brown, has ceased to exist in at least one corner of it: Twitter. I feel openly good about it. I think instead of Chris Brown we should all listen to Willow Smith because she's going to be amazing with a mom like Jada Pinkett-Smith, who posted on Facebook:
The question why I would LET Willow cut her hair. First the LET must be challenged. This is a world where women,girls are constantly reminded that they don't belong to themselves; that their bodies are not their own, nor their power or self determination. I made a promise to endow my little girl with the power to always know that her body, spirit and her mind are HER domain. Willow cut her hair because her beauty, her value, her worth is not measured by the length of her hair. It's also a statement that claims that even little girls have the RIGHT to own themselves and should not be a slave to even their mother's deepest insecurities, hopes and desires. Even little girls should not be a slave to the preconceived ideas of what a culture believes a little girl should be. More to come. Another day.
In other news, I have Willow Smith's hair. Or vice versa. WHO KNOWS!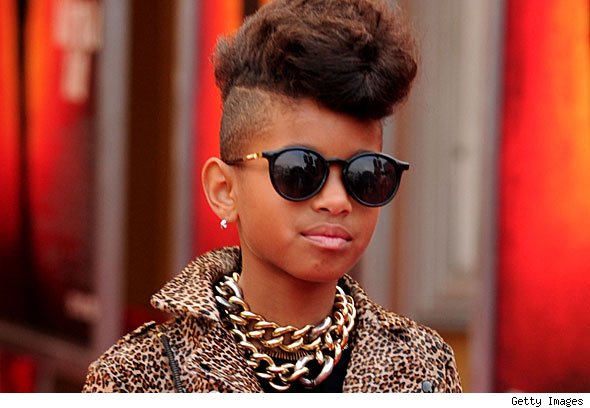 In California, there came yet another first last Wednesday when Jerry Brown appointed the first-ever out gay appellate justice. And across the United Fuckin' States, 102 LGBT refugees have safe haven from violence elsewhere on the planet.
In Maine, however, a fifth-grader can't use the bathroom of her choice and Michelle Kosilek will not be able to receive electrolysis treatments in prison. 
IN BREAKING NEWS, "Lesbian Excels As Sports Official." Who would have thought?
Cory Booker might run for Governor of New Jersey, my home state. Which would be cool, because Chris Christie is the worst.
"Like few others, Cory Booker manages to capture the imagination of the LGBT community from all over the country, and from all walks of life," he said. "I would suspect a wide diversity of Americans would support his campaign and help get him the resources he needs to win." And then there's the obvious difference in LGBT politics: Booker endorses marriage equality, while Christie vetoed an equality law for political gain.
In less serious but still seriously remorseful news, NBC is blocking a Chelsea Clinton ad for gay marriage.
Homophobia and Transphobia Continue to Look, Feel Dumb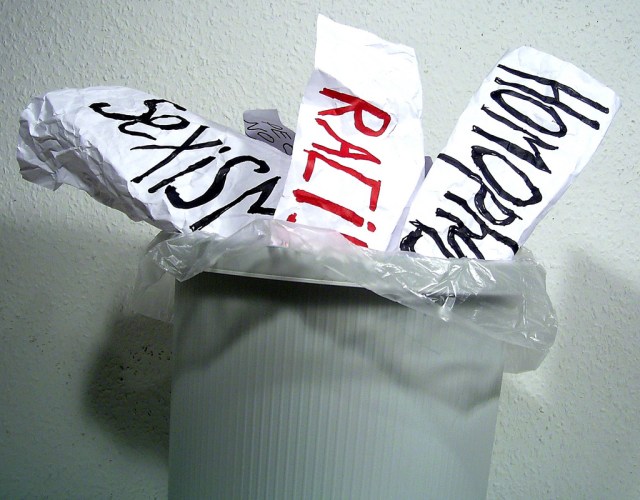 There's sometimes just no talking to these people. As in, I have nothing left to say because I am actually often left stupified by the brains of these people. By these people, I of course mean morons.
In Alberta, Canada, students are being told to look "less gay" if they're so afraid of being hurt by homophobes and other violent humans! This sounds like super sound advice that we, as a global culture, have not heard and dismissed en masse before!!
The Alberta School Boards Association has rejected a proposal that would protect gay students and staff from discrimination – the same proposal that was passed by Edmonton Public Schools last year.

In fact, 62 per cent of the board turned down the proposal, and one trustee from Pembina, Alta., said some shockingly ignorant things to the CBC.

Dale Schaffrick suggested if "children with a gay tendencywp_postscould hide their gayness it would be "for their own benefit."
While I'm feeling pissed I'd like to let you know that Victoria Jackson sucks almost as much as the price of organic food sucks.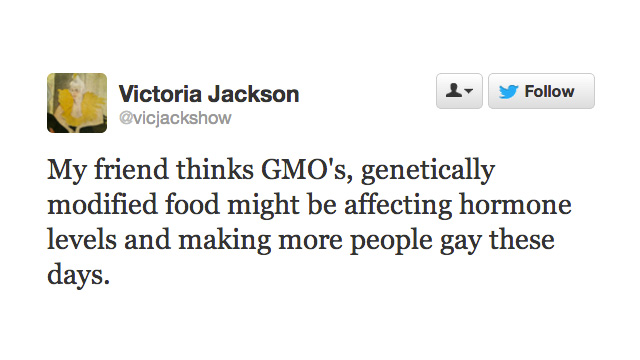 Gays and Other Queermos Around the Globe: Good, Bad, and Appointed
Queers: we exist! Isn't that nice?
In D.C. it could apparently be better, because anti-LGBT crime is on the rise once again. As a DC resident, I've not been a witness to any violence but have noticed that lately everytime I go out some dude tells me I "will realize I'm not gay in a couple of years," which I assume is when they will reconvene and hit on me once again.
Before it gets better, though, it's gotta get worse. This week in Nicaragua, a trans woman who was beaten and stabbed by a group of men was laughed at when reporting the crime to local police. And in Libya, 12 gay dudes are on the brink of execution because they're gay. And in the UK, being gay and being a teacher still proves challenging. But here's the best part — it gets better! In France, a gay mosque is a thing; in virtual worlds gay marriage is still controversial but maybe happening nonetheless. 
In Dehli, no amount of homophobia could stop hundreds of LGBT people from coming together for their fifth pride celebration Sunday. Their focus? That gender is a myth. See more on this topic later when we reconfirm that gender is a myth.
Each year, new issues are addressed at the parade. "This year the theme is 'gender', and we are addressing something that oppresses us all – the straight-jacket of gender," Mohnish Kabir Malhotra, a member of the Delhi Queer Pride organising committee, told Al Jazeera.

The parade brought together members of the LGBT community to support those who face discrimination, violence, abuse and ostracisation because of their gender or sexual identity, Malhotra added.
Y Control
This week on Gender Is A Myth In Sweden, I'd like to welcome this toy catalog.
In other news, Saudia Arabia is electronically tracking its women!
Denied the right to travel without consent from their male guardians and banned from driving, women in Saudi Arabia are now monitored by an electronic system that tracks any cross-border movements.
Since last week, Saudi women's male guardians began receiving text messages on their phones informing them when women under their custody leave the country, even if they are travelling together.
Manal al-Sherif, who became the symbol of a campaign launched last year urging Saudi women to defy a driving ban, began spreading the information on Twitter, after she was alerted by a couple.
The husband, who was travelling with his wife, received a text message from the immigration authorities informing him that his wife had left the international airport in Riyadh.
A Bundle of Good Feelings
This week I'm not trying to make you sad, which I apparently did last week. Great!
If you're feeling a negative emotion of any kind, maybe try reading Jezebel's "Your Imaginary Girlfriend" post for Rachel Maddow, which the staff at Autostraddle has decided did not include enough actual doing it but was otherwise GREAT.
She pulls her mouth into a frown, but her eyes, slightly obscured by her black square glasses, glitter with mirth. "Last weekend, I was in a hurry," she says, lightly flicking the chewed pencil at you.

"And this weekend?" Unintentionally, your voice has taken on a sudden edge. Ever since the election started — hell, ever since she got her MSNBC show — it's been nearly impossible for you and Rachel Maddow to spend quality time together without her Blackberry buzzing or her producers calling. You're still crazy about each other, maybe even as crazy for each other as you were when you first met, but you can't help but admit that your relationship has unique stresses.

This is what you get for loving a Rhodes Scholar.

"Don't get like that," she says, her voice soft. You know the time apart hurts her as much as it hurts you, but that doesn't make things easier.
Side note: if anyone wants to know what it's like to date a famous person they should clearly be dating me.