If you or somebody you love is a fan of our recurring Things I Read That I Love feature, in which I share my favorite longform picks of the week, then this gift guide is for you.
Essay Collections
The Best American Essays Series is always a solid round-up of the year's best longform reads, such as The Best American Essays 2005 edited by Susan Orlean or The Best American Essays 2009 edited by Mary Oliver. Another consistently worthwhile anthology is Dave Eggers' Best American Non-Required Reading series, which combs through sources both obscure and legendary to accumulate a body of work guaranteed to contain at least ten things you never would've found otherwise. I've never picked up a Best American Magazine Writing anthology, but I bet if I did, I'd like it. However, I have picked up various editions of The Best Sex Writing and did indeed like all of them.
Personals: Dreams & Nightmares From The Lives of 20 Young Writers (1998), edited by Thomas Beller – This book is heralded as "an edgy and provocative collection by some of America's most talented young writers" and was one of a few books that conspired circa 1999 to make me wanna write creative non-fiction.
BITCHfest: Ten Years of Cultural Criticism from the Pages of Bitch Magazine (2006), edited by Lisa Jervis & Andi Zeisler – Topics include Martha Stewart, the "gayby" boom, Girl Power, Female Adolscence in Modern Horror Films, gender bias in Science and authors such as Julia Serano, Margaret Cho, Marisa Meltzer, Rachel Fudge and Diane Anderson-Minshall.
New York Stories: Landmark Writing from Four Decades of New York Magazine (2008), by the editors of New York Magazine – Topics include Gawker, The Me Decade, Grey Gardens, Bill Clinton and women's liberation. Everything they publish is golden, so.
Thematic Essay Collections From Magazines
On Crime from Texas Monthly: Texas True Crime (2007) – All the best crime stories come from The Texas Monthly. It's true.
On Celebrity from The New Yorker: Life Stories: Profiles (2001), edited by David Remnick – Profile subjects include Richard Pryor, Mikhail Baryshnikov, Roseanne Barr and Al Gore.
On Beauty from The Nervous Breakdown: The Beautiful Anthology (2012), edited by Elizabeth Collins – "An eclectic, international combination of established and emerging writers and artists all riffing entertainingly on the theme of beauty."
On Sex from Nerve.com:  Nerve: The First Ten Years (2008) – Ten years of literate smut is collected in a "stunning retrospective" which "celebrates Nerve's impact on popular culture with its stimulating essays, interviews, fiction, and photography."
On Writing from The Paris Review: The Paris Review Interviews, Vols. 1-4 (2009) – Everybody on everything, e.g., Joan Didion, Raymond Carver, Joyce Carol Oates, Haruki Murakami, Toni Morrison, T.S. Eliot, Elizabeth Bishop, Ralph Ellison and Maya Angelou.
On All Things Literary from The Believer: Read Hard: Five Years of Great Writing from The Believer (2009) – The best essays from "one of the smartest, weirdest and funniest magazines in the country" including work by Michelle Tea, Jonathan Lethem and Rick Moody.
On Food from Gourmet: Endless Feasts: Sixty Years of Writing from Gourmet (2003) – Writers includie Ray Bradbury, James Beard, Paul Theroux and E. Annie Proulx.
On YA Novels from Jezebel: Shelf Discovery: The Teen Classics We Never Stopped Reading (2009) – This paperback, culled from Jezebel's Fine Lines column, features funny writers talking about the works of Judy Blume, Beverly Clearly, Norma Klein, Louise Fitzhugh and so many more.
Collections By Kickass Creative Non-Fiction Writers & Journalists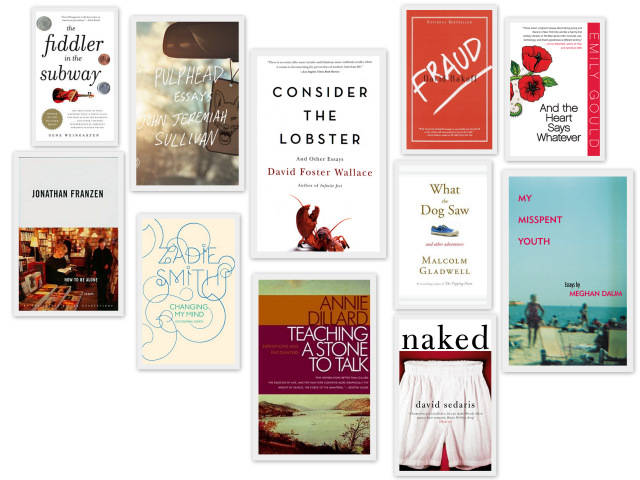 Consider the Lobster and Other Essays by David Foster Wallace
How to Be Alone: Essays, by Jonathan Franzen
My Misspent Youth: Essays, by Meghan Daum
Slouching Towards Bethlehem: Essays (FSG Classics), by Joan Didion
What the Dog Saw: And Other Adventures, by Malcom Gladwell
Changing My Mind: Occasional Essays, by Zadie Smith
Naked, by David Sedaris
Pulphead: Essays, by John Jeremiah Sullivan
And the Heart Says Whatever, by Emily Gould
Fraud: Essays, by David Rakoff
Teaching a Stone to Talk: Expeditions and Encounters, by Annie Dillard
The Fiddler in the Subway: The Story of the World-Class Violinist Who Played for Handouts. . . And Other Virtuoso Performances by America's Foremost Feature Writer, by Gene Weingarten
Books That Started Out As Longreads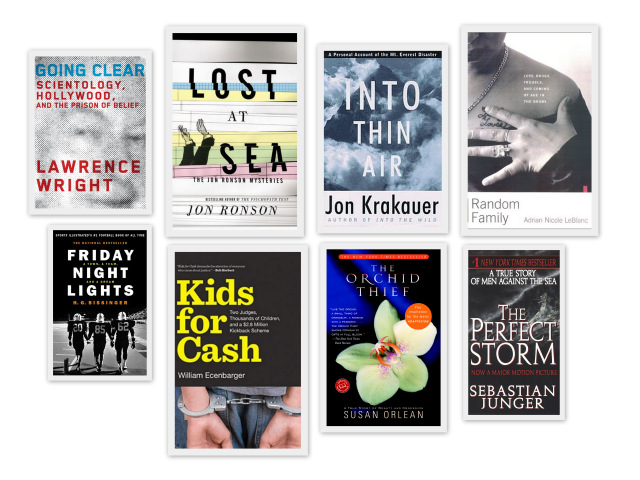 Random Family: Love, Drugs, Trouble, and Coming of Age in the Bronx (2002), by Adrian Nicole LeBlanc, from the 2000 New Yorker article entitled Landing From The Sky.
Into Thin Air, by Jon Krakauer, from the September 1996 Outside Magazine article by the same name.
Kids for Cash: Two Judges, Thousands of Children, and a $2.6 Million Kickback Scheme, by William Ecenbarger, began with Ecenbarger's investigation on this issue for The Philadelphia Inquirer  including an article we read in a past TIRTL that I can't seem to track down.
Lost at Sea: The Jon Ronson Mysteries (2012), by Jon Ronson, includes heaps of previously published articles, including some that have appeared in prior editions of TIRTL, such as The Guardian's 2011 piece Lost at Sea (about the girl who vanished from a Disney cruise ship) and the July 2012 GQ article Amber Waves of Green (talking to Americans on both ends of the economic ladder).
The Perfect Storm (1997) by Sebastian Junger, from this 1994 Outside Magazine article, "The Storm."
Friday Night Lights: A Town, A Team And A Dream (1991) by H.G. Bissenger from the 1990 Sports Illustrated article by the same name.
Going Clear: Scientology, Hollywood, and the Prison of Belief (2013) by Lawrence Wright -This actually doesn't come out until January, but I wanted you to know about it anyhow because this 2011 New Yorker piece, Paul Haggis Vs. The Church of Scientology, is one of my favorite longreads, and you should put this on hold if you get a gift card.
The Orchid Thief (1998) by Susan Orlean, from the January 1995 New Yorker article "Orchid Fever"
Books About Important Shit
If you love Things I Read That I Love, you probably have a lot of feelings about Important Shit such as prison reform, education, unemployment, politics, and so forth. These recently-released books by journalists tackle tough topics: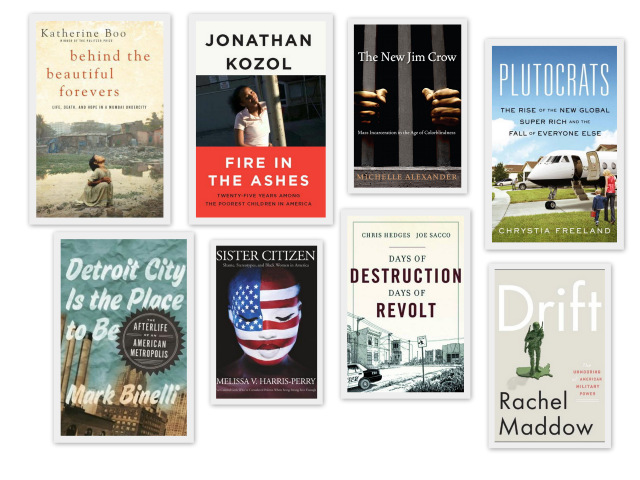 Plutocrats: The Rise of the New Global Super-Rich and the Fall of Everyone Else (2012), by Chrystia Freeland
Detroit City Is the Place to Be: The Afterlife of an American Metropolis (2012), by Mike Binelli
Days of Destruction, Days of Revolt (2012) by Chris Hedges & Joe Sacco (It's about the nation's "sacrifice zones" – "those regions where, in the authors' view, corporate greed has run wild, and the locals have suffered.")
The New Jim Crow: Mass Incarceration in the Age of Colorblindness (2012), by Michelle Alexander
Fire In the Ashes: Twenty-Five Years Among the Poorest Children in America (2012), by Jonathan Kozol
Drift: The Unmooring of American Military Power (2012), by Rachel Maddow
Sister Citizen: Shame, Stereotypes, and Black Women in America (2011), by Melissa V. Harris-Perry
Behind the Beautiful Forevers: Life, Death, and Hope in a Mumbai Undercity, by Katherine Boo (on byliner)
Magazine/Journal Subscriptions
n+1 ($40 for one year of print and digital) – Consistent source of high-quality writing and criticism on topics relevant to our interests. Billed as a "print magazine of politics, literature, and culture founded in 2004 and published three times yearly," its stuff has appeared regularly in TIRTL and its evolution over the past eight years has been delightful to observe.
The Paris Review ($40) – The most legendary of all the literary journals, The Paris Review publishes a mix of fiction, non-fiction and interviews and wins a million awards every year. It was the first publication to publish Adrienne Rich, Phillip Roth, V.S. Naipaul, Jack Kerouac, Mona Simpson, T. Coraghessan Boyle and Rick Moody and the first to publish landmark works by Jim Carroll, Italo Calvino, Jonathan Franzen, Jeffery Eugenides and Donald Barthelme.
Bitch Magazine ($24.95)- Just today I got a gift subscription of Bitch Magazine for Laneia, and I feel great! In fact, MY new issue of Bitch arrived today shortly afterwards, as if on cue! I might hop around the house like a bunny now! Anyhow, every issue Bitch serves up four or five feature articles on their "feminist perspective on pop culture," mostly unavailable online, and even their front-of-book stuff is awesome. Plus, it's a non-profit so it's good to support in general.
The McSweeny's Quarterly Concern ($55) – Dave Eggers steers this ship, which once upon a time only published things that'd been rejected by other things. Now they just run lots of awesome things, all the time, with a wildly different format and overall situation each time.
The Believer ($45) – The best contemporary literary writers are always writing for The Believer, for serious. They publish good stuff regardless of length and only review books they actually like!
New York Magazine ($29.97) – My favorite magazine and the only one I usually read cover-to-cover.
Granta Magazine ($48) – "Granta does not have a political or literary manifesto, but it does have a belief in the power and urgency of the story, both in fiction and non-fiction, and the story's supreme ability to describe, illuminate and make real."
The New York Times($30) – Give the gift of unlimited behind-the-paywall access and smartphone and/or tablet apps!
The Virginia Quarterly Review ($32/year) – Founded in 1925, the VQR continus raking in awards while aspiring to "its purpose of becoming a national publication of popularity and prestige, of independence and integrity."
ADBUSTERS ($38) – "Our mission: diffuse the fog of mental pollution and change the way information flows. Through philosophical thrusts and tactical briefings, we hope Adbusters gives you an epiphany and is the start of your permanent occupation."
The Oxford American ($20/year) – "The Oxford American captures the voice of the South as expressed by an eclectic mix of the finest Southern writers, artists and photography. Count on Oxford American to bring you the best of Southern culture each issue."
The classics for lovers of longform – The New Yorker and Harper's. Less so these days, but still – Esquire. Other magazines who regularly run quality longform include Mother Jones, WIRED, Rolling Stone, The Atlantic and Vanity Fair.
In general, you can access crazy amounts of kickass magazines on Buy Olympia Dot Com.
If you missed today's very special episode of Things I Read That I Love, check it out.