Dear Journal,
I just read about a new study at the University of Arizona that aimed to measure the success of journaling one's feelings as a coping mechanism following a breakup. As The Atlantic reported, the researchers hypothesized that "focusing creative word vomit into narrative form could help patients with the highest tendency to ruminate about the past to pull themselves together and move on following divorce." Journal, you of all people should know that I have a tendency to ruminate, so clearly I was very interested in the findings of this study.
For three days in a row, ninety recently divorced/separated people wrote in a journal for twenty minutes a day. While some were asked to simply log their daily activities, others were told to "really let go" and dive into their deepest feelings, and the rest were asked to craft a structured narrative of their failed marriage.
When the researchers followed up eight months later, they were shocked at the results: "The participants who were the most ruminative, and who 'were judged to be actively engaged in the search for meaning,' made the least progress in dealing with their emotions when instructed to express their emotions through writing." The participants who simply logged their daily activities made the most emotional progress, according to the scales used in the study.
The lead author of the study, psychological scientist David Sbarra, had this to say about their findings:
"If you're someone who tends to be totally in your head and go over and over what happened and why it happened, you need to get out of your head and just start thinking about how you're going to put your life back together and organize your time. Some people might naively call this avoidance, but it's not avoidance. It is just re-engagement in life, and the control writing asks people to engage in this process."
Wait, that's me! I am totally in my head going over and over what happened and why it happened, not just about breakups but about basically everything that occurs. Do the findings of this study apply to everything that ends, like a job or a friendship or a dream? How am I supposed to "re-engage in life" before I've fully processed?! Writing about feelings is re-engaging with life. I mean, what is life if not a series of feelings?
Confession: I have several journals that exist for the sole purpose of processing breakups. They are hidden in my room collecting dust because I've been going steady with my boo for a few years, but there are still so many other things to ruminate about. If I were to simply keep a daily log like the people in this study who were supposedly the most emotionally successful, I just don't know what I would do with my feelings. Would they dry up like tiny feeling raisins in the sun? I've been told that if we don't acknowledge our feelings, we act them out.
The thing is, Journal, even if I'm not using your pages to ruminate within, I can't not ruminate. I have to take these feelings somewhere; they are just so enormous and consuming. If I don't tell you about them, I will incessantly gchat my friends who have grownup jobs and thus better things to do than reassure me for the millionth time about how that one thing I said that one time actually wasn't a big deal and no one hates me/cares. Also, I feel like journaling doesn't have to literally be in a journal. I have a few dozen drafts to various people sitting in my email that I'll never send but were super cathartic to write. Is this study implying that rather than spending time writing about my feelings, I should go to the grocery store? I just really don't think that would make me feel better. I hate the grocery store.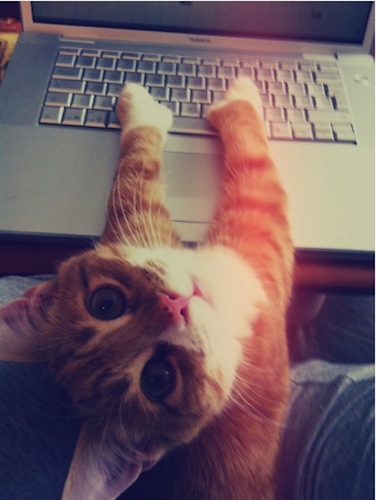 The study weighed the emotional recovery of the participants using scales that measured "response to a traumatic event, depressive mood disturbances, and 'loss and rediscovery of self.'" Sometimes, though, after something like a breakup, the point is that maybe you can't rediscover yourself. Maybe you have to make a new self out of the ashes of the relationship, which is different from getting back in touch with the old pre-relationship you. The study also had a lot of pre-determined assumptions, like that eight months should be enough time to get over a failed relationship. What if the relationship lasted ten years and your heart is a hot broken mess? What if rather than trying to "get over" a relationship, someone's goal was to integrate the loss into their daily life and grow from it?
Basically, my eyebrows are raised way, way up about all this. As you can see, Journal, I'm even having to process my feelings about what it means to process feelings. The  writer of Atlantic's report on the study concluded, "In other words, indulging your angst only prolongs your suffering." Maybe it's because I'm on the first day of my period (ugh kill me), but exploring my "angst" has never felt indulgent; it has felt completely necessary. I don't want to simply "get over" the people I've lost, I want to learn as much as I can from the experience and take those learnings with me into other relationships.
Thanks for listening, Journal.
-GK