The question of whether the issue might make it all the way to the Supreme Court has been under debate since 2009. Judge Walker's powerful strikedown of Prop 8 was very moving, but was limited to California, and still isn't in effect because of an injuction filed against it. Lawsuits like the one Edie Windsor just won are inspiring, but can't strike down DOMA for others.
The Supreme Court could potentially make these cases nationally important more than just in terms of emotion and precedent. Today, the Supreme Court Justices met privately to decide how they would approach the looming issue of gay marriage, or whether they would deal with it at all.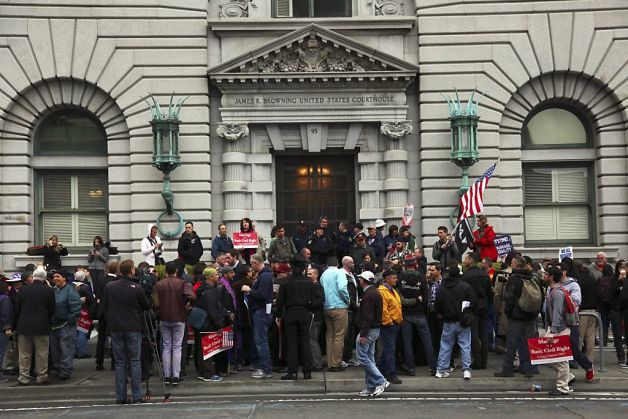 It's a complicated decision, though, because SCOTUS can't just decide on gay marriage as an issue; it can deal with or not deal with a number of cases that involve gay marriage, and in each case their ruling might have different implications. If the court chooses to hear an appeal on Prop 8, their ruling would speak to whether the Constitution's equal protection clause means that it's unconstitutional to deny same-sex couples marriage rites.
A decision in favor of gay marriage would set a national rule and overturn every state constitutional provision and law banning same-sex marriages. A ruling that upheld California's ban would be a setback for gay marriage proponents in the nation's largest state, although it would leave open the state-by-state effort to allow gays and lesbians to marry.
The court also had the option, though, to avoid Prop 8 entirely and take up cases having to do with DOMA. If they did so, even if they ruled in favor of gay marriage in those cases, it would only force individual states to recognize marriages performed legally in other states, but not change their own laws.
Ultimately, what the Supreme Court has chosen to do is not deal with any of these cases right now.  It will take no action on cases pertaining to DOMA or on Prop 8 at this time. This doesn't mean that gay marriage will never make it to the Supreme Court; it means that they have decided to deal with other cases for the time being, and given the schedule of the court, this means it will probably be years before the Supreme Court deals with these cases, if ever.