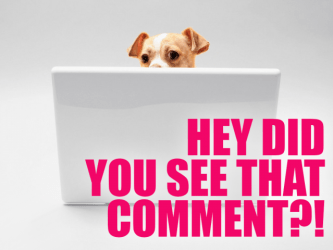 Hi there, yearlings! Happy Intern Grace Day! I hope you're celebrating appropriately by gazing longingly at Grace and Chloe's calendar photos while eating some soup and petting a furry animal. (I bet you hardly noticed the puppies in those photos, huh?)
Speaking of puppies and cuteness, Carly, Robin and Arthur started their cross-country journey from New York to Los Angeles this week. They're going to tell us all about it in their Westward Homo column. In other auto-staff news, did you see that Gabby was featured in Time Out New York's women-seeking-women section this week? The secret of her great hair and general amazingness is out.
Also around this website ship you'll find Kristen's recipe for bobotie (even more fun to eat than pronounce!), Ali's strap-on buying guide and Crystal and Hansen's epic track-by-track feelings festival for the new Tegan and Sara album.
One last thing — please vote to get Autostraddler Ashley Catherine into the Women of the World poetry slam contest! Do it. Do it now! Then read these words from our favorite commenters this week…
---
On Listling Without Commentary: Your Really Special and Often Edible Ideas For A Better Autostraddle:
The You Do You Menu Award to everyone on this thread: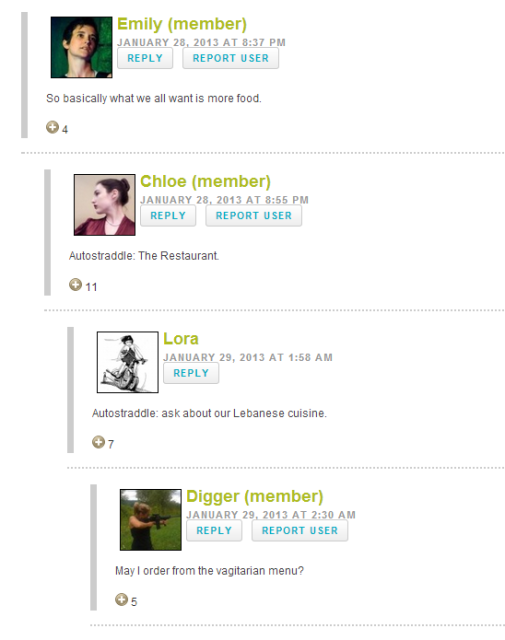 The Parmesan Cheesus Award to Kathryn and Imogen:
The Cuddlepile Award to Willis: "I feel like if somebody made grindr for lesbians but it was just for finding a cuddle buddy that shit would blow up. Spoonstr?"

On From England to New England: This is a Gay Marriage Round-Up Post:
The Hate 'Em and Love 'Em Award to Arrrgyle: "[…]I watched the live stream of the RI House's debate and vote on Thursday, which was a pretty much your standard back-and-forth of 'I CAN'T BELIEVE WE ELECTED THESE IDIOTS' versus 'I AM SO FUCKING PROUD RIGHT NOW!'"
On Time Out New York Wants You To Date Gabby :
The Ballad of Gabby Award to K to the Izzo:

On Gender Bender: An Intimate Film About Life Outside The Binary:
The You Get Us, You Really Get Us Award to Katelin: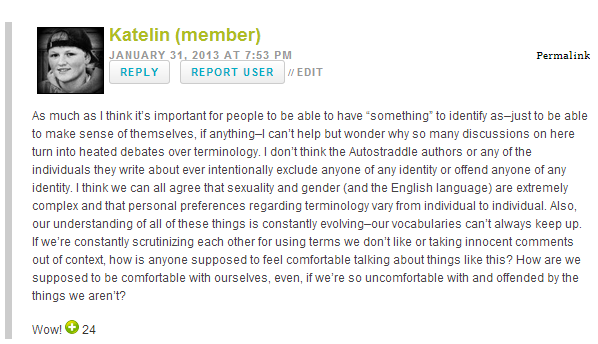 On Chloe and Intern Grace Are February's Calendar Girls:
The Sweater Starch Award to Lora:  "Okay, but what's this I hear about a tater tot in a cardigan? Is that March's Calendar Girl?"
The Super Swoon Award to Arianna: "oh my god how are you both so attractive i'll just be over here with a happily dazed smile on my face staring into the middle distance and thinking about your boobs
(and faces)
(and flannel because unf)"
The Mom's the Word Award to Amanda: "I am one very proud momma. My beautiful, bad ass, brave, smarty pants, my baby girl Chloe."