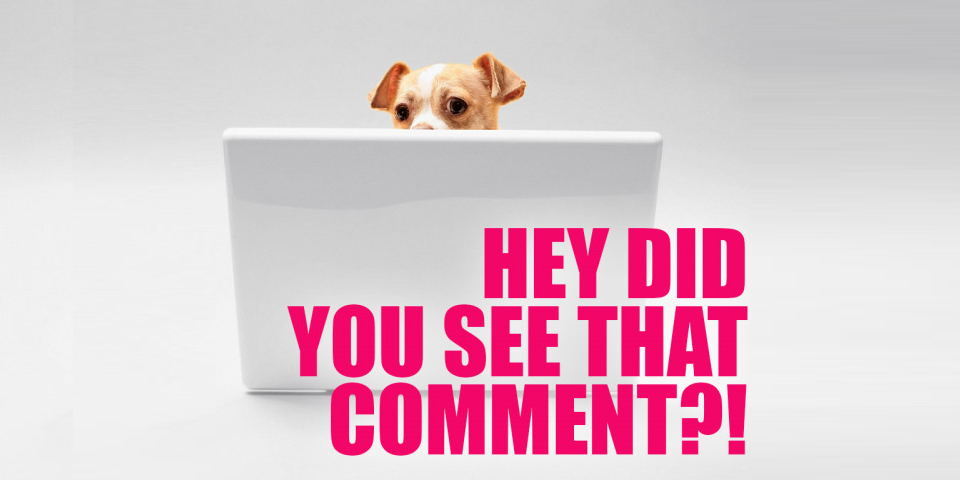 Trick-or-treat! Buffy (the Vampire Slayer) said that Halloween is "come as you aren't" night, but I think it's the opposite. Halloween is the night when I wear my favorite boots from college and the tights with all the holes and my hairy legs look just right in my black dress. I'm a witch, every year I'm a witch, and I get to dress exactly how I want without anybody judging me, and I fucking love it. I hope you had a spectacular night!
This week, you dressed up your beautiful selves in the Autostraddle Halloween Community Gallery!
Riese brought us Queer Books Across America, the most beautiful reading list I have ever seen.
Rachel brought us An Investigation of Gay Situationships, a Time-Honored and Life-Ruining Tradition. Listen,
Kayla talked up the merits of the one song on repeat, a time-honored tradition for me since the seventh-grade slumber party when we listened to the Spice Girls' Wannabe for a literal 24 hours straight.
A.E. wrote about the models of masculinity reflected in the Dream Daddy comics.
The newest quarterly issue, But Make It Fashion, is HERE! The inaugural essay absolutely blew me away.
And there were your comments.
---
On NSFW Lesbosexy Sunday Is Calling a Vulva a Vulva:
The Bondage for 200, Alex, Award to Deli Twotone:

On BREAKING: Aisha Tyler Might Be Dating Her "True Love" Emily Bett Rickards or at Least Likes Kissing Her:
The Long Con Award to Blackmar, Lavendula, N.T., and Riese: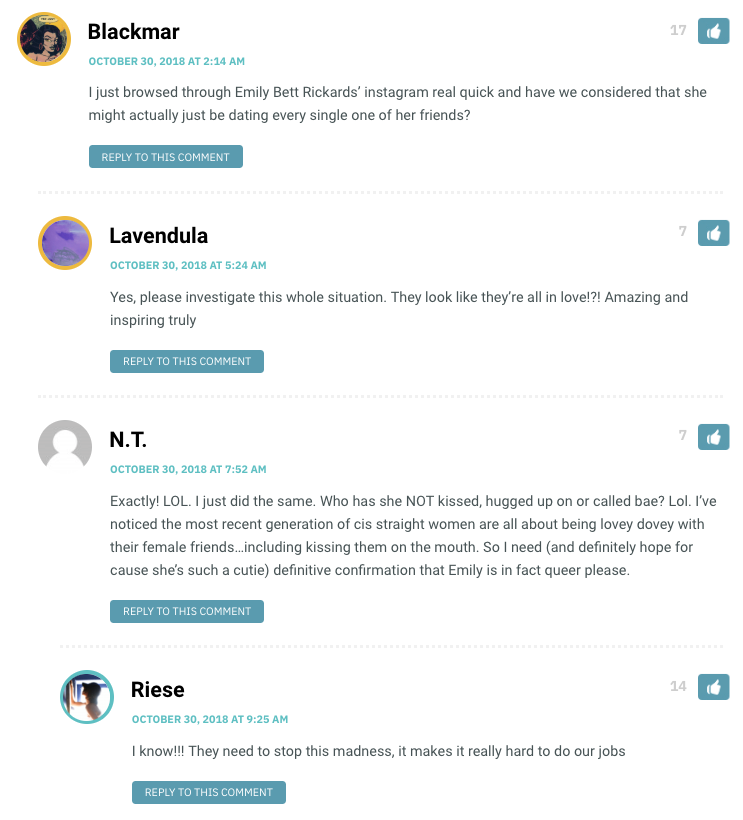 On An Investigation of Gay Situationships, a Time-Honored and Life-Ruining Tradition:
The Tenth Circle Award to Isabel: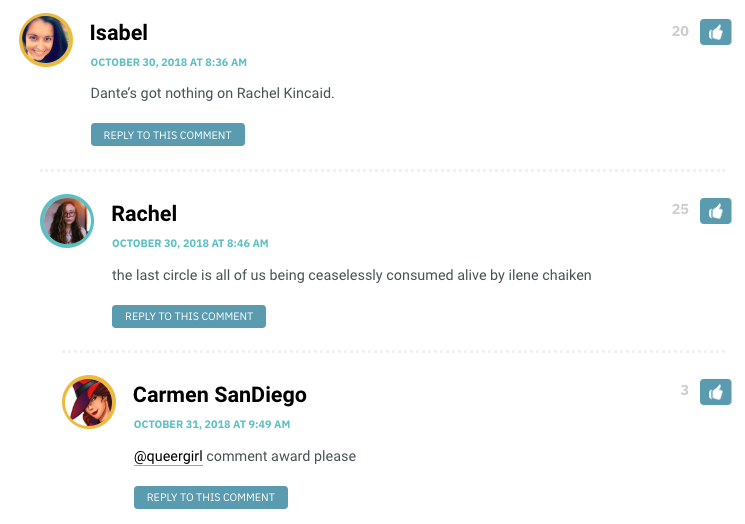 And the Grain of Sugar Award to RCF and Vanessa: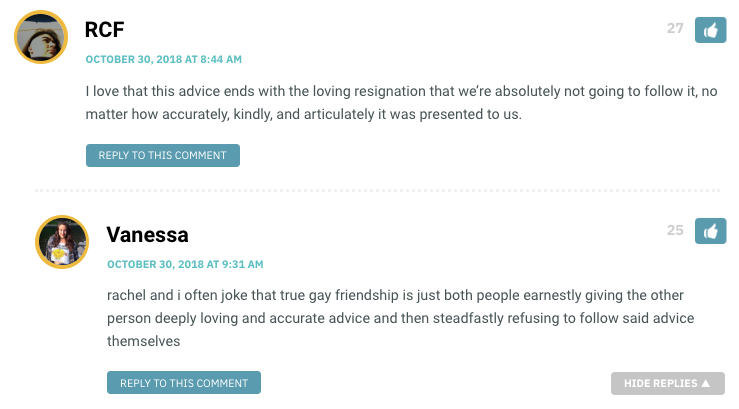 On For Your Consideration: Repeat One:
The Bad Reputation Award to Denise:
On No Filter: Kehlani Wants to Trick-or-Treat With You:
The Can't Beat 'Em, Dodge 'Em Award to Chloe:
And on Happy Halloween 20GAYTEEN, Here's Your Community Costume Photo Gallery:
The Bloody Fantastic Award to Al:

---
See a funny or amazing comment that needs to be here? E-mail me at queergirlblogs [at] gmail [dot] com!