Hey there, Ice Cubes!
It is hot as blazes in my part of the world right now. Here's to hoping you are cool wherever you are. I mean, I know you're cool because you're looking at Autostraddle dot com right this moment, but you get my drift.
This week was the second anniversary of A+! There's still time left today to join while Bronze members have access to all the Silver and Gold content! Check out that thing Stef wrote that one time before it's too late. You know the one.
Pokémon Go is all the kids keep talking about these days. We've even got a gallery of queer folks with their critters. I still don't understand what this is, but everyone looks SO cute!
If you're super gay and really into Dungeons & Dragons, check out these super gay D&D storylines that Ali made up out of thin air.
Erin re-imagined women's magazines through the lens of a queer woman. You will not be disappointed.
Beth interviewed a carpenter who has been in the construction biz for 35 years! Barbara Jones for President! Well, she's in the UK, so I guess Barbara Jones for Prime Minister!?
Pretty much everybody that works here opened their hearts and bags/pockets to you. Nikki had me at "mini stapler." Classic Nikki.
Also witch-y seduction! And Comments!
---
On Gotta Snap 'Em All: Our Big Queer 'Pokémon Go' Gallery:
The You Do You Award to Sam:

On Pop Culture Fix: Kate McKinnon is a "Pansexual Beast" But Her Ghostbusters Character Can't Be and Other Stories:
The Autocorrect Award to queer girl & vastra360: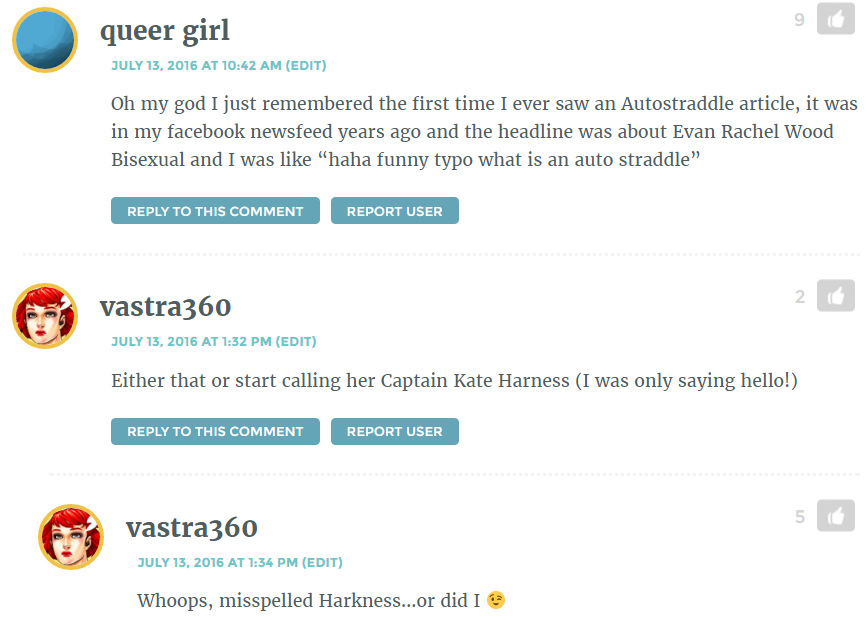 The Dollywood Award to P.:

The The Final Frontier Award to spock:

On No Filter: Brittani Nichols And Carly Usdin Take Outfest By Storm:
The Where There's A Will Award to Blackmar:
On Are These 15 Storylines Too Gay for My D&D Campaign?:
The New Merch Idea Award to Rigby:
On You're The Reason We Still Exist: Celebrate A+'s 2nd Anniversary By Joining A+!:
The Reader's Choice Award to Sally:
On Pokémon Go Came Out In the US, Let's Catch 'Em All:
The A-Camp 8.0 Award to Trouble:
---
See a clever, hilarious or thought provoking comment around this website-ship? Email it to me at: bren [at] autostraddle [dot] com!