Hey Gal Pals!
Today is the day before I leave for pre-camp. It is also the day that the apostrophe key stopped working on my keyboard. So this feels like a good place to pause life, visit a mountain top for a bit and come back refreshed and ready to deal with that apostrophe key situation like a boss. Chelsey will be here next week to round up the comments of the week. Presumably all of her keys are working properly!
My main source of anxiety right now is that I haven't packed a thing. And it looks like I'm not the only one. Procrastinators unite! And if you're like me and have no idea what to wear to the Camp Met Gala, Audrey has come to our rescue.
Erin reimagines the workshops and panels that happen at A-Camp.
Maddie has gone through every Autostraddle playlist ever and found the best ones.
Katherine wrote a beautiful essay describing all the families that could have been and all the families that can be.
Don't forget to drop the details for Pride Month meet-ups. And Riese found a few things to dress up those meet-ups.
Also Alex Vega! And Comments!
---
On Pop Culture Fix: Finding Dory's Lesbian Couple Will Finally Empower Ellen To Turn All Children Gay:
The Nobody's Purrfect Award to amidola: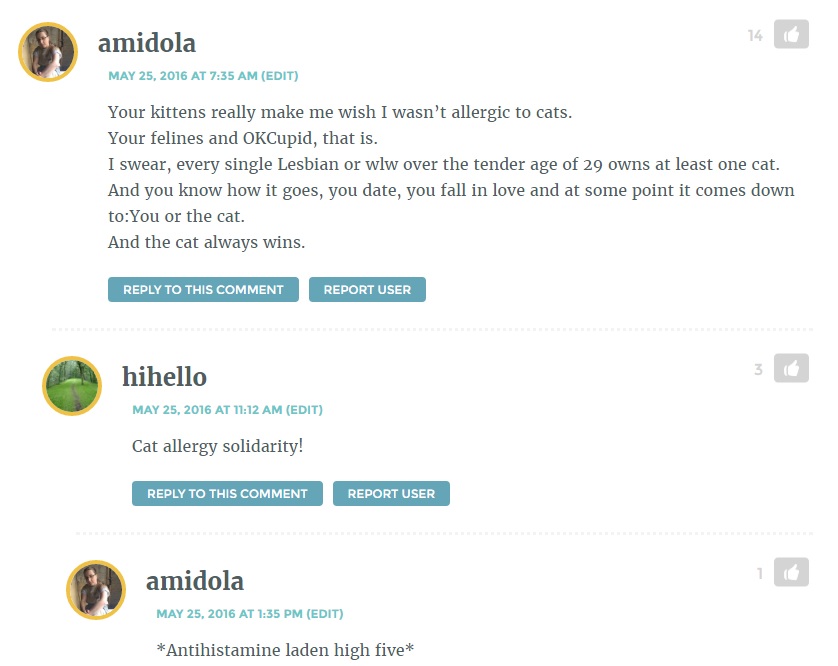 The Reader's Choice Award to Carolyn: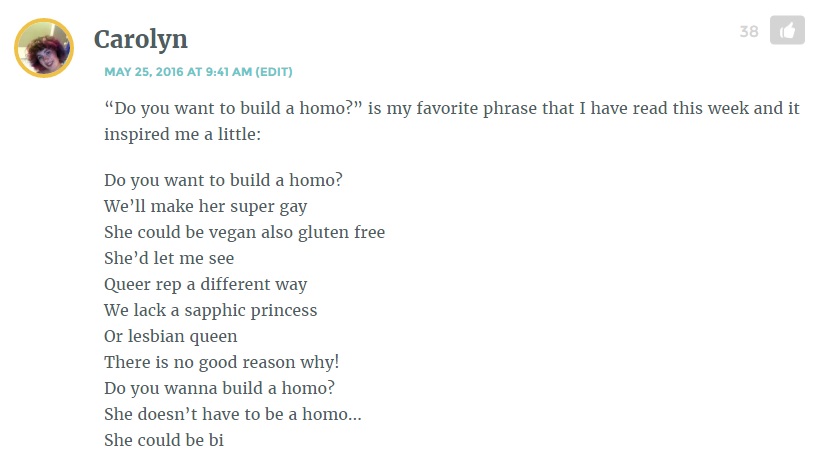 On Team Pick: "Queer Kid Stuffwp_postsBrings Fun LGBTQ Videos to Preschool Children:
The Kid's Are Alright Award to queer girl:

On The Topless Touching Panel and Other Activities My Friends Think Happen at A-Camp:
The It's Not NOT That Award to Avawn Alvear:

On 14 Ways To Really Overdo It At Gay Pride This Year:
The DIY Award to Jessica:
The MFA Award to Alecia:

---
See a clever, hilarious or thought provoking comment around this website-ship? Email it to me at: bren [at] autostraddle [dot] com!