Lindsay Amer is the creator of Queer Kid Stuff, a webseries starring Amer and her best stuffed friend, Teddy. Amer created the series to fill the gap in LGBTQ educational content geared towards young children. The idea came to her while searching for basic educational info for kids online.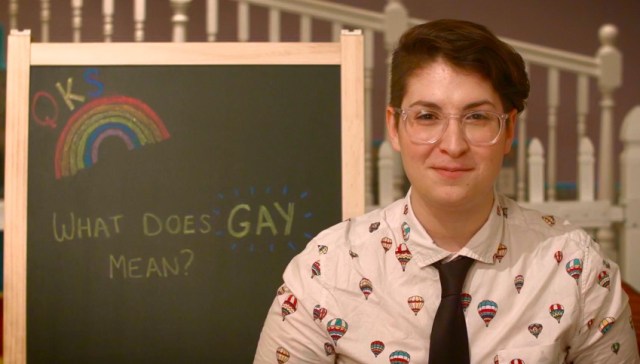 Amer says, "I remember sitting down one day and just Googling 'What does gay mean?' and I was really surprised at the results that came up. Just a dictionary definition and a few resources for parents/teachers on how to explain it to kids, but there was nothing that was actually meant for kids."
Queer representation for teens has improved somewhat and we are constantly discussing and critiquing LGBTQIA representation in popular media for adults, but there is still very little media or info for young kids. Kids' media content is being generated all the time. Whole TV channels and a massive merchandising industry are dedicated to it. But all-ages LGBTQ representation, particularly geared towards young kids, is something that's still lacking.
According to Amer, "Kids are the future, plain and simple. If we want to create a more diverse and inclusive world for ourselves and generations to come, we need to educate young people properly to de-stigmatize LGBTQ+ identities."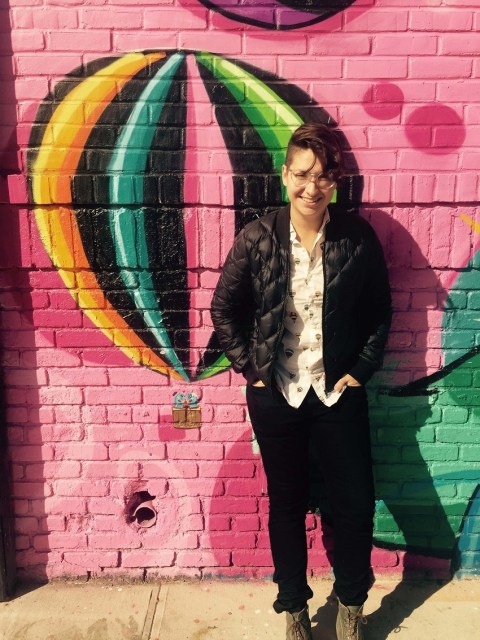 "On a more personal note, I grew up in NYC, arguably one of the most diverse places in the world. I am also quite privileged as a white, cisgender, currently able, queer woman, and despite all of that, I had a difficult time coming out. I think a huge part of that was the fact that I never saw LGBTQ+ folks in the media I consumed as a kid. I want to help create more diverse content for kids by representing voices and telling stories that rarely find representation."
The pilot episode, "What Does Gay Mean?" is online, along with a colorful, printable activity sheet for parents or adults to complete with kids after watching the video together.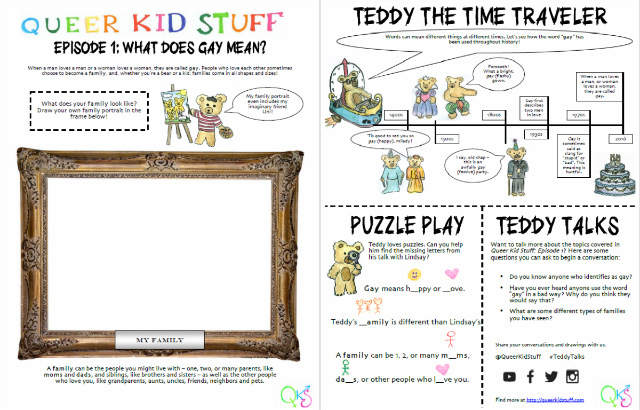 It's pretty adorable, from the stop-animation opening song to the friendly playroom-styled set to Amer's delivery of educational content in a fun, accessible way with chalkboard illustrations. There's even a clever joke about bears! For the webseries, Amer says she is "really looking to approach the topics I'm dealing with from the child's perspective." She wants to create content that adults and educators could use with kids, but that kids could also find and watch on their own, "tak[ing] the gatekeeper out of the equation." Season One of Queer Kid Stuff will be released in fall 2016 as a 10-episode series.
Amer is collaborating with a friend who works for the Education Department at a large theater company on the webseries. She hopes to cover topics across the LGBTQ spectrum from understanding gender and gender identity to defining "queer" to marriage equality. Says Amer, "the hardest part is narrowing it down to the next 9 episodes."
Want to support Queer Kid Stuff? Consider donating to the Queer Kid Stuff Patreon page! Or email queerkidstuff [at] gmail [dot] com if you're interested in joining a focus group, providing feedback, or collaborating on future episodes.