Look What The Homosexuals Have Done to Us, Mickey
Just Keep Scissoring 
A new trailer for Finding Dory landed on the internet yesterday afternoon, and in addition to more delightful DeGeneres-ness, it looks like Pixar is finally putting a lesbian couple in a movie.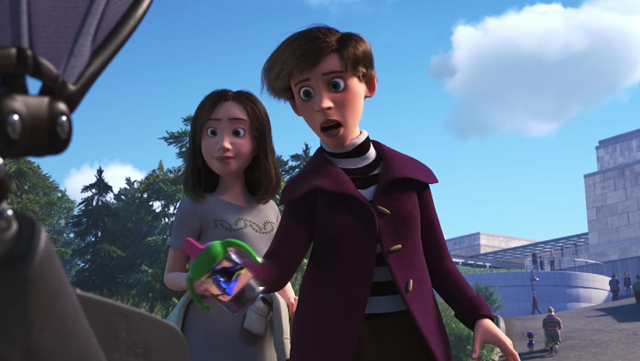 I remember when Ellen came out back in 1997 and all the Baptists I was surrounded by couldn't stop talking about how they were going to Boycott Disney because Ellen's show was on ABC and ABC was owned by Disney. They thought she was going to turn all the children gay, and now, 20 years later, she's finally getting her chance to prove them right. By adding coded gays (let's call them Sam and Mary Anne) to the background of an animated movie, Ellen and her cronies at Disney are basically forcing elementary schools to teach children about gay sex and President Obama to issue an Executive Order rendering all straight marriages void and illegal.
Do You Want to Build a Homo? 
Oh, and that's not all the debauchery over at the Mouse Factory. Idina Menzel has heard the pleas of Twitter and agrees with you that Elsa should have a girlfriend in the next Frozen movie. Entertainment Tonight asked her about it on the red carpet at the Billboard Music Awards and she said, "I think it's great. Disney's just gotta contend with that. I'll let them figure that out."
Well played, Ellen. Well fucking played.
---
Teevee
+ Shonda Rhimes hadn't planned for Callie to leave Grey's Anatomy in that bizarre and inconsequential way, and I'm awfully relieved to hear it. She told The Hollywood Reporter this thing, which also makes me think Callie might return to Seattle Grace at some point.
"This one was interesting. It was different because it wasn't a big, planned thing. I had a different plan going and when Sara came and said, 'I really need to take this break,' it was sort of lucky that we had shot the end of the season with her going to New York … I felt really good that we had shot that ending and that she said she wanted to take this break and we were able to give it to her because I love the woman and I want to do everything for her. It all worked out in that sense."
+ A lesbian deckhand on Bravo's new reality show Below Deck: Mediterranean makes my good buddy Ali Davis wonder if queer people are really ready to let the world see our flawed reality.
+ Let me tell you something: Mey Rude is so psyched about this new legal drama, Doubt, starring Laverne Cox and Katherine Heigl, that I am getting amped on it now too. And especially after Mey told me they've hired trans writer Imogen Binnie!
i am moving to LA in a week to be a staff writer for an upcoming @Lavernecox tv show called Doubt

— imogen binnie (@imogenbinnie) May 23, 2016
+ This is a new secret track from Marceline the Vampire Queen, further proving her (literal) undying love for Princess Bubblegum. It will make you swoon. (It made me swoon.) (If it doesn't make you swoon, you're probably dead inside, sorry.)
+ Whoopi Goldberg is producing a new Oxygen series about trans models. It's called Strut!
The show is important, Goldberg said in today's announcement, because despite advances the community has made, "transgender" still is "a hot-button word that gets people hysterical … People tend to focus on the stereotype instead of the person," she said, calling the series "a unique opportunity to spend time with real people who are struggling with the same challenges we all face as we make our way through the world."
---
Queer Humans, Out and About
+  Amandla Stenberg covers V magazine this month. They talk about how they were cast in their first indie film, As You Are, because they criticized the writer/director about the way he portrays women in the movie when they went to read for the part.
+ Hannah Hart shares a whole day full of meals with Elle and also a very gentle pep talk about exercising.
I wish we could give the whole big world a hug, and say, "You can start as slowly and simply as you want. You can go to the gym and walk for 10 minutes and leave, and good job, dude." It's about building a pattern, and you can build a pattern once you set a foundation.
---
Also.Also.Also.
Socks Bobbi helped me prepare this morning's Pop Culture Fix. He says you're welcome.