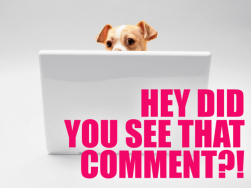 Oh, you perfect friends of mine. What do you say after a week like this one? Fuck Donald Trump always and forever. I love you all, completely, truly. LET'S BE REALLY GAY TOGETHER.
This week, Mika took a reader's style from 'teen boy' to Non-Binary Queer Punk.
This is Mey's last month at Autostraddle, AND WE ARE REALLY GOING TO MISS HER.
Brittney had a reminder about Pride.
THIS WAS SO GOOD: Raging Against Cultural Amnesia: tatiana de la tierra and Latina Lesbian Herstory.
Amandla Stenberg came out as gay!
Riese is a hero. She changed my life, and she probably changed yours too!
And then there were your comments.
---
On FRIDAY OPEN THREAD: I'm Leaving Autostraddle, Let's Talk About Our Favorite Autostraddle Things:
The It's My Party And I'll Cry If I Want To Award to Gilbert and Mey: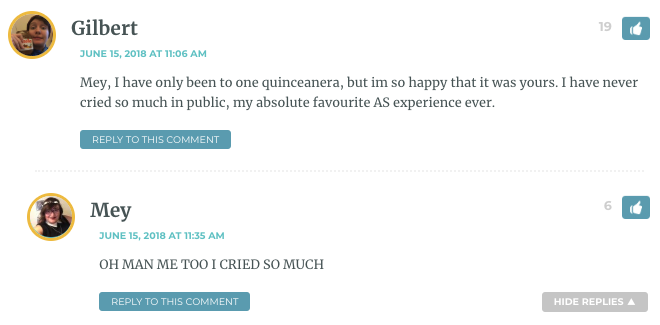 On No Filter: Stephanie Beatriz Is the Bischelorette:
The Lifestyles of the Bisch and Famous Award to Snaelle and amidola: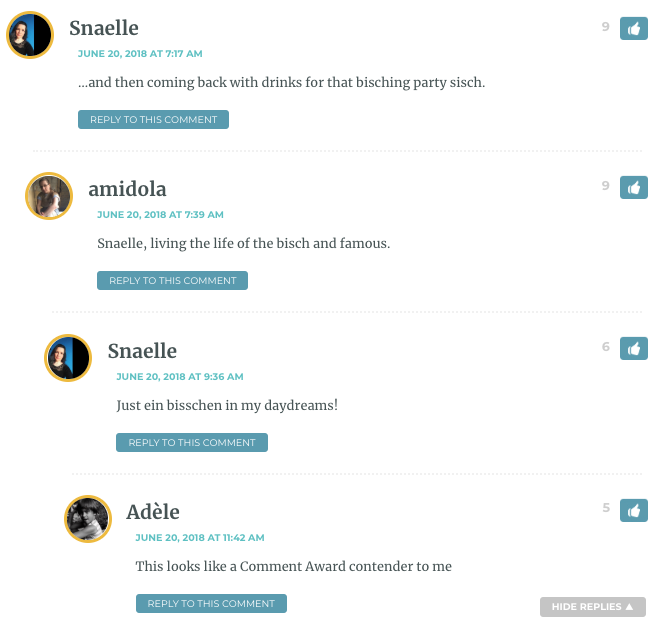 On Mutual Masturbation Is a Very Underrated Lesbian Sex Act and You Can Too:
The Cell Block Tango Award to Stef:

On Find Your Fit: The Non-Binary Queer Punk Tired of Looking Like a Teenage Boy:
The Heaven Is a Place On Earth Award to Michael:
On Also.Also.Also: LGBTQ+ Women in the U.S. Most Likely to Identify As Bisexual According to This One Survey:
The Slide Into My DMs Award to Rachel Evil McCall:
On Amandla Stenberg Is Gay, Incredible, and Ready for Untouchable Love Free From the Dominion of Patriarchy:
The Guest Appearance Award to Cassidy:

And on Riese Bernard Has Always Been Our Queero So We're Really Glad She's Featured In Them's Queeroes 2018 Series:
The Volunteer As Tribute Award to playin1950: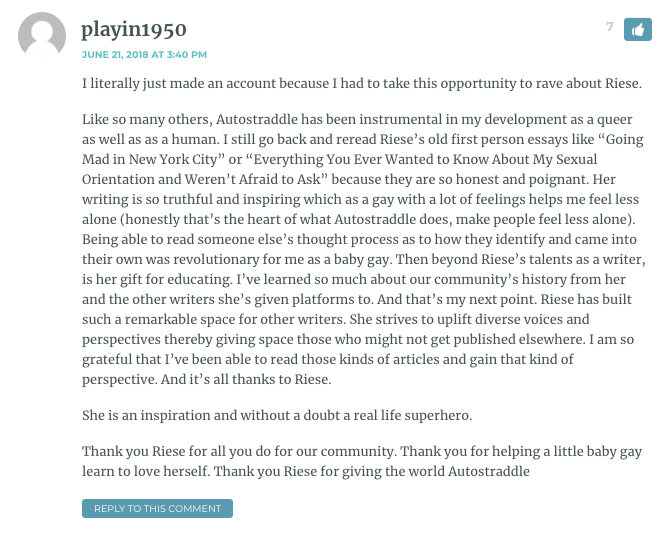 ---
See a funny or amazing comment that needs to be here? E-mail me at queergirlblogs [at] gmail [dot] com!