Find Your Fit is a style advice column helping real queer people find the masculine, butch, and tomboy styles that make them look and feel hot.
From Ray:
I'm a Leo (with a Taurus Moon to ground me), I'm nonbinary, and I'm tired of looking like a teenage boy. I'm having top surgery in one week and am really looking forward to a style reset. I tend to wear clothes only from the "men'swp_postssection, in stores for small individuals (Uniqlo, AE, and Zara all fit well) but mostly shop at thrift stores. Partly to hide my chest and disguise my hips, I've been wearing large button-ups that have the side effect of making me look much younger than I am (baby face doesn't help) and I want to upgrade to a more fitted look that doesn't sacrifice the punk queer femme dude aesthetic I try to cultivate.

Style icons: David Bowie, Hayley Kiyoko, Rhea Butcher, Cole Sprouse (as himself and as Jughead), Joe Strummer

Thank you again!
Ray
(they/them)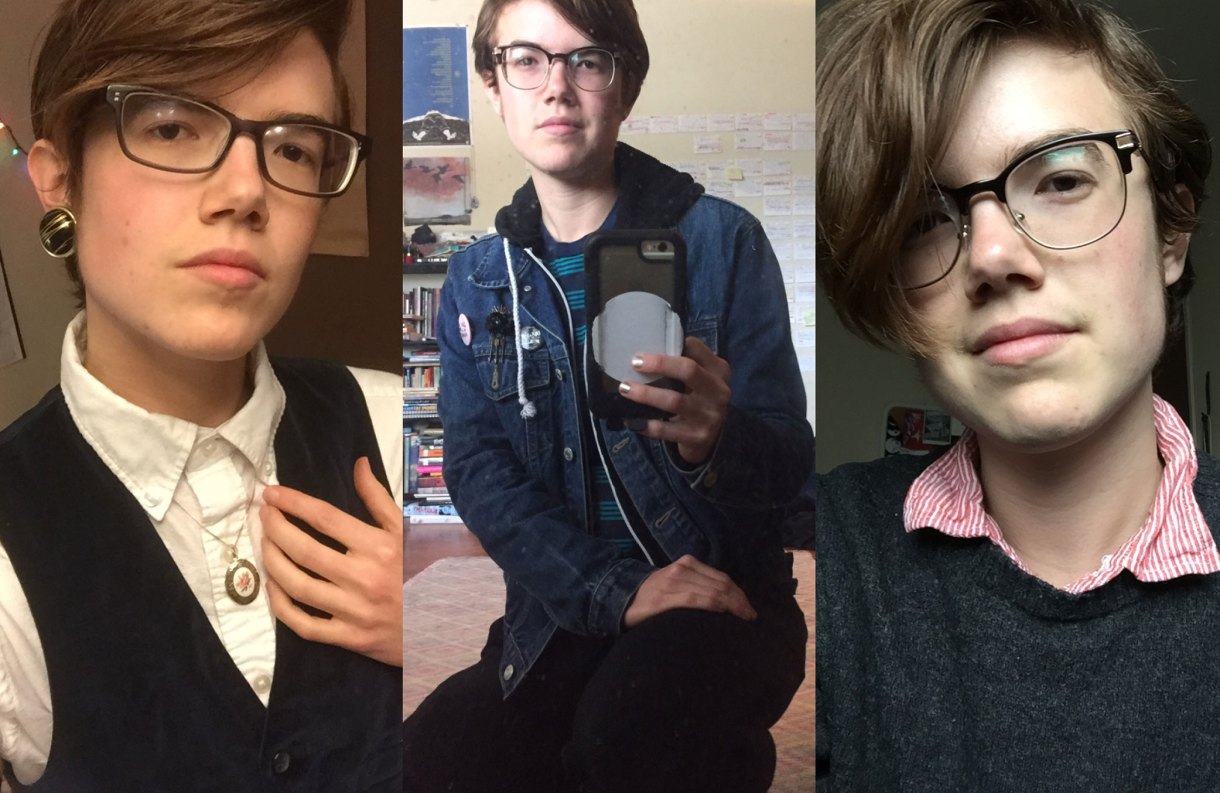 Congrats on top surgery! We can definitely get you looking your age without sacrificing that punk edge you're looking for.
I'm Weird, I'm a Weirdo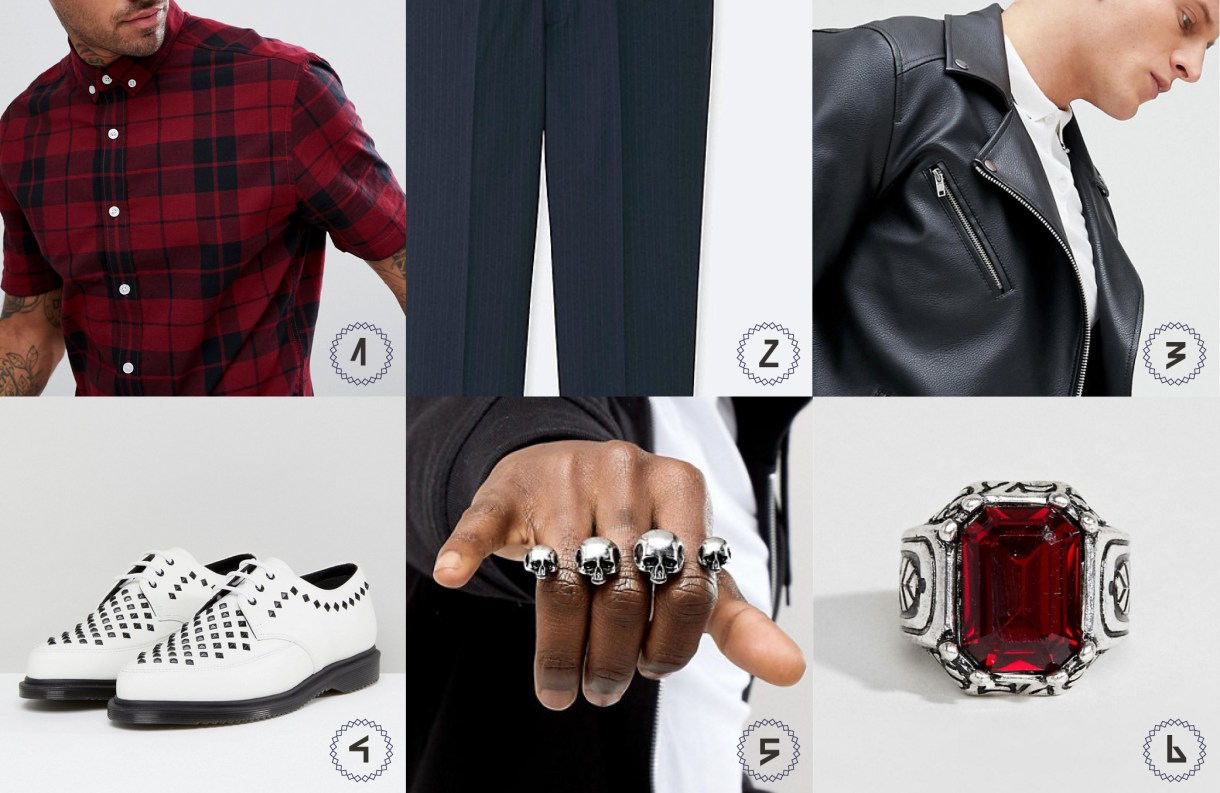 Shirt // 2.Trousers // 3. Jacket // 4. Creepers // 5. Skull Rings // 6. Red stone ring
Inspo:
I wanted to merge both Jughead and Cole's style into one solid fit for you. They both tend to mix some Old Hollywood casual looks with a touch of grunge. This style works well for any day and/or night time activities.
Styling:
I started this look working around how to incorporate a flannel while still making you look your age. Any flannel will do the trick but I would recommend picking some that have a smoother fabric than your traditional day-to-day flannel to add that touch of sophistication. I picked these pinstripe trousers from Uniqlo because they have an elastic that allows you to fit in them even if you have more prominent hips; you can wear them high-waisted with the shirt tucked in and it should give you a squarer frame because it's not cutting right at your hip. If you're still not satisfied with how hidden your hips are, the jacket will cut right at the hip enough to give you an even straighter line without sacrificing the classic trouser/shirt combo.
Congratulations on getting surgery soon! Based on that I would recommend that you play with the way you button up this shirt. Maybe try three buttons open, especially with the jacket. Roll up the trousers a bit so you can show off the shoes. I picked these studded creepers from Doc Martens so the metal studs can elevate this fit — all the small metal gestures (rings, shoes) will give a punk edge to an otherwise very classic semi formal look.
Rebel Rebel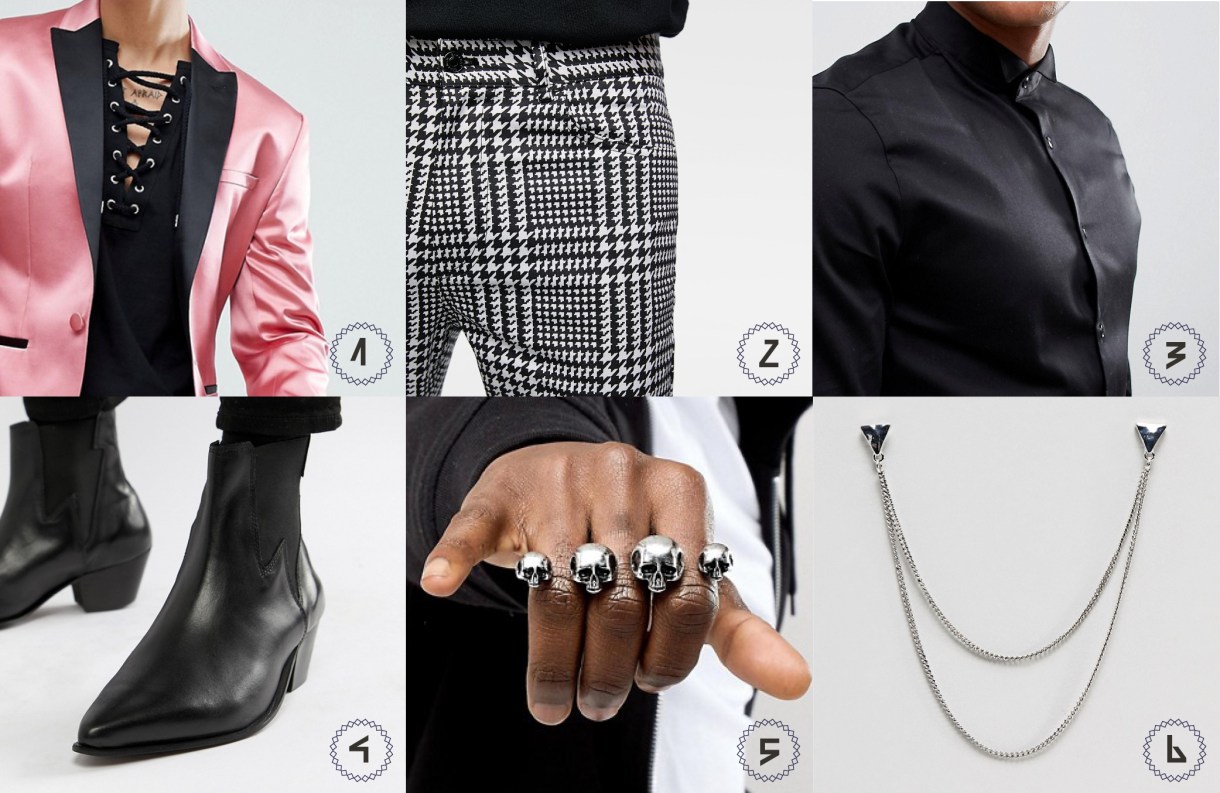 1.Suit Jacket // 2. Pants // 3. Shirt // 4. Boots // 5. Skull Rings // 6. Collar Tip
Inspo:
Bowie is a perfect example of glam rock androgyny — the way he mixed bright colors with black, and crazy patterns with formal wear is the key to his style. For this fit I wanted to create a look that brought all of that but still retained some modern grounding aesthetics so you could wear it to a broader set of nighttime events.
Styling:
The center piece for this fit is the suit jacket. The bold pink sateen will give you glam, so everything else in the look has to work around it. I picked a black button-up that I would recommend you close all the way up, but again you get to experiment with it (especially after surgery!) — do tuck in the pants BUT do not fear! The jacket will most definitely hide your hips since the pants aren't high waisted like in the first look.
The pattern on the pants will go well with the jacket/shirt combo, and the skinny fit will definitely modernize the look. I picked these heeled boots from ASOS that have a pointed tip reminiscent of that 60-70s glam rock. You can wear these with your everyday more casual outfits to elevate them a little — maybe try a plain colored tshirt, some jeans, and the boots.
If you do decide to wear the button-up closed all the way up, I picked this collar tip to add another little gesture to the look. Accessorizing can be the key to taking fits from flat to bold and chic.
Also think about how you wear your hair — this applies to all the fits, maybe try blow drying just the front of your hair and pushing it back to create a little bit of a wave. Think about adding some pomade, I'd recommend looking into brands that work with your length of hair (Baxter has some great options) and experiment with it. You can definitely rock the casual, punk, effortless hair, while still adding some texture and shape to it. Plus, pushing your hair back and showing a bit more of your face and glasses will definitely make you look a little older than wearing it in your face, which can make you look way younger than you are.
Gravel to Tempo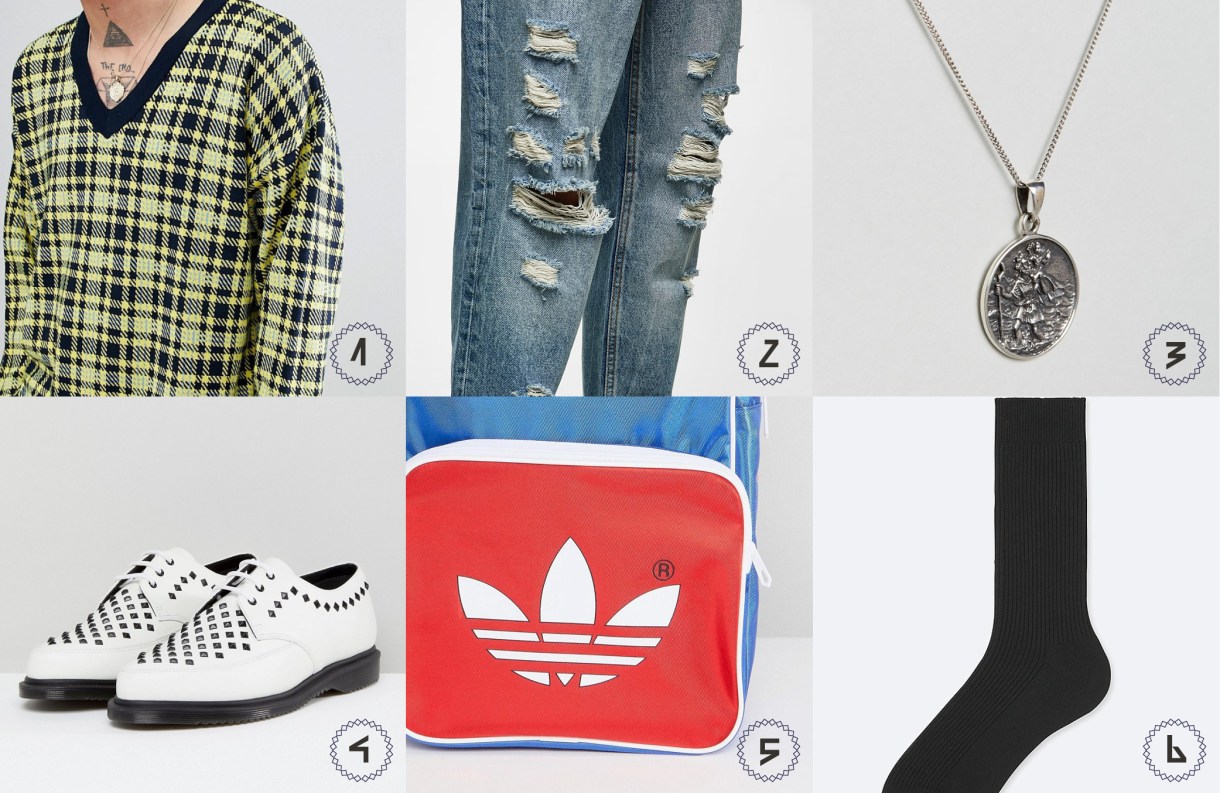 Inspo:
Hayley tends to incorporate some punk elements as well as California, chill, everyday pieces to her looks. She usually mixes bold patterns and textures, balancing them out with pastel colors and denim.
Styling:
For this fit I wanted to create an after school queer punk kid type of look for the daytime and more casual outings. I'd wear this sweater without any t-shirt underneath it. The pattern gives you a bit of that English punk school uniform aesthetic, and the bold v-neck gives you space to accessorize! I picked this necklace from ASOS but honestly you can wear the similar one you were already rocking in one of your selfies; the length should be perfect.
These carrot-fit ripped jeans from Zara should give you a squarer frame since they are not supposed to be tight to your body so they should lay kind of flat and baggy enough to disguise your hips. I love Zara's jeans because they usually tend to fit very well for smaller people, and these are also cropped, so even if they run 'long' will still give you a size you can work with in case you have to roll them up.
I picked some light black socks from Uniqlo as an option — if you're wearing the jeans and showing your ankles I'd definitely recommend wearing the same creepers from the first outfit with this one. Just like the Chelsea boots from the second outfit, you can wear these shoes to elevate and stylize clothes you already have. Studded shoes like these can be the key to elevating your fits and adding that punk element you are looking for.
Hayley isn't shy about wearing a lot of colors at the same time; I picked this Adidas backpack from ASOS, but if you have any sort of multicolor or colorblocked bag that can work well too. Have fun with wearing multiple colors at the same time, just making sure they don't clash but rather complement or merge well with each other!
---
For help finding your fit, write to mika [at] autostraddle [dot] com with a little about yourself, your personal style icons, and three or four selfies in your current favorite outfit(s)!