I've known Rosemary Valero-O'Connell and her work for a few years now, and I'm really excited that I get to talk about her to you before I leave Autostraddle. Her illustration style is immediately recognizable, with lines and shadows that create some of the deepest and most vivid worlds that you could imagine. All of her art seems immersive, like you're going to get lost in it, like there's no way it's on a flat screen or piece of paper. Her concepts for her work combine perfectly with the depth and layers she draws to drop you into a different universe of her creation. I'm pretty sure she knows more about using different shades of color together than anyone else on earth. She's one of the young masters of illustration in America today.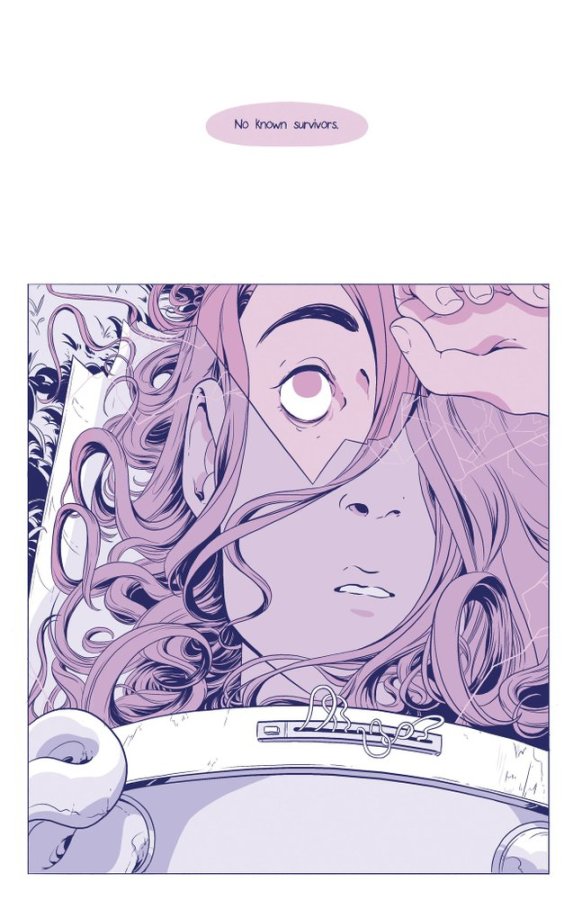 Valero-O'Connell has many illustrations and comics to her name, and is currently working on illustrating Mariko Tamaki's upcoming graphic novel Laura Dean Keeps Breaking up With Me. Her comic that's making the biggest splash, though, is "What Is Left," from the Shortbox anthology. This comic was recently nominated for two well-deserved Eisner Awards, for Best Single Issue/One-Shot and Best Coloring. "What Is Left" is 36 pages of full-color beauty and science fiction mastery about what happens to the lone survivor when an interstellar ship that runs on the memories of a "donor" overheats and explodes in space.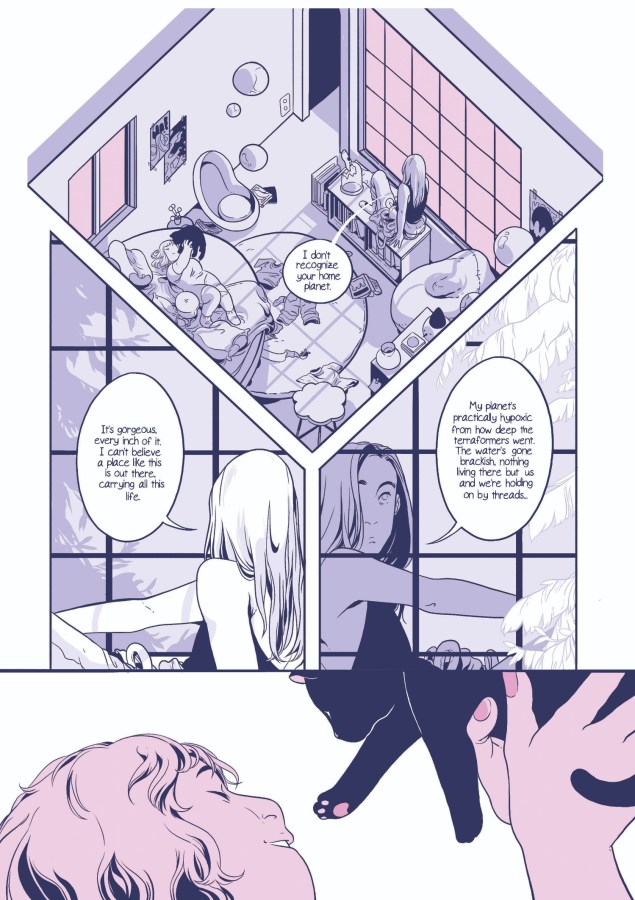 There's something about Valero-O'Connell's art that gives it a museum-level-art feeling. Every inch of the page is purposefully and maximized to its full artistic potential. She succeeds in telling the story, but in doing so, she also has created a comic where each page works as a the coolest poster you've ever owned. Still in her early twenties, Valero-O'Connell has one of the most distinctive art styles you'll come across. Few can express lines and living things the way she does and even fewer can then use their coloring skills to make the illustration so much more expressive and evocative.
The story in "What is Left" is just as atmospheric as the art. The whole thing definitely feels like a dream, but the most amazing dream you've ever had. The colors are muted, and she mostly works with just a few different shades on each page, but these colors work in a way that you didn't know colors could work. When you're looking at these images and reading what it's like for this biomechanic named Isla, it's a full sensory experience. It feels like you're swimming through air as thick as water and as beautiful as a a Giverny garden. This comic is able to whip up a thick and rich fog of memories for our protagonist, and us readers, to explore and enjoy.
New Releases (June 20)
Buffy The Vampire Slayer Season 12 The Reckoning #1
Ghostbusters: Answer the Call TP
Ant-Man and The Wasp #2
Unbeatable Squirrel Girl Vol 8 My Best Friends Squirrel TP
Mighty Morphin Power Rangers #28
---
Welcome to Drawn to Comics! From diary comics to superheroes, from webcomics to graphic novels – this is where we'll be taking a look at comics by, featuring and for queer ladies. So whether you love to look at detailed personal accounts of other people's lives, explore new and creative worlds, or you just love to see hot ladies in spandex, we've got something for you.
If you have a comic that you'd like to see me review, you can email me at mey [at] autostraddle [dot] com.