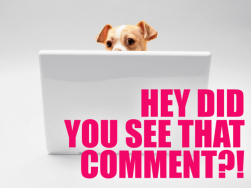 Hi friends! True story: As I was sitting down to write this, my dog kept growling at a rock in the backyard. Turns out it was not a rock, it was…a tortoise! Now Sir Hector is in an Amazon Prime box in my kitchen (which my dog is scared of), and I'm googling "what to feed a tortoise." Leftover raw spinach and endives, anyone? (Now he's scrabbling around in there and I'm worried he hates me. I might have rejection issues.)
This week in Be the Change, Kaelyn reminded us that love is amazing, but love alone is not enough.
Now that it's almost summer vacation, Nora's going to do all of our packing. Or at least tell us what to pack in.
Riese wrote a thing about food that gets me way more than any fancy recipe ever could.
Oh hey: want to write a Queer Girl City Guide?
In No Filter, Glennon Doyle Melton's kid might have an okay soccer coach, or something.
Did you see this? Faith's asking hilarious women stupid questions, and it is exactly as delightful as it sounds.
From Alexis: this is about hair, and life, the universe and everything, and you should read it.
And then there were your comments!
---
On 16 Meals and Snacks To Maintain The Level Of Sad You Already Feel:
The Clipart.jpeg award to Sally:

On Sunday Funday Is Meeting Badass LGBTQ Elders For A Dinner Date:
The Cameo Award to Alaina:
On Also.Also.Also: Good Things Constantly Being Unraveled by Stupid Straight White Men and Other Stories for Your Week:
The Vive La France Award to Ivett and Danielle: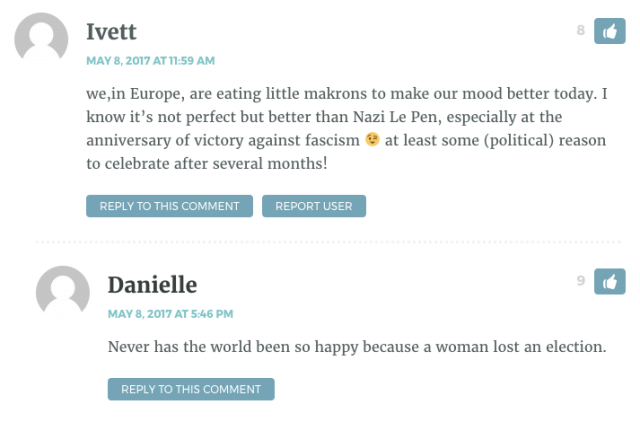 On Style Thief: Your Camp Counselor From 1999:
The Good Game Award to Sarah:

On "Supergirl" Episode 220 Recap: Worst Mother's Day Ever:
The Broken Promise Ring Award to SecretName:
On 10 Stupid Questions With 10 Hilarious Queer Women, Part 1:
The Lonely Planet Award to Brianna:

On Summer 2017 Gay TV Preview: Some Lesbian, Bisexual and Queer Characters For Ya:
The Sisterhood of the Traveling Habits Award to Jenna:

The 'Muff Said Award to Faith:

---
See a funny or amazing comment that needs to be here? E-mail me at queergirlblogs [at] gmail [dot] com!