Hi there, crickets! Did you see the big news?
Another week, another batch of truly excellent No Justice, No Pride content on Autostraddle dot com! Catch up on all of it here!
Also this week, Ari gifted us with a Juneteenth Celebration Syllabus.
You should be watching Betty.
Kamala made ramen in the Dyke Kitchen, and I want! It!
You probably need new underwear.
I loved this so much: How Queer YA Novels Taught Me to Write My Own Happy Ending.
And finally, AS is doing a live show THIS Sunday! Featuring El Sanchez, Jes Tom, Junauda Petrus-Nasah and Be Steadwell! 100% of tickets proceeds will go to Women for Political Change in Minneapolis! You don't want to miss this!
And then there were your comments.
---
On Boobs on Your Tube: "Betty" Is the Best Queer Show You Probably Missed!
The Sk8er Dee Award to DeeDee:
On NSFW Lesbosexy Sunday Is Thinking About Sex As Essential:
The Woody Woodpecker Award to Yasmin:

On Pop Culture Fix: Sue Bird and Megan Rapinoe Join the Call of Black Athletes for Racial Justice at the ESPYs:
The Grimm's Babysitters Award to Caitlin and Kristana: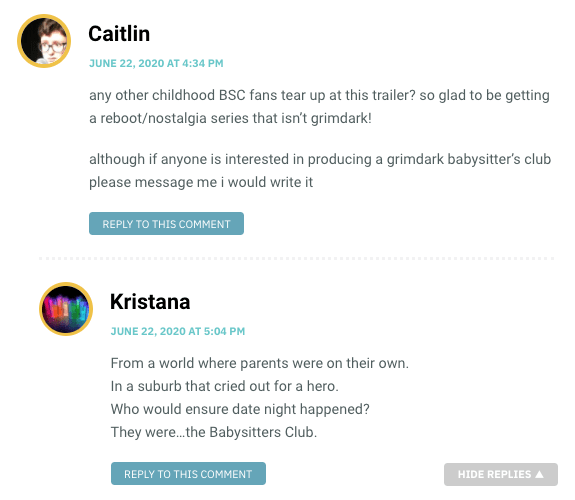 On No Filter: Ama Elsesser Will See You Soon:
The All The Good Things Award to cleo:

On One Last Letter From This Editor:
The Normalize Weird Award to Kati: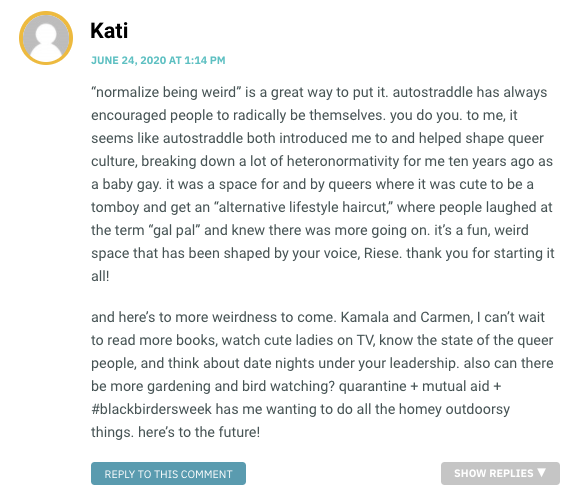 On Pop Culture Fix: Kristen Stewart Made a Movie for Netflix About Her Life in COVID Isolation:
The Inquiring Minds Award to Lizzie Ehrenhalt:

On How Queer YA Novels Taught Me to Write My Own Happy Ending:
The Exquisite Gut Punch Award to Jeanna:

And on Also.Also.Also: Sports Are Back! But Are We Supposed to Cheer?
The In This Economy? Award to Mathilde:
---
See a comment that needs to be here? Tag me! I'm [at] queergirl.