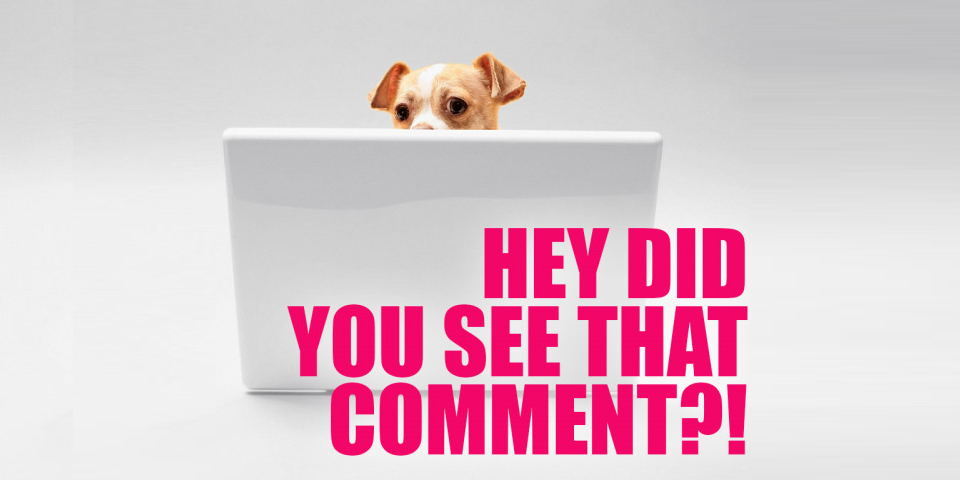 Hello, hi, we made it through the week! A week in which I have thought about Finley's button-ups at least once per day. Do you think LA carries Wildfang in its thrift shops? Because those shirts are NOT cheap.
This week, Christina wrote about the things your therapists probably wishes they could tell you.
Kamala's inviting us into her Dyke Kitchen, a series I can't wait to dive into.
I DON'T KNOW IF YOU KNOW THIS, BUT SOME IMPORTANT THINGS HAPPENED ON THE L WORD: GENERATION Q THIS WEEK. It's fine, I'm fine!
Speaking of Generation Q, Drew's got a suggestion for how the series could truly flourish in Season 2.
This is such a fantastic resource: Martin Luther King Day Roundtable: What's In Your Black Justice Toolkit?
Batwoman is getting…even gayer???
For You Need Help, Archie answered a letter writer who has been feeling drawn to cheat on their partner. This writing, and advice, was SO GOOD.
New writers are here! New writers are here!
Jehan's got a new series called Year of Our (Audre) Lorde,  and I've never been more excited.
Then there were your comments!
---
On The L Word: Generation Q Episode 107 Recap: Lose It All:
The Generation Quiara Award to liz: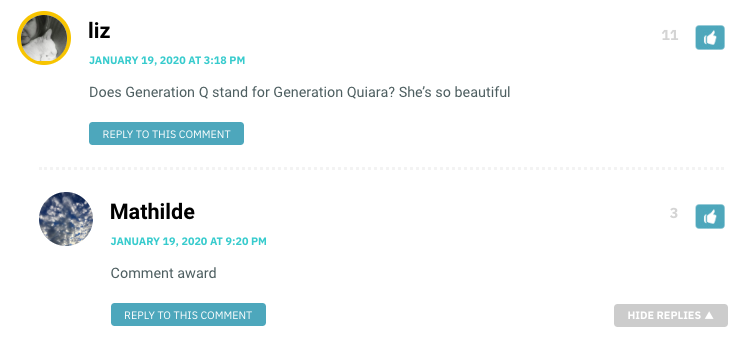 And the Nailed It! Award to Reilly:

On "Batwoman" Showunner Caroline Dries on That Big Coming Out Episode and What's Next For Our Lesbian Caped Crusader:
The What's Next? Award to Kristana and BettyOnIt: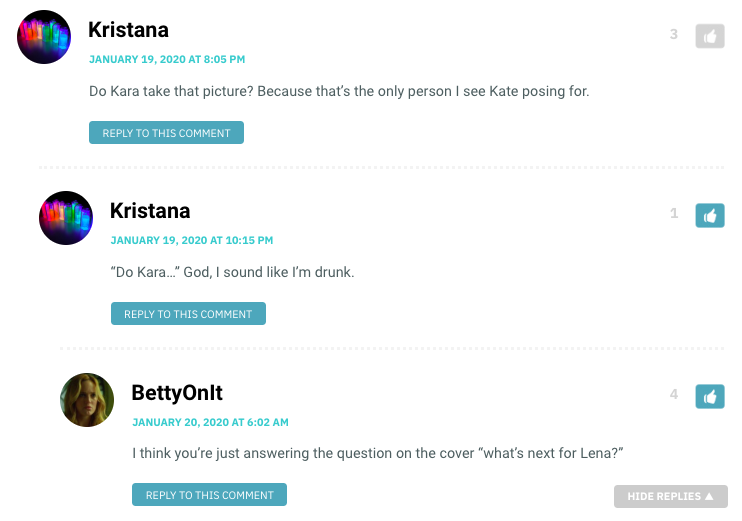 On "The L Word: Generation Q" Should Change Its Mind About Trans Actresses Playing Cis Characters:
The Hiring Committee Award to Snow:
On What Can Black Queer People Learn From the Lost Queer Joy of the Civil Rights Movement?
The Real Joy Award to Natalie:

On I Loved "Sex Education" Season Two — I Wish It Loved Me Back:
The Generosity of Spirit Award to leep:

On Meet Autostraddle's Newest Writers!
The ArachnIconic Award to tentaclerental:

On No Filter: Bella Thorne Celebrates Mental Health, The Vida Cast Looks Amazing and Gigi Gorgeous Serves Fashion:
The All-Star Award to Annelise:

And on Lena Waithe and Wife Alana Mayo Broke Up, We're Back to Love Being a Lie:
The Bye, Bye Love Award to charismO:
---
See a comment that needs to be here? E-mail me! Queergirlblogs [at] gmail.com.