Major Batwoman spoilers below. 
On tonight's episode of Batwoman, "How Queer Everything Is Today!," Batwoman came out. No, not Kate Kane. She's been out. Batwoman herself came out as a lesbian to all of Gotham after a misunderstanding with a cop led the to the entire city thinking she's straight and shipping her with "Captain America"; and a run-in with a lesbian teenager named Parker reminded Kate that being out still isn't safe for so many people. Batwoman showrunner Caroline Dries — also a lesbian! — wrote the episode and hopped on the phone with me to chat about what led to Kate's decision, the freedom of writing for the most famous lesbian superhero, and what's next for our favorite Caped Crusader.
---
Batwoman didn't come out to Gotham City in the comics, right?
No, I don't think it's a thing from the comics.
Can you talk me through your thought process of having her come out on the show? 
When I first signed on to do Batwoman, I was thinking about how this is a show about a woman who is super strong, super confident, and very comfortable with who she is as a lesbian. She's a badass and she can fight people and she's tough and she's vulnerable and has a big heart — and then she goes and puts on a costume and hides all of those characteristics. She becomes a different person, essentially, and it's still strong and badass, but she has now hidden all of the things that make Kate Kate.
Including her lesbianism. 
Right, and that narrative doesn't quite work for me, and so I thought, well, if it's not working for me, maybe it's not working for Kate either. Kate is comfortable with who she is, and when she's suited up, all she does is lie all day. And she's not a liar. She's just been told [on Crisis on Infinite Earths] that she's the Paragon of Courage; she just helped put all these universes back together. I think she's thinking, "I feel like I should, as Batwoman, have the courage to be who I really am." She might be putting her secret identity in jeopardy or possibly making people who don't like gay people hate her, but she still feels pulled to do it.
One thing that I particularly enjoyed is, because Kate is so unapologetically out from the very beginning, because there's never a question about her sexuality, the idea that the people of Gotham would be shipping her with a man really throws her. It would throw me too. People don't often assume I'm straight, but when they do, I'm always like, "Haha, what?" 
Yeah, totally! I have that experience too. In defense of Gotham spectators, why wouldn't they guess she's straight? She's a woman, so she's going to be with a man and here is a cute man, so hey, why wouldn't they be together? That's our society.
I loved finding out that The Terrier is a lesbian. One thing you've done exceptionally well on the show so far is thread the needle between a lot of tropes, especially with Sophie's bisexuality, and here we have a lesbian who becomes a villain — but it's not as simple as that. And then you trap Kate between her own discomfort with being clocked as straight and Parker's storyline. 
Yeah, we needed those two things to be happening simultaneously. Kate has finally become comfortable as Batwoman, in being a symbol of hope for Gotham City — but now she's starting to understand that, as a symbol, she can do more. She can provide hope for people who are desperate to see themselves in a superhero. Parker's not from the comics. We made her up. She's cool; she has her own talent in being a hacker; she's likable; she's edgy — and she and makes wrong decisions and she needs to see not only that it can get better, but that she can get better.
In Parker's coming out speech to Kate, you really captured the tension of this current moment, where for some people the idea of even coming out is so archaic, because anyone can be gay and who cares? But that still isn't the reality for so many people. There's still deep fears from gay kids — and adults — that their friends will reject them, their families, their churches. 
Yes, everything you're talking about is something I thought through, trying to bridge those realities. I was standing in the high school with the actors, watching and thinking, "Wait, am I making an after school special? Is this even a thing anymore?" As I was walking around this high school, there was a giant board the high schoolers had written notes on. The question was: What are you afraid of? And these teenagers had written so many vulnerable things. "I'm not going to be accepted." "People don't love me."
I think, no matter what your situation is, you don't have to be gay to understand the story of a girl who just wants to see herself in a superhero. Right? You live in New York and write for a gay publication. I live in Los Angeles and write for Batwoman. We live in bubbles. We're the exception.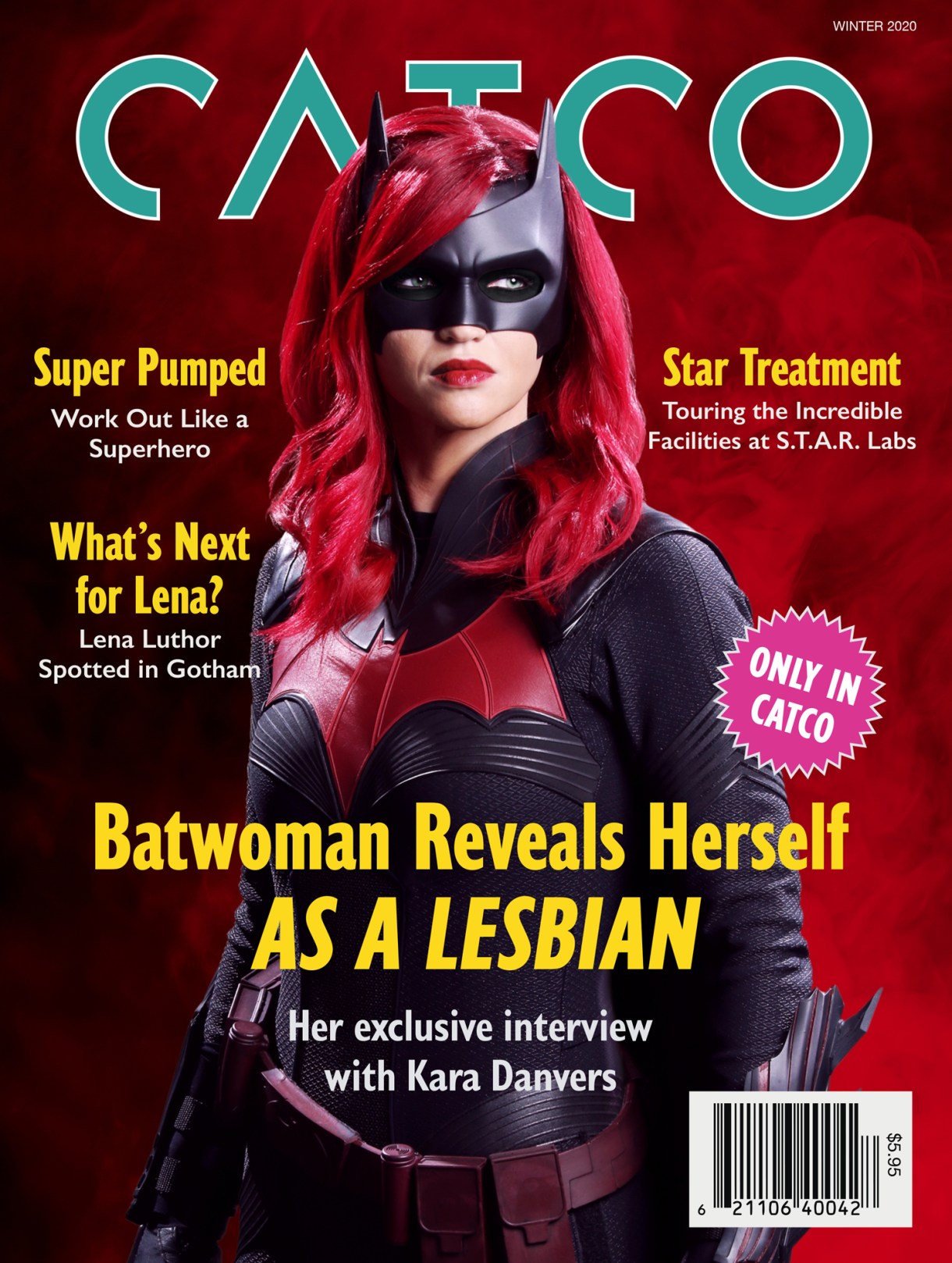 Absolutely. It makes me happy to hear you say that. Often times when I talk to TV writers and showrunners, they're reluctant to commit to saying how important these gay characters are because when you do that, you're accepting responsibility for the consequences of your story. You're saying it here, to me, and you're saying it in the show in layered ways. Even having Parker comment that the best she can hope for is to see some ancillary character like her on TV one day.
That's the wonderful thing about The CW deciding to put Batwoman on their network. Both Kate and Batwoman are unapologetically gay, and The CW knows that, and so we want to embrace all the elements of her gayness wholeheartedly.
Is that a refreshing experience for you? 
Yes! I mean, I have to say, I'm in the trenches every day trying just to make sure that the show is moving forward, so sometimes I don't realize it. I was standing in our gay bar set the other day, the one Kate now owns. I was with our director, who is also a lesbian, and I just looked around and said, "I cannot believe I am making a TV show where this is one of our sets." I think that's when it finally hit me that someone is allowing me to do this.
Can you give us a little tease about what's coming up for the rest of the season? 
I would say don't give up hope on Kate and Sophie. There's a lot of drama coming up between them that I think will be new and interesting. And the major twist at the end of this episode, that's going to have some huge domino effects going forward.
Batwoman airs Sundays 8:00/7:00c on The CW, and on the CW app any time.