Welcome to Autostraddle's new series, Year of Our (Audre) Lorde, a monthly analysis of works by queen mother Audre Lorde as they apply to our current political moment. In the spirit of relying on ancestral wisdom, centering QTPOC voices, wellness, and just generally leveling up, we believe that the Lorde has already gifted us with the tools we need for our survival.
---
For a while now, I've referred to the Gregorian calendar date as "The year of our Audre Lorde 20___ " in response to fuckery big and small occurring around the world. I meant it mostly in jest but also to invoke the spirit of a woman whose work continues to ripple outward with such a profound impact on the communities I belong to. This moment, this year is not any more urgent than the time in which Lorde sat down to write. Queer lives, Black lives, and those of all other marginalized folks remain under threat. Precarity is still a frayed tie that binds us.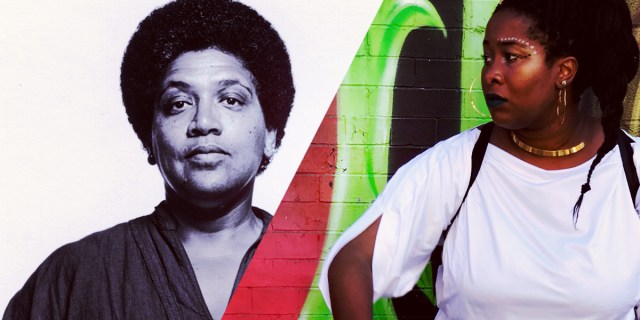 But we are still here. Still alive. I realized that, personally, I have spent the last few years bracing for whatever comes, never anticipating that the peace, the joy, and the pleasure I so craved were in fact things that I deserved. Lorde speaks to a heaviness not unlike this, a longing for something other than the world she had, but she also loosens herself from these psychic holds, favoring our supreme ability to fully claim our own freedom.
Thus, in the YEAR OF OUR AUDRE LORDE TWO THOUSAND AND TWENTY, in the spirit of relying on ancestral wisdom, centering QTPOC voices, wellness, communal healing, resolutions, and just generally leveling up, I vow to deeply engage with the Queen Mother's work, allowing it to saturate my every day for the entirety of the year. I want this to be an exercise in deep reading, deep listening, and deep living. I'm not interested in reading her because I "should"; I'm interested because what little I've already encountered lets me know she, like so many of our ancestors, has gifted us with the tools we need for our survival.
---
For our first installation, in her essay "The Uses of the Erotic," Lorde challenges us to understand that life-force she deems as "the erotic" beyond the realm of the sexual, and to harness it as a source of our divine power in all aspects of our lives.
I first came across "The Uses of the Erotic" as part of a performance art fellowship. It was a couple of years ago, just before I came out, and just when I'd been looking for a way to get out of my head and into my body. Lorde was one of many authors we were asked to both read and embody, and she was integral to an experience that helped open me up to the fullness of my queer desire and my artistic capabilities. It was the perfect queerdo, POC, intergenerational space I needed to move from "not really straight" and "I guess I'm an artist" to "yeah I'm definitely fucking queer" and "I will write, paint, and dance all over your shit."
Lorde explains that "the erotic is a measure between the beginnings of our sense of self and the chaos of our strongest feelings. It is an internal sense of satisfaction to which, once we have experienced it, we know we can aspire. For having experienced the fullness of this depth of feeling and recognizing its power, in honor and self-respect we can require no less of ourselves." What continues to stay with me is her imperative that we not look away. That we stand face to face with this chaos of feelings and move into a space of action.
As part of the performance fellowship, I was terrified at the prospect of putting my body in plain sight, with all of the writerly, wallflower-esque tropes abounding. But the thing I most dreaded turned into an experience that shifted how I move through the world, at least for a time. We brought our ritual to the street with a closing intervention moving east to west, across Manhattan, for five hours. The fear I felt at being so visible morphed into a kinetic, communal vibration that pulsated between the onlookers on 125th St and each of us in the ensemble. But like most transcendent feelings, it hasn't lasted. In some ways it almost feels surreal now, to think that I was able to bring my full self into view like that. That woman is someone I want to return to, someone I need to feel again.
So in recognition of this January/ New Year vibration, I'm inviting y'all to join me in meditating on "The Uses of the Erotic." Stand in front of a mirror reciting Lorde's words over and over. Make them an incantation. Chant them while nourishing yourself — cooking, bathing, doing a masturbation meditation. Envision your erotic power filling your body to brim and spilling over into a manifestation of all you need and deserve to not only live but thrive.
I've pulled some choice quotes that I'll keep on repeat for the rest of this month. I'm trying my best not to look away:
"Beyond the superficial, the considered phrase, "It feels right to me," acknowledges the strength of the erotic into a true knowledge, for what that means is the first and most powerful guiding light toward any understanding. […] The erotic is the nurturer or nursemaid of all our deepest knowledge."
Saying "it feels right to me" is the act of trusting yourself, which seems so elegantly straightforward and yet so profound because it goes against everything we're taught about how to be in this world. Keeping this on repeat!
"Another important way in which the erotic connection functions is the open and fearless underlining of my capacity for joy. In the way my body stretches to music and opens into response, hearkening to its deepest rhythms, so every level upon which I sense also opens to the erotically satisfying experience, whether it is dancing, building a bookcase, writing a poem, examining an idea."
I read this and wept. Like a full-on ugly cry. This image of Lorde dancing is just so beautiful, and I cannot remember the last time I danced this way.
"For the erotic is not a question only of what we do; it is a question of how acutely and fully we can feel in the doing. Once we know the extent to which we are capable of feeling that sense of satisfaction and completion, we can then observe which of our various life endeavors bring us closest to that fullness."
I find this especially powerful because I get so easily caught up in the #hustle that is being a working artist. I love working consistently, but I also need to remember why I do this work and to feel more inspired again.
"When I speak of the erotic, then, I speak of it as an assertion of the lifeforce of women; of that creative energy empowered, the knowledge and use of which we are now reclaiming in our language, our history, our dancing, our loving, our work, our lives."
While this is a clear moment of more binary approaches to gender, I think a more inclusive approach to womanhood and marginalized genders offers a look at how each of those traditions and histories offer us opportunities for reclamation and empowerment, especially in community with one another.
"In touch with the erotic, I become less willing to accept powerlessness, or those other supplied states of being which are not native to me, such as resignation, despair, self-effacement, depression, self-denial."
One of the best lessons a therapist gifted me with was the framing that a lot of my pain (depression, anxiety, etc.) comes from trying to survive in a world literally not built for my Blackness or my queerness. I think this lesson from Lorde is similar in that it offers a light away from these states and this way of existing that drains our eros, our erotic energy, our spirits, and offers a way back to feeling more whole.
What rituals, meditations, and other tools will you employ to center Lorde's work? Leave a comment about how you'll mark this Year of our Audre Lorde below!