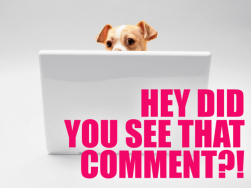 Hi there, Mounds and Almond Joys! It's halfway through January! I'm still writing 2017 on my checks!
This week, A.E. had answers to a very important question: What do you do when strap-on sex leaves bruises?
You get inspired! And you get inspired! And you get inspired!
Alyssa's handsome. But don't take my word for it.
In this week's AM/PM, Alaina's got the vacuum (and the inner peace) I've been coveting for AWHILE.
So I guess warm-up pants are back?
Democracy now! Thanks, Laura.
You will cry, in the best way: I Hated Country Music Until I Met Lena.
And then there were your comments!
---
On Amilyn Holdo and Leia Organa Were Dating in "The Last Jedi" and You Can't Convince Me Otherwise:
The And Also With You Award to Tam:

On Steven Universe's Stevonnie Is Bringing Non-Binary Representation to TV in a Brand New Way:
The Good Old-Fashioned Squeeee Award to Jay:

On 2018 Golden Globes Winners: Oprah and the Simmering Rage of Women:
The Simmering Rage Goals Award to Valerie Anne:
On Business Lounge Is Your Fancy Pajama-esque Winter Aesthetic:
The LOC Award to Mae Elise:
On No Filter: Gillian Anderson Cordially Invites You to Walk All Over Her:
The Call Me Out, Maybe Award to jane:

On You Need Help: When Strap-On Sex Leaves (Accidental) Bruises:
The Peach Emoji Award to Alaina:

On Pop Culture Fix: Would You Like to Hear a Story About Kate McKinnon, Gillian Anderson and a Bathtub?
The Shipping News Award to Rous Rose:
And on Gay Hairplay: Top 11 Times a Girl Touched Another Girl's Hair on TV and Film:
The Braid Me Like One of Your French Girls Award to Faustine:
---
See a funny or amazing comment that needs to be here? E-mail me at queergirlblogs [at] gmail [dot] com!