When you work from home, you get used to people and articles telling you to still dress as if you were in a more traditional office setting. For some people, that might help with productivity; but for others, like myself, it's perfectly easy to be productive and cozy at the same time. (I do try to avoid working in my actual pajamas, because I have to draw the line somewhere.)
Over time, I have cultivated a look just one notch more formal than pajamas — cozy loungewear that's comfortable, but still makes me feel like I put an effort into getting dressed for the day. You've heard of "business casual"; now I introduce to you, "business lounge."
Slippers

Comfort starts with the feet. If you have a drafty home, get some slippers! I swear I'm more productive when my feet are cozy. I tend to prefer slippers with a little more support to them, like the loafer-style ones.
Also, these are on the expensive side but worth looking into if you have perpetually cold feet: wool boots. They're warm and durable enough for outside, and you can throw them in the washing machine! I'm obsessed.
Sweatpants-Adjacent Bottoms

If you haven't gotten yourself a pair of joggers yet, you're missing out on some of the comfiest pants out there. Here are some casual options that are basically sweatpants, but fashion.
Leggings

Even leggings don't have to look like pajamas with the right style and pattern.
Turtlenecks & Mocknecks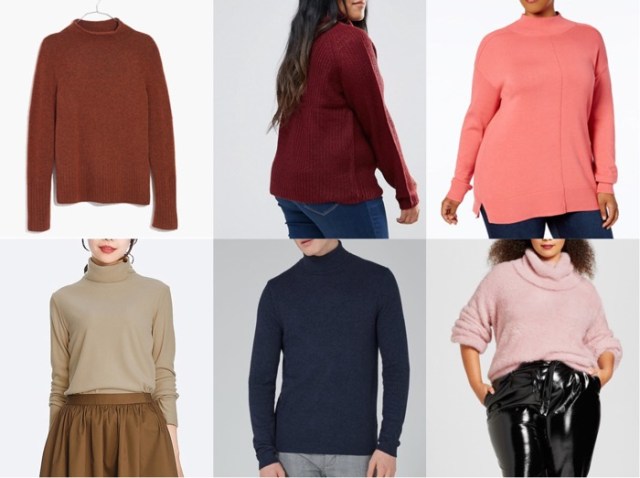 I love turtlenecks and mocknecks more than any other kind of winter clothing. It's like having a sweater and a scarf all in one!
Very Velour
Velour and velvet: just as comfy as fleece, but a little more fun.
Cardigans
Listen, maybe there's a day when you don't really want to change out of your pajama top, and I'm here to tell you that's okay. It happens to me sometimes, too! Just throw a cardigan on it, and suddenly you're looking fresh.
Wearable Blankets

These are also cardigans, only cardigans that look and feel like your most snuggly throw blanket. They're basically blankets that you can wear, but much more stylish than a regular old Slanket.
Enjoy being cozy!