One of the reasons positive media representation is so important is because when we see people who look like us and feel like us, we know who we are is normal, and because when we see people like us and are able to be happy and have friends and a full life, we know that can be our future too. In the last few years we've seen a lot more representation for queer and trans people, but that representation usually comes in just a few looks. When we get a new character who breaks that mold, it's even more important, because it means that people who've never seen someone like themselves on TV finally get to. Stevonnie from Cartoon Network's Steven Universe is one of the characters who's doing just that. Stevonnie is a canonically non-binary human character on a popular kid's cartoon. They are a person of color. They have wide hips and other curves. They have facial hair. They are never mocked or misgendered for being non-binary. They might be unique on television, but they look like so many people in real life, and that means the universe to those people who finally get to see themselves reflected on-screen.
Just like it celebrated lesbian love with Ruby and Sapphire forming Garnet, once again Steven Universe is using a fusion to explore queer identities and, more revolutionarily, to celebrate them.
In some of the latest episodes of Steven Universe, we got to see more of Stevonnie after a long time without them. Steven and Connie had been estranged after Steven hurt Connie, and they finally got together after talking things out at jerk teen Kevin's party. Kevin had invited them specifically because he wanted Stevonnie to be there because he sees Stevonnie as the coolest person he knows. While Stevonnie didn't show up at that party, they did show up in the next two episodes to go hang out with Lars in outer space. Just like Kevin, Lars repeatedly refers to Stevonnie with they/them pronouns and treats them with a lot of respect and admiration.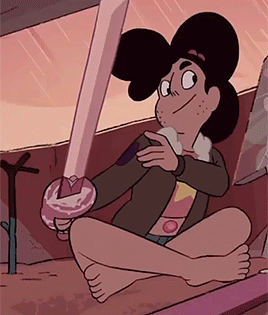 Many non-binary people, especially if they are assigned male at birth, have facial hair. For some, it's an unwelcome guest that might cause dysphoria, but for many others, it's an essential part of their look and attitude. Stevonnie has facial hair too. And not just a little bit. They've got full stubble going on. It's dark and thick and coarse. There's a beautiful moment in the latest episode, "Jungle Planet,wp_postswhere Stevonnie uses their sword to shave, which shortens their facial hair, but definitely doesn't get rid of it. Afterward, Stevonnie looks in a mirror and proudly admires their stubble. It's not just an unfortunate part of their body, they see their facial hair and they look good and they feel good. This is so much more than just a character design choice in a cartoon. Trans people never get to see themselves like this on TV. Every trans kid and adult out there who has a beard or mustache or whatever and feels weird about it got to see an awesome character just like them smiling at the fact that they have dark, poc stubble.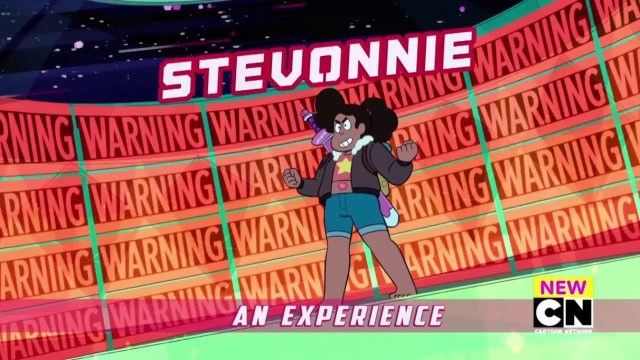 Bodies can look a lot of ways, but unfortunately, on television and in movies, we usually only see white, thin, cis bodies. When we do get lucky enough to see trans bodies, and specifically non-binary bodies, those still usually fit within a specific type of white and thin androgyny. Stevonnie is none of those things. Look at their hips! Look at their calves and feet! Look at their shoulders! Stevonnie is tall and, while they have a small waist, they are not the kind of person who could walk into a vintage store and find a million different things to try on.
One of the most remarkable, and even radical, things about Stevonnie's portrayal in Steven Universe is how much they're just allowed to be themself and be normal. Everyone just takes it completely at face value that they're non-binary and usees they/them pronouns. When Stevonnie meets up with Lars in space, they don't have to have a big conversation about pronouns and how to not be transphobic, Lars just uses they/them. Even Kevin, who is a complete terrible person who only thinks about himself and insults basically everyone he sees, has no issue using the right pronouns for Stevonnie. Stevonnie is even considered to be one of the coolest kids in all of Beach City. I can't think of another time I've seen a trans character, especially a non-binary one, who's been treated with such kindness and celebration on a TV show.
I hope you all enjoyed "Lars of the Stars" and "Jungle Moon" last night ✨ I'm so grateful to play Stevonnie. We have @rebeccasugar to thank for creating such dynamic and underrepresented characters like them on Network tv! #stevenuniverse @cartoonnetwork "I'm an experience" pic.twitter.com/DVaMmhZ3X2

— Aly & AJ (@alyandaj) January 6, 2018
Imagine being a young non-binary person and seeing that someone like you is treated like that. Or, hey, don't imagine it. For the first time ever, it's right there on-screen.