Lesbian and bisexual gal pals caressing each other's hair on TV and in movies has gotten a bad rap, probably because that's what most fictional queer women have historically done instead of kissing on the mouth. But times are changing and women are actually having sex onscreen and when I was watching Marvel's Runaways I was reminded that hairplay, when done right, can make a little gay heart hammer right out of its chest. It's tender and flirty and intimate and it almost always betrays deep longing or leads to full-on smooching. And it turns out other people love this thing too! Staff Writers Valerie Anne, Kayla, and Carmen Phillips helped me assemble this list of the top 11 times a girl touched another girl's hair on TV and in movies.
---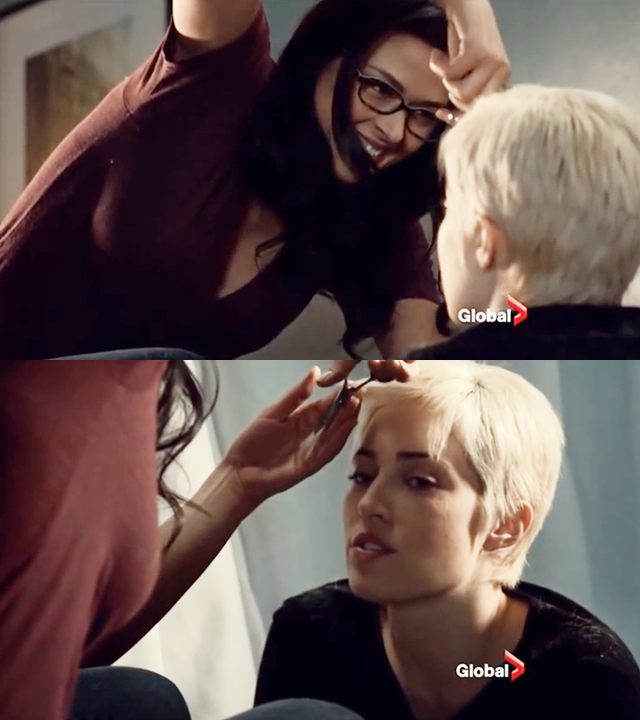 This is just Gail getting herself a soft butch haircut from the girl she's in love with before that girl sliiides right down into the bathtub to make out with her face.
Yorkie and Kelly, Black Mirror "San Junipero"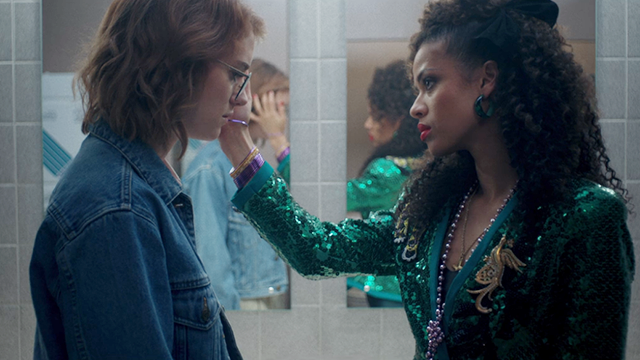 "Please make this easy for me" is one of the sexiest things I have ever heard anyone say on television, and Kelly thinks so too. She caresses Yorkie's hair and then immediately asks her to get into her car and go home with her.
Carmen Phillips: "Does it count if the fictional lesbian in question is using her hair to flirt with me? Because what other reason would there be for Poussey doing this? Poussey knew what she was doing."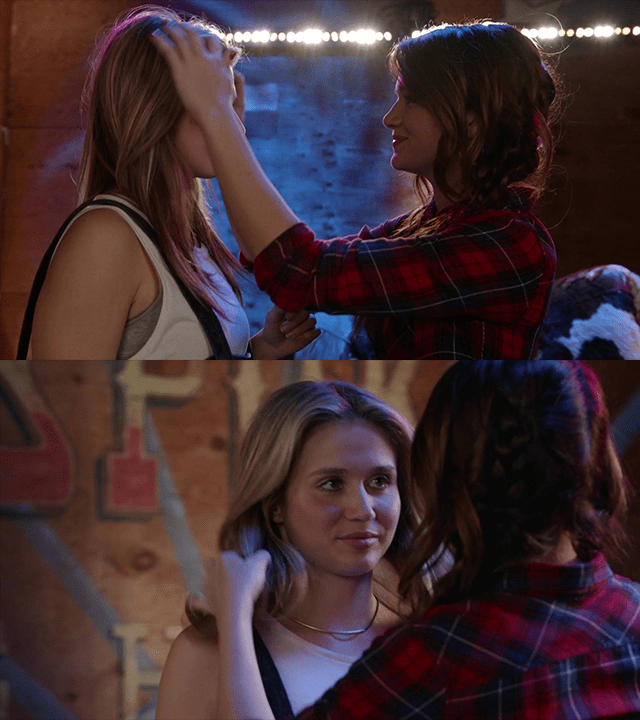 This moment in Faking It's second season, after Amy and Karma got thrown from their mechanical bull and Karma pulled Amy to her feet and sweetly, gently, fondly fixed her hair — it's the one time I thought for absolute sure that Karma wasn't kidding around, that she felt it too. (Amy thought it even more than I did.)
Carol and Therese, Carol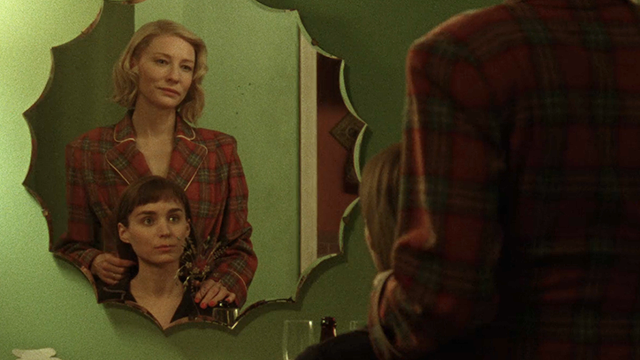 Up until Waterloo, Carol hadn't deliberately touched Therese. They shared a close and coy moment with President McKinley but on New Year's Eve she just walked right out of the bathroom, took a swig of beer, caressed Therese's hair, gazed at her in the mirror, and then went right ahead and untied that robe.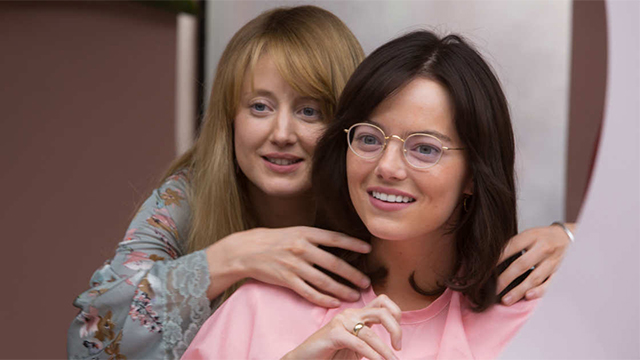 I've never felt weird watching a sex scene in a crowded movie theater, but watching Marilyn cut Billie Jean's hair made me feel like crawling out of my own skin. It was so deeply intimate and sexy and sweet and also like watching someone get born. I still get shivers when I think about it, which may also be because this scene was filmed like an ASMR video on purpose.
After getting ready with Nico — in the same mirror! —Karolina reached up to help fix her hair and was buzzing with so much gayness by then I'm surprised she didn't explode into a shower of rainbow glitter, even with her magic bracelet.
Naomi and Emily, Skins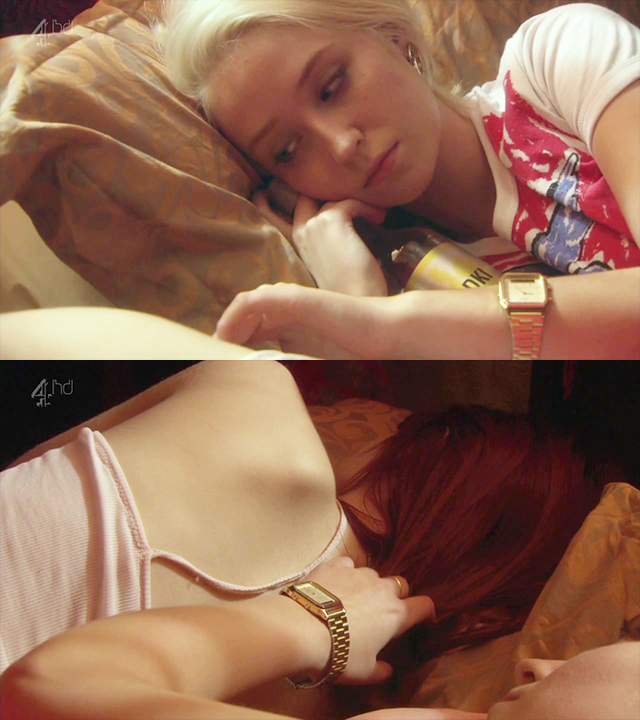 This is one of my all-time favorite TV moments. After pushing and pushing and pushing Emily away, Naomi woke up beside her and before she even realized what she was doing she reached out to caress Emily's hair. And then she woke up for real and bolted out of her bedroom like her pants were on fire. (But not Skins Fire; that doesn't even exist.)
Shane and Cherie Jaffe, The L Word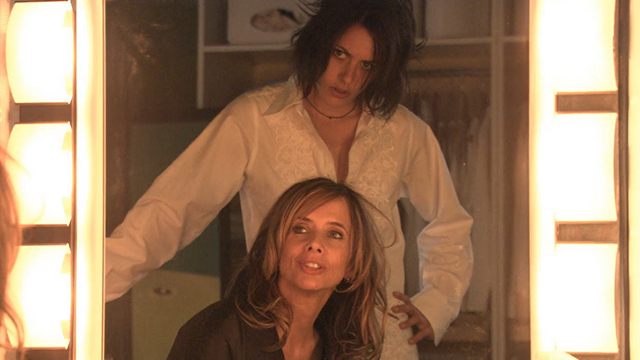 When Shane touched Cherie Jaffe's hair and asked her how she wanted it styled, Cherie simply said, "something different." And by different she meant: GAY. Shane never did cut her hair but they did plenty of scissoring.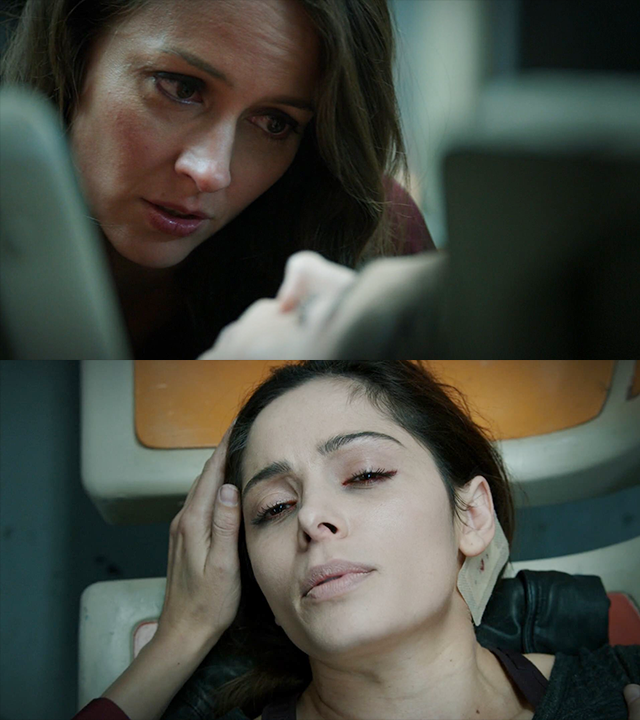 Look, just because someone is caressing your hair so they can reach around with their other hand and remove a brain implant from behind your ear with a razor blade doesn't mean they're not also caressing your hair because they love you.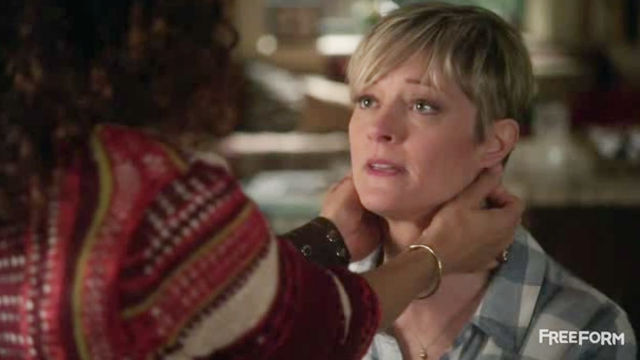 Lena was surprised when Stef chopped off her hair, and Stef was nervous to show it to her, but she did it because she was tired of the words "dyke" and "butch" having power over her and Lena got that and thought Stef looked sexier than ever. Lena tugged her new hair, played with it sweetly, and then dragged her wife right off to bed.
---
What'd I miss? Let me see those GIFs!