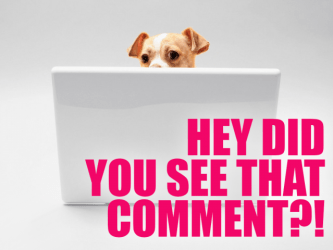 Good day, darlings! This week I was sad due to some complicated cat separation anxiety but then Contributing Editor Cara made homemade ice cream and everything was beautiful and nothing hurt.
This week in straddlenews, we're seeking music writers and Riese is planning to use her birthday money to pay Autostraddle writers. Your support will be rewarded with baked goods, more meetups and endless love from the team.
Shelby is this week's Straddler On The Street  (sidenote: this one time at A-Camp I played H.O.R.S.E. with her and it was awesome). Those of you making an awkward transition from summer fling to serious thing might find solace in Lizz's list of 20 ways to almost say "I love you", but maybe the situation calls for indulging in Daniela's triple threat vegan cheesecake recipe. Speaking of getting baked, Chelsea talked queer cannibis culture and Lane analyzed the all-time queerest of the non-queer movies, "Fried Green Tomatoes." Oh, and did you all get the memo that Julie and Brandy are dating?*
Now for this week's comment award-winning wordsmiths!
*…in a new webseries
---
On Are You Packing: Dress Shirts:
The Dumbledore Could Probs Fold The Hell Out Of A Dress Shirt Award to Luce and Charlotte: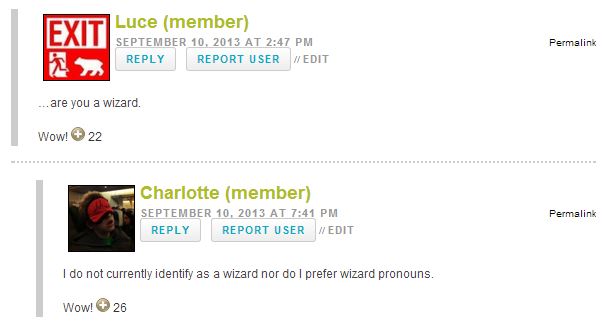 The Just Don't Forget The Bow Ties Award to Kris:

On Listling Without Commentary: Things We Say When We're Not Quite Ready To Say "I Love You":
The Abacus Baby Award to Emily Leticia and GoS:


On High Femme: Queer Cannabis Culture and Edibles:
The Living The High Life Award to Lindsay:


On Lady Gaga Dishes On Loving Lesbians, Defends Miley Cyrus, Let The Flamewars Begin:
The You Heard It Here First Award to Paper0Flowers:

On Team Pick: Straddler Grace Kim Launches Best Day Project Webseries, Makes Today The Best Day:
The Truth Behind The Inspiration Award to Grace:

On We Need Help: I'm Throwing A Birthday Bake Sale For Autostraddle's Writers!:
The BFFs Award to Anna: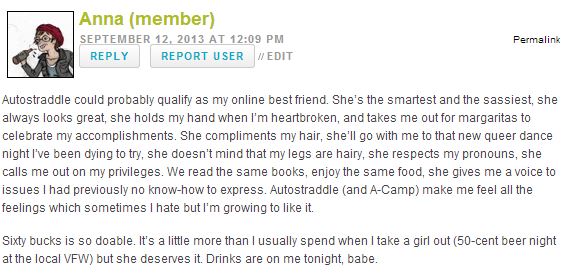 The Rookie of the Year Award to Leigh: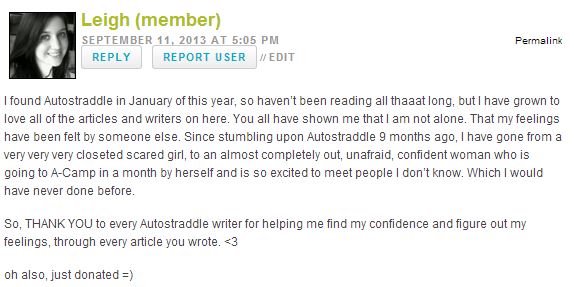 ​​
---
See a clever, hilarious or thought provoking comment around this website-ship? Email it to me at: carrie [at] autostraddle [dot] com!