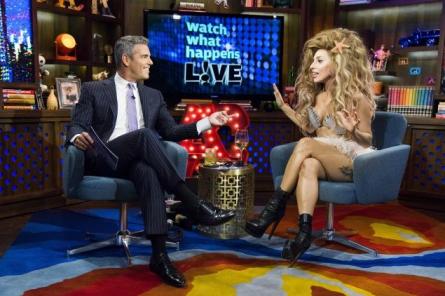 Lady Gaga appeared on Watch What Happens Live yesterday after what appears to have been an underwater escapade that resulted in a starfish getting caught in her triumphant hairdo.
While on the program, certified homosexual Andy Cohen inquired about Lady Gaga's past experiences with ladies. Lady Gaga has openly declared her bisexuality about a million times over the past five years, yet the news that she has engaged in bisexual activities, such as dating both men and women, remains shocking to the mainstream press.
Gaga told Andy Cohen:
"I've taken a few dips in the lady pond. I like girls. I've said that (before). I know people think I just say things to be shocking, but I actually do like pussy. It just depends on whose pussy it is…. I love them because I find lesbians to be way more daring than straight men when it comes to coming on to you, and I really like that. And it wasn't until I found a guy who could come on to me as strong as a lesbian that I fell in love."
Just in case that wasn't enough material to inspire defamatory tirades in The Daily Mail comments section, Lady Gaga went on to defend Miley Cyrus:
"I think everybody needs to lighten up and leave her alone. It's pop music, and everybody's entitled to their own artistic expression and if you have a problem with that, just change the channel. I don't understand the incessant need to go on and on about hating things. She's 20 years old, and if anything, I give her props because she's growing up in front of the entire world and maybe she's not so happy with the things that she did in her career when she was younger and she wants to be free. Let her do what she wants."
In conclusion, Lady Gaga and Miley Cyrus should tongue kiss at the next MTV VMAs just to test whether or not it's possible for Facebook to spontaneously combust. In other news, global warming is totally still a thing!