Welcome to Dear Queer Diary, a (new!) column about the joys (and occasionally, the pains) of journaling. We'll be cracking open our tiny notebooks and breaking out the rainbow-colored pens on the regular, so get ready to limber up your writing hands and document all your beautiful feelings!
Header by Rory Midhani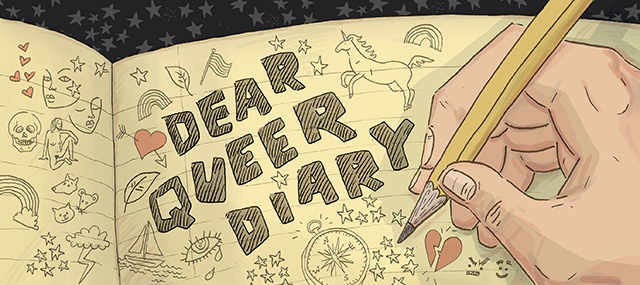 ---
Before you start perusing Etsy for the perfect notebook, let's consider a few of the many fantastic reasons to journal:
1. Journaling helps you remember stuff.
When I was a youth, I was obsessed with documenting my life for the sake of posterity—and although I have no doubt that posterity will someday appreciate the blow-by-blow accounts of my flirtations in high school French class, it turns out that I am really the one who appreciates being able to reminisce about the way my heart raced when I was assigned to work with my crush on an oral presentation about salade nicoise.
In addition to providing virtually endless entertainment and embarrassment, my journals of bygone days also offer essential information about the development of my young psyche—and bizarre, hilarious, and occasionally poignant insights into the way I've changed. If you're still not convinced, perhaps a Harry Potter analogy will change your mind. Imagine, for a glorious moment, that you are Albus Dumbledore (a queer role model if I've ever known one!). Your journal is your Pensieve. Using its magical powers, you will store and recall information that will ultimately lead to the downfall of the Dark Lord. Accio notebook, am I right?
2. Journaling lets you feel ALL the feelings.
Whether or not you've already invested in a nifty Autostraddle journal, your diary is your party, and you can cry if you want to. Although apparently writing in your journal does not make break-ups any easier, nine out of ten doctors agree that scrawling "I HATE EVERYONE" over and over will make you feel better about having to watching your brother and his girlfriend snuggle when your lady love is 3,000 miles away. Yes, I may have made up the statistic about doctors. But I may also have some personal experience in this area, and I can tell you that when I am feeling furious, elated, irked, self-righteous or (on my better days) filled with joy and delight, my journal beckons.
3. The ladies love it.
Let's just say that, hypothetically, you were to take your journal to the hippest coffee shop in your area, order an iced chai and begin writing. And let's just say, hypothetically, that you were to look up briefly a lock eyes with a fellow lady iced-chai-drinker at the next table. Your heart rate increases. You turn back to your journal. Fellow lady iced-chai-drinker will naturally wonder… What is that exceptionally attractive girl/woman/boi/human writing? Isn't the way her delightfully asymmetrical bangs fall across her forehead when she leans over her journal enchanting/cool/sexy? Do I dare approach her and ask for her number? The best part is that you already have a handy piece of paper on which to write your digits.
4. Journaling will help you achieve self-actualization.
Since I have read all ten of the Princess Diaries books (and the beginning of this fanfic that came up when I googled "Mia Thermopolis gay"), I can confidently state that keeping a diary leads one to become the ruler of a small European principality, find true love in the form of a delightfully nerdy Jewish person and conquer frizzy hair. So that's a thing. If you're into it.
If you're not into it, it's also possible that journaling could help you achieve other life goals, since it often involves articulating your desires and finding ways of fulfilling them. And who isn't into that?
5. Journaling is a radical act.
According to Teresa de Lauretis, when a woman puts pen to paper, she "usurps" a position of power the patriarchy would deny her. Similarly, whenever we write about ourselves, we are affirming the existence and importance of queer identity in all its facets. Whether you write a page-long treatise on your love of Jolly Ranchers or a meditation on the cultural currency of the alternative lifestyle haircut, you're claiming a space on the page for yourself in all your beautiful queerness—something that the Russian government, Orson Scott Card and way too many other people are only too eager to censor.
Next: Let's find the perfect journal for you!
Pages: 1 2See entire article on one page