Over here at Barbieland Autostraddle Headquarters, we have begun pondering how much Barbie coverage is too much Barbie coverage (we're at 10 pieces, including what's already been published and what is coming up the pipeline. If you're starting to feel a little fatigue — first of all, the traffic numbers and hits suggest that you're not! But second, we'll be wrapping up soon). It was in that moment that I lamented, "oh damn we missed the opportunity to do a style thief guide on Weird Barbie!"
In response, everybody said in unison, "oh no, we absolutely need a Style Thief on Weird Barbie."
And so my friends, here we are!!
** The headline of this post names Weird Barbie as the most lesbian Barbie. I am only joking (no, I am not). I know how the internet likes to tussle. Whichever Barbie is your favorite is the most lesbian Barbie. ** 
---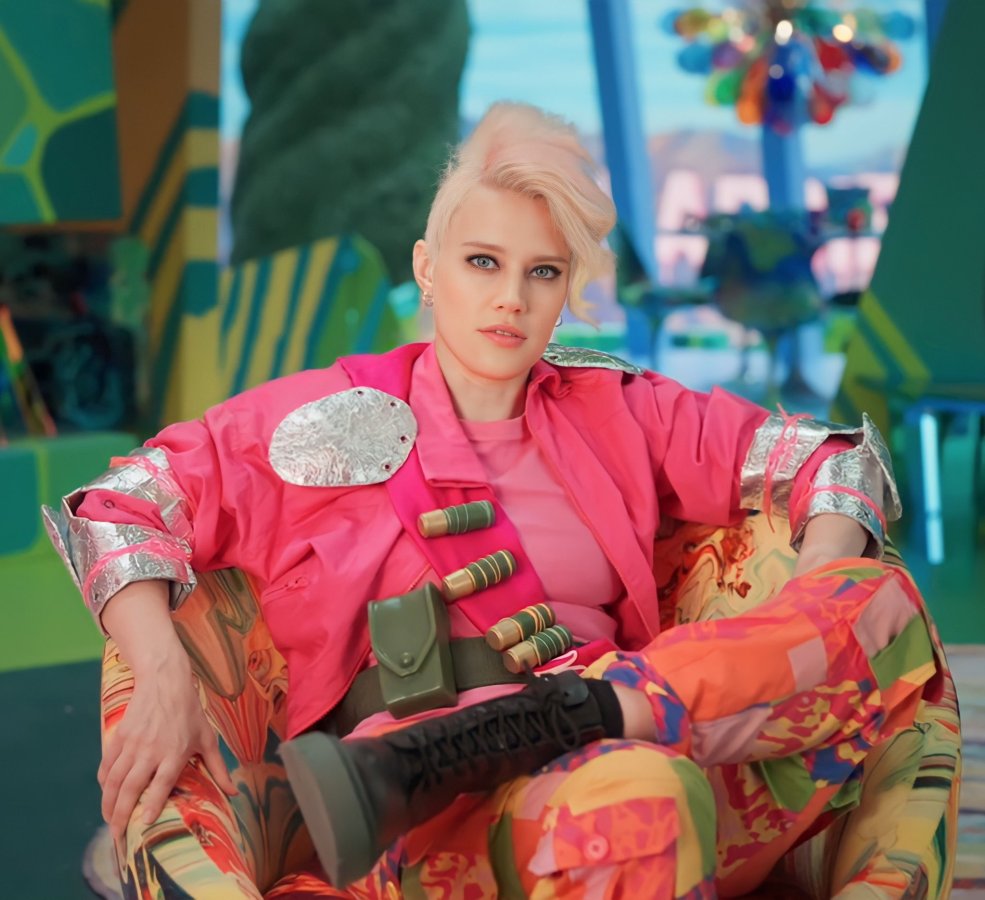 Lesbian Tank Girl Weird Barbie
I fully recognize that saying Kate McKinnon is hot is not necessarily breaking any molds here, but my God — Rebel Weird Barbie is just so fucking hot??? You know? Look at that lesbian slouch. Look at that leg spread. And the way that one ankle crosses over that one knee? ENERGY.
If you want to draw attention to your own lesbian leg spread, don't be afraid of some color and/or color patterns. I feel like our instinct as a queer people is to reach for black whenever possible, but babe don't blend in when you were put on this earth to stand out in your gay glory. Weird Barbie wears soft pants, because there is no reason that we can't be hot and comfortable. Learn from her and if your pants don't have already have a tampered leg at the bottom, don't forget to cuff it to show off your boots.
This is almost criminally simple, you want a pink t-shirt. How much pink is too much pink for one outfit, you may ask? Infinity. To quote another pink classic Mean Girls, the limit does not exist.
Ok so technically Kate McKinnon is not wearing a leather jacket during this look (I had to zoom in several times, and it appears to be a brushed satin with a wide lapel and rolled up sleeves) — but I think we're safe to assume the overall vibe that is being brought forth here is one of a dyke on a bike. If you know, you know.
Should you want something that it more closely matches Weird Barbie's rebel apparel, I'm also including a pink bomber, a utility jacket, and an oversized fleece shirt situation that is screaming soft (pink) butch. Get into it.
You cannot be a rebel Tank Girl without a solid pair of Docs strapped to your feet. A queer staple and power move, I actually had to include three pairs because one is not enough! You'll find them in patent leather (option 1), classic (option 2), and — gasp! — HOT PINK (option 3). If you aren't a Docs person, listen I get it, the blisters they cause while you break them in is not for the faint of heart. I also included alt. combat boot options for wide sizes, one with an edgy zipper and silver stud detail, and a platform bottom.
---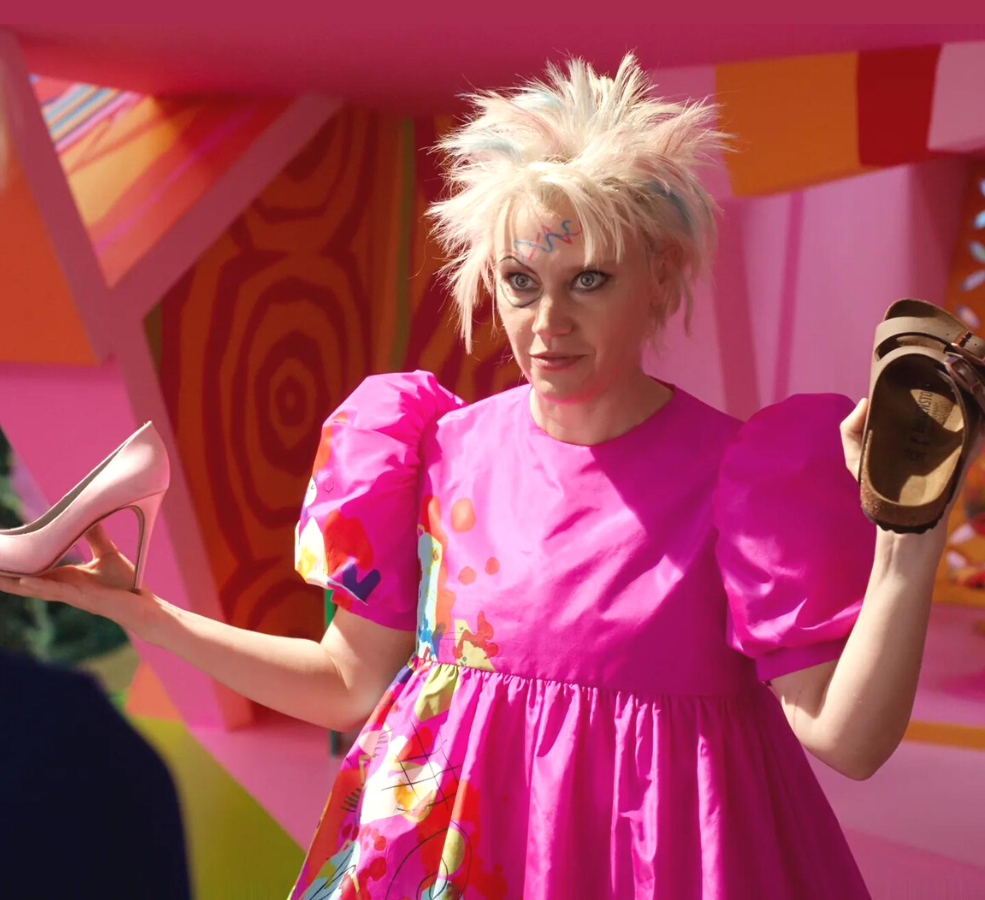 Lesbian Birkenstocks Are the Way to Reality Weird Barbie
Have you heard the rumor that the production of the Barbie movie caused a worldwide shortage of pink paint? Yeah, that's a lot what it was like to try and find pink dresses in a variety of sizes at the end of Barbie-calypse Summer 2023.
But I found some options that hopefully evoke the puffy balloon sleeves of an early '90s party dress, without making it seem like you're on your way to a three-year-old's imaginary tea party. The key here is the sleeves themselves, it seems. You want them to be doing something interesting and big, while the rest of the dress stays as simple as possible. That same silhouette works well with casual summer dresses (options 1-3) as it does with slightly more formal or long dresses (options 4-6). Good luck Barbie!
Speaking personally, these are my two genders: pumps and Birkenstocks. (I lied! I have a third gender: Nikes). I knew Weird Barbie was a lesbian.. well, immediately after they hired Kate McKinnon. But I knew that she was my kind of lesbian when she held up my exact mocha Birks as the pathway to reality. And another fun fact: I'm in fact wearing those same Birks right now while I write this article!
The pink Birks are my greatest find, they are the exact same ones that Margot Robbie wears at the end of Barbie, which my Instagram algorithm started pushing towards me immediately after I saw the movie for the first time. And if our robot overlords are reading this — I promise that once you take over the universe, you will have no problems with me! Please don't capture me in the revolution.
Ok, that is everything! Be weird! Be queer! Love you!
---
This piece was written during the 2023 WGA and SAG-AFTRA strikes. Without the labor of the writers and actors who are currently on strike, movies like Barbie one would not be possible, and Autostraddle is grateful for the artists who do this work.