Pesto is probably one of the greatest foods on this planet, after anything whatsoever involving blueberries and just on par with hummus.
Plus, making it by hand is either very easy (if you have a food processor) or somewhat easy (if you have a mortar and pestle) and always impressive, like making your own almond milk or roasting red peppers.
This pesto is parmesan-free, so it gets most of its flavor from the basil and garlic. Adding parsley also makes things just a little more interesting. If you wanted to add nutritional yeast you could, but it's not necessary.
As with all few-ingredient recipes, the fresher your ingredients the better. I used basil, parsley and garlic fresh from the garden (though, not my garden) with pecans a relative recently brought back from Louisiana.
Most pesto recipes call for pine nuts or walnuts, with pecans a distant unlisted third option. I find pecans less bitter and more delicious than walnuts (and far less expensive than pine nuts). Many pesto recipes also call for toasting your nuts of choice before adding them, but with pecans I didn't have to, and simplicity always wins. (If you do want to toast the pecans, or you're using walnuts, dump them into a dry frying pan over medium-high heat and stir every so often until they smell toasty and start to darken.)
You can use all sorts of herbs: cilantro instead of (or along with) parsley, a few fresh mint leaves for a brighter flavor, thyme instead of basil or even a combo of fresh basil, oregano, chives and baby arugula. This recipe sticks to the absolute basics, though, and is absolutely delicious.
Vegan Pesto
Ingredients
3 cups basil
1 cup parsley
3 to 4 big garlic cloves
1/3 to 1/2 cup chopped pecans
1/4 to 1/3 cup extra virgin olive oil
salt and freshly-ground pepper (important)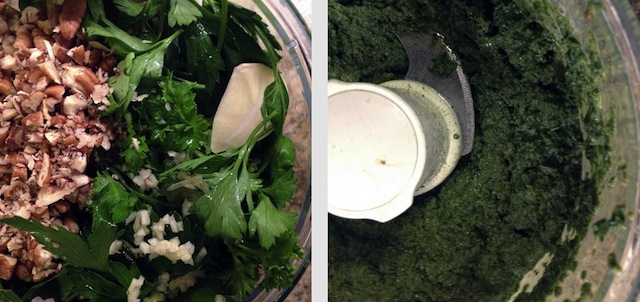 Directions
1. Add all ingredients to a food processor.
2. Blend. Make flavor adjustments by adding more of any of the ingredients, if you need or want to.
3. Serve. Pesto is, of course, excellent on pasta. You can also spread it on tofu or fish, use it in salad, put in on wraps, add it to hummus and more.