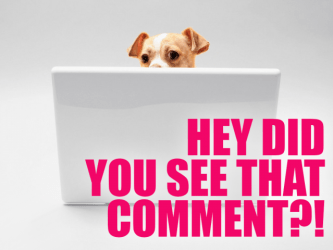 Happy New Year, moonbeams! So far my 2014 has consisted of Autostraddle and Doctor Who marathons, so not much different from last year except I'm now stationed in California and surrounded by mountains! How exciting! Carrie is on vacation this week, so I am standing in again and I'm so glad to be here.
We've had a great start to 2014 here at Autostraddle, Emily wrote a fantastic piece about navigating queer girl culture on the autism spectrum, Riese questioned whether Ani Difrano's apology was enough, Kim Crosby is searching for the secret island of black queer mixed femmes and we pledged to be braver and bolder in the New Year with a playlist to help.
Meanwhile, Carmen spiced up her life, Hansen taught us how to make all our sweaters more awesome, Mey faced her fears and gave us an awesome new hashtag, we reminisced about our favorite LGBTQ characters of 2013 and Robin Roberts came out (!).
Now on to the first comment awards of this beautiful New Year! Huzzah!

---
On New Year's OPEN THREAD 2014: Braver / Bolder Edition:
The WELCOME! Award to Minnah:

On Who's Afraid of Riding a Bicycle? Not You Because We Have 5 Tips for Beginners:
The A+ Pun Award to Sarah:

On 5 Lesbian Films You Might Have Missed in 2013:
The Ain't That The Truth Award to Monique:


On Saturday Morning Cartoons: Anna Spends a Lot of Time Here:
The Autowin Award to Claire:


On Good Morning Gaymerica: Robin Roberts Is Gay, Has a Girlfriend:
The Never Stop Award to sb:


---
See a clever, hilarious or thought provoking comment around this website-ship? Email it to Carrie at: carrie [at] autostraddle [dot] com!