Oh, Thing-Makers, let me tell you something: I am so ready for the holidays to be over. I am so done with Holidays 2013 I can't even tell you. My brother gave us all the flu for Christmas and everyone in my family (except for the three smart ones who were vaccinated) is bed-ridden and quarantined. Right now I am adrift in the magical land between comatose and overdose with every kind of medication you can think of, and I don't think I've moved from my bed or the couch in like four days. What's outside? Is the sky still blue? I just don't even know anymore.
I've been keeping snuggly in bed wearing hoodies and sweaters, but this also means I've been a bit hard on my clothes. The elbows of my sweaters usually get holes within a few months, as I am blessed with what you might call Boney-Elbow Syndrome, meaning my elbows could probably cut diamonds. These suckers are sharp. But because I've basically been wearing the same sweater for four days straight (don't judge me), this wears them out even faster.
One of the things I'd like to focus on in the New Year is mending my clothing, so I've decided to start simple. Luckily, sewing on elbow patches takes less than 20 minutes and can mend your sweaters for many years of lovin' to come.
Elbow Patches
Supplies Needed:
+ Sweater/Shirt
+ Felt/Fleece/Thick fabric
+ Scissors
+ Thread (I used embroidery floss because it's thicker and I'm lazy)
+ Needle
+ Safety pins
Level of Difficulty: Even my albuterol-shakes couldn't mess this one up.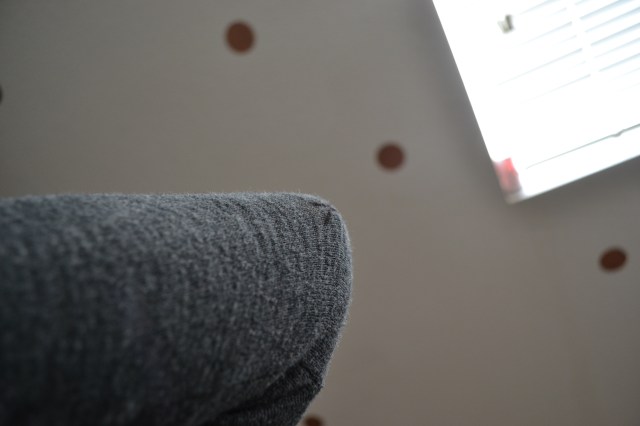 First, put on your sweater and mark an X on the pointiest part of your elbow. This is a real awkward photo. Have you ever tried taking a picture of your own elbow? It's really fun when you have the coordination of a three-hour old giraffe.
1. Gather up your supplies. I split my embroidery floss into two sections of three-strands because I thought it'd look less chunky with my current shaky sewing skills.
2. Cut out your elbow shapes. I went classic, but I've seen some really adorable elbow patches in the shapes of diamonds or even foxes that you could go for. Jazz that shit up and go for sequins or hearts or pleather.
3. Safety pin your felt shapes onto your sweater, making sure to only attach it to one layer of sweater, you don't want to sew your arm-hole closed. Then just do a simple stitch around the edges. It's easier to just do a running stitch from the top so you don't have to bother with trying to sew from the inside.
4. All done! I know it looks like my elbow patches are down a bit far, but my sweater has shrunk in the arms, as in it could perfectly fit a T-Rex at the moment. Also, if you place your patches further down, as your sweater moves over your elbows during the day, it's more likely to get pushed up and then your patches will still protect your sweater-elbow-area, you know? You know.
What other clothing items are you going to work on mending this year? Has anyone been able to bring themselves to darn socks yet?
---
This has been another installment of Make A Thing, where we make things with our hands for ourselves or other people we love.
Header by Rory Midhani