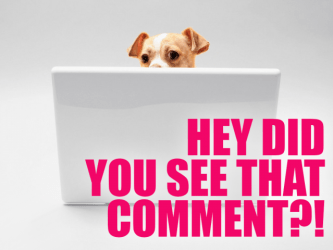 Good morning, school girls and bois! Class is in session. This year's curriculum includes queer women in history, art, some very creative writing, shop, and Crystal's all-time favorite, gym class!
During study hall all the A+ students are reading Riese's photo essay about the her move back east and then heading to the library for Book-It.
Did you hear the rumor Carmen is skipping school to run away to California? And are skinny jeans really out this year? By the way, can we sit with you at lunch?
---
On Ari Fitz Just Wore Your Perfect First Day Of School Outfit; Here's How to Get It:
The Top Comment Award to Mik: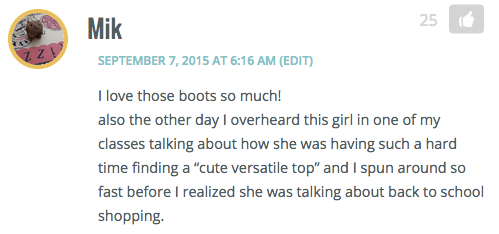 On Every Current Lesbian/Bisexual TV Character, Ranked By U-Hauling Potential:
The Spider House Rules Award to amidola:
On FRIDAY OPEN THREAD: What Was The First Gay Book You Read?:
The Closeted Reader Award to queer girl and Sade: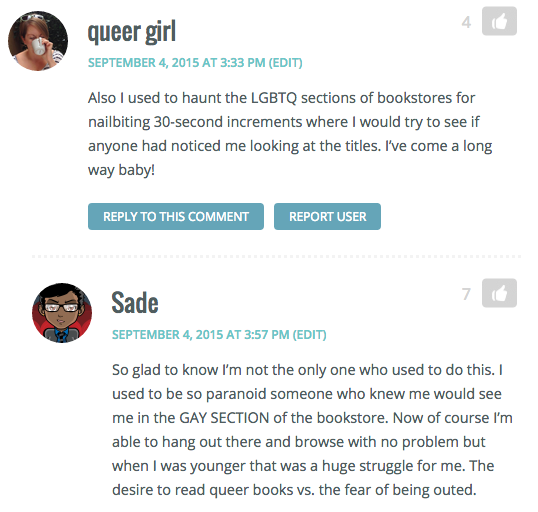 On Ode to Skinny Jeans: We'll Never Let Go!:
The Boifriend Cut Award to Alaina:
On 10 Lesbian Sex Scenes I Wrote Before I Had Lesbian Sex:
The AWARD Award to Dina:
The New Gal Pal Award to B_Briz

On FRIDAY OPEN THREAD: Tell Me Your Meet-Up Stories Or Other Stories From Your Week!:
The Even Gayer Than A-Camp? Award to Brittany: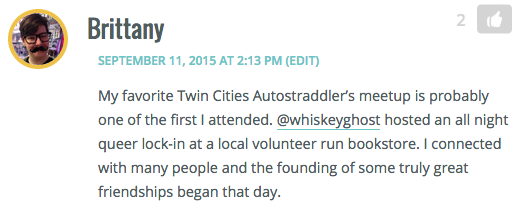 ---
See a clever, hilarious or thought provoking comment around this website-ship? Email it to me at: carrie [at] autostraddle [dot] com!