feature image via booksbeyondimagining.tumblr.com
Welcome to the Friday Open Thread, where you can virtually hangout with all your gal pals across the land. This is the place where you can share all your pet photos and selfies, vent about your week, tell us all your secrets or plans for the long weekend (if you have Labor Day off)! You can do all that right in this very post!
This week we're talking about gay books! Do you remember the very first time you read a super queer book? Weren't you amazed that there were characters you could actually relate to? Wasn't it so cool to read about two girls making out or falling in love or breaking each other's hearts instead of just straight people doing all those things? Maybe the first gay book you read made you realize that you were gay too. Didn't it feel like this?
The first gay book I read was a YA novel called Keeping You A Secret by Julie Anne Peters. I read this book in high school right around the time I was realizing I wasn't straight. This time period in my life is all a bit blurry but I think I read this right after I made out with my best friend who became my secret girlfriend which was all a whirlwind of feelings. Keeping You A Secret is just about all those wild, young love feelings and I read it at the perfect time in my life. The book centers around over-achiever and perfect student, Holland who has a boyfriend and is Ivy League college-bound and how she fell for a new girl at school named Cece, an out lesbian. They develop a relationship and then have to deal with homophobia from their peers when they find out about them.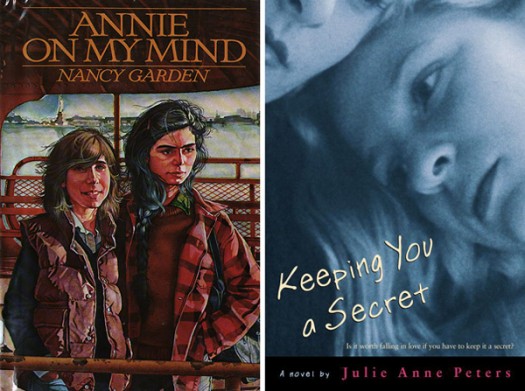 I really don't remember how I got my hands on this book, I think it might've been my girlfriend at the time. I just couldn't believe there were books with lesbian characters. Reading the book amplified all the squishy, butterfly feelings I had for my secret girlfriend which I didn't get from reading Twilight. (I was so bored reading Twilight. SO BORED.) I think the homophobia the characters faced kinda reaffirmed my feelings for not coming out during the time so that probably wasn't good but it was extremely important for me to know that there were other gay people in the world.
Right after I devoured the book, I remember I wanted more gay books. I needed them all. I tried looking for Annie On My Mind at the public library but it wasn't in the place they said it was and I was too scared to ask the librarian so I ordered it online with a gift card I got from Barnes & Nobles. When it arrived, I took it to my room right away so my mom couldn't see the title or the cover art and hid it. I only read it at night when my family was asleep. That book was everything. My queer BFF, Mary, lent me Rubyfruit Jungle in high school and I don't really think I appreciated it that much. At that point, I had a lot of conflicting feelings and didn't want to be gay so I was rejecting myself and didn't want anything to do with gay things so all I remember from reading Rubyfruit Jungle was me telling myself I wasn't gay. These three books shaped my formative gay years and impacted me in ways I didn't realize at the time.
Now it's your turn. I want to know all about the queer books that shaped your life. What was the first LGBTQ book you read? Was it a YA novel? Maybe the first queer book you read wasn't a YA novel and you read it as an adult. That's cool, tell me all about it! How did these books make you feel? What are some of your favorite LGBTQ books now? Tell us all about your queer book feelings in the comments!
---
How To Post A Photo In The Comments:
1. Find a photo! This is the easy part. Find a photo on the web, right click (on a Mac, control+click), hit "Copy Image URLwp_postsand then…
2. Code it in to your comment! Use the following code, and use a DIRECT LINK to the image. Your image link should end in .JPG or .GIF or .PNG or .CallMeWhateverYouWant even. I don't care, but it should be an image suffix! KINDA LIKE THIS:
If you need to upload the photo you love from your computer, try using imgur. To learn more about posting photos, check out Ali's step-by-step guide.
How To Post A Video In The Comments, Too:
1. Find a video on YouTube or Vimeo or WHATEVER and click "embed." Copy that code, but first make sure it's for 640 px wide or less. If your player is too large, it will not display properly.
2. Copy the code and paste it directly into your comment.
3. Go forth and jam.