"Not everything that counts can be counted, and not everything that can be counted counts."
– William Bruce Cameron, Sociologist, 1963
This year's "Network Responsibility Index," released yesterday, will be GLAAD's last, says GLAAD President Sarah Kate Ellis in a Variety column. The organization will instead be focusing more on their annual "Where We are On TV" report, which should come out this month and will provide statistics on overall diversity and describe what LGBTQs can expect in the 2015-2016 TV season. There's a few reasons why the NRI feels less useful these days: the plethora of programs to evaluate, changing methods of consuming television and an overall shift in the cultural climate. So, basically, GLAAD is changing its focus from evaluating the past to preparing us for the future.
I mean, the only channel GLAAD evaluated this year that was entirely lacking in LGBTQ impressions was The History Channel. So.
---
As a data nerd with a spreadsheet imprinted on my brain listing every LGBT female character to ever appear on an American TV show, I'll obviously mourn the death of this report. But Ellis is right that the focus has shifted from quantity of representation to quality. This year is definitely the first where every network (except The History Channel) at least did something, although it's been swinging that way for a while. We are there. We are in the picture. But it's often a very white, very male, very middle-class picture. It's also pretty deplorable that although the trope of "Bury Your Gays" has managed to fade overall, lesbian and bisexual female characters of color remain particularly prone to sudden death, serving to desensitize viewers to imagery that we really should be more sensitive to these days. I've long felt that what the Network Index missed was a penalty for each gay person you kill off.
The method of evaluating network-by-network has been useful for holding networks accountable, but it's becoming somewhat meaningless for viewers who only watch one channel: Hulu. The networks GLAAD evaluates in depth — broadcast networks (ABC, NBC, CBS, Fox, The CW) and the largest cable networks (ABC Family, FX, MTV, TNT, ABC, TBS, USA, TLC, A&E, HBO, Showtime) — barely provide a comprehensive picture of what's out there, with so much LGBTQ content showing up on channels like PBS, Starz, BBC America, E! and SyFy; as well as streaming services like Hulu, Amazon Prime and Netflix. I honestly forget every week that Scandal is on ABC, and I'm a person who started subscribing to the USA Today at the age of eight so I could keep up with the Nielsen Ratings. (They came out every Wednesday in the "Life" section, which I always thought was a weird name, because it wasn't ever about life. It was about fiction. But fiction has a life.)
We're getting to a certain quantity of representation where the quality standards can be higher — but the challenge that kind of analysis presents is an interesting one. At what point are there enough LGBTQ characters that no single instance of misrepresentation is significant enough to be condemned? I'd say when it comes to white cisgender gay men, we're there, we're at that point, we can afford a Cyrus Beane. But for other sub-groups of the LGBTQ umbrella, it's hard to say. Within the LGB female community, the battle rages on regarding whether it's lesbians or bisexuals who are the most poorly represented in the media. Even the most qualitatively poorly represented group in the media — transgender women — already have at least a few viewers who are done critiquing the quality of representation, as evidenced by a lengthy email we received from a transgender reader following our Pretty Little Liars finale recap (which gave a balanced analysis of the reveal, in my opinion), in which the reader insisted "trans people can be literally anything in society that people who aren't trans can be. This includes the bad things. This includes being villains… you can't tell me that A shouldn't do evil things just because she's trans." The emailer suggested we abandon "the groupthink BS that so many of us actual trans people are against," even though our recap, which many actual trans people agreed with, was created in consultation with our Trans Editor, Mey.
Why do we care so much about the quality of our representation? Why are so many outraged by what went down on Pretty Little Liars? Why are we so pissed about the ending of Orphan Black? Why are so many viewers scared that Amy's gonna fall for a guy this season on Faking It? Why is representation so crucial for LGBTQ people specifically? Well, unlike many other minority groups, most queers are unlikely to have another family member with the same affiliation, which means media can stand in for real-life community. In the 2000 book Alternate Channels: The Uncensored Story of Gay and Lesbian Images on Radio and Television, Steven Capsuto writes that "in America, broadcasting wields a power once reserved for religion: the power to tell people what is real."
I truly believe in story, I think the stories we see and the ones we choose to engage with are one of life's most vital elements, it's right up there with food and shelter. This has always been true. And even sports, in a way, are a kind of story for people who invest in that particular narrative. You are always following something, some story, all of us, every day. So yes these stories matter. "The contributions of the mass media are likely to be especially powerful in cultivating images of groups and phenomena about which there is little first-hand opportunity for learning," writes Larry Gross in the 1991 paper Out of the Mainstream: Sexual Minorities and the Mass Media. Gross summons the term "symbolic annihilation," first used by George Gerbner in 1972 "to describe the absences of representation, or underrepresentation, of some group of people in the media (often based on their race, sex, sexual orientation, socio-economic status, etc.) understood in the social sciences to be a means of maintaining social inequality."
Now the focus has shifted to misrepresentation and underrepresentation. Outside of ABC Family, we rarely see a lesbian or bisexual female character at the forefront of any particular cast (which is part of why Faking It is so precious to us), especially not on broadcast television. We don't have our Jamal on Empire, Mitchell and Cameron on Modern Family or our Cyrus on Scandal. Also, when it comes to lesbian representation: why must so many lesbian characters sleep with men? Will we ever see a diversity of gender presentation amongst female queer TV characters, or just a bunch of thin femmes? WHY SO MANY WHITE PEOPLE?
But mostly these days it's not the simple existence of queer characters that we're fighting for, it's for screen time for those characters and their romances. It's so tiring, this back-and-forth we play with the people who tell the loudest stories. This is what we want to look like! Stop making us look like [other thing]! Straight white men save so much time not worrying about that shit.
So, which fictions did we tell this year, and who told them? I'm not gonna go through the whole report with you, I'll just pick out the most interesting parts.
Like: a thing to know is that a lot of these numerical ratings can be totally thrown because of one or two shows. Showtime dominated in the mid '00s with Queer as Folk and The L Word, then retreated, surged back again for The Real L Word, and is now, like many networks, spreading their queer eggs in multiple baskets to get back on top. Networks with gay judges on reality shows or queer hosts of news specials, like Anderson Cooper and Robin Roberts, get huge boosts that may or may not represent any qualitative measure of representation. In the capacity of judge or host, sexual orientation is often muted or aggressively desexualized, existing outside the context of romantic or sexual narratives or relationships.
Like: this year, Empire alone enabled Fox to boast "the second most racially diverse representations on broadcast." (PLUS HAVE YOU HEARD THAT TIANA IS GONNA BE A SERIES REGULAR THIS SEASON?!!! WE ARE SO EXCITED FOR THIS.) Over at ABC, Shonda Rhimes is responsible for most racial diversity amongst the network's LGBTQ characters. "Collectively, there is probably no single person who oversaw more LGBT-inclusive hours of television than creator Shonda Rhimes," wrote GLAAD. The CW scored best for racial diversity amongst broadcast networks with 38% of its representations being people of color.
But, another weakness in the GLAAD methodology is revealed in the case of The CW, who got an artificial boost in overall representation from The Flash, who had a gay police captain, David Singh, appear in almost every episode — but rarely played more than a background role in the action. The CW also killed a queer woman in Arrow, a gay vampire in The Originals and a gay warlock on The Vampire Diaries, but they've also got a queer Latina character on Jane The Virgin and a bisexual lead on The 100. 
Fox scored the first-ever "Excellent" rating for a broadcast network, mostly 'cause of Empire, So You Think You Can Dance and Glee, the latter of which dealt with its exceptional low ratings going into the final season by becoming the gayest fucking thing any of us have ever seen. I'm sure that GLAAD is relieved to be done writing the same paragraph about Bones every year, some variation of "forensic artist Angela is bisexual, but nobody talks about it."
NBC got a shout-out for the most trans-inclusive programming, "thanks to shows like American Odyssey," which I have never heard of.  NBC cancelled two lesbian-inclusive shows: Marry Me, which featured a black lesbian, and One Big Happy, the great lesbian hope that turned out to be kinda lousy. Ultimately, NBC scored well 'cause it has so many telethons and award shows, which are often hosted by or feature performance by gays.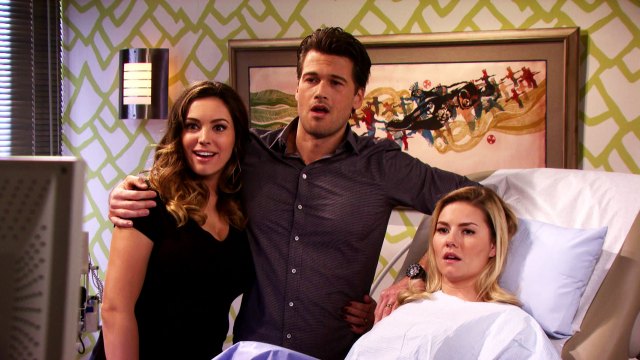 Meanwhile, ABC Family is KILLING IT. 74% of their original programming hours include LGBT characters, but they excel beyond even that impressive figure: 79% of those impressions were lesbian characters, 49% were people of color, and they've even got a transgender male character played by a transgender actor. How has ABC Family accomplished this? Well, in general, when one seeks LGBTQ representation on a show, one inserts a gay man. It's just the default. But at ABC Family, the default is, instead, a gay woman. Somebody at that network decided to tell a different story and they went all in. Dude, a few years ago Molly Ringwald played somebody's lesbian Mom on vaguely anti-abortion cheesefest The Secret Life of the American Teenager! They somehow got a bisexual girl and a lesbian into Chasing Life. There's a deaf lesbian, Natalie, on Switched at Birth. And Pretty Little Liars has given us lesbians, bisexuals and queer women in droves. (Perhaps this is what happens when you have a lesbian showrunner!) PLL alone has given us more queer female characters than appeared on television for the entire decade of the '80s: Emily, Maya, Paige, Samara, Alison, Sara Harvey, Jenna, Shanna, Sydney, Talia and, of course, Caleb.
[But why do Hanna, Spencer and Aria get multi-season arcs for their romantic partnerships but not Emily? You could combine every moment of screen time garnered by Paige, Maya, Samara, Talia and Sara Harvey and it'd still be only half of what Caleb or Toby or Ezra have racked up individually.]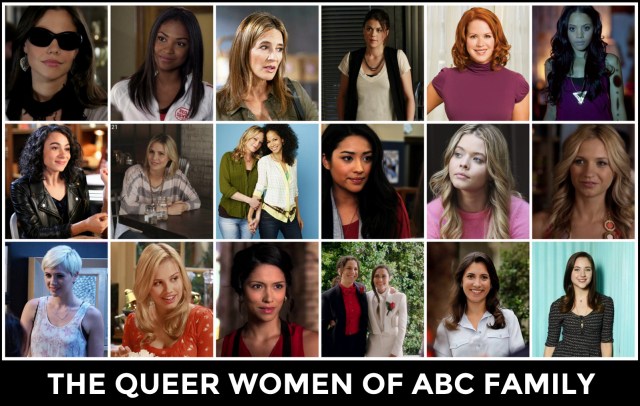 The ABC Family summary seems to contain GLAAD's first statement about Pretty Little Liars' "Big A Reveal," noting that although most of ABC Family's inclusive hours are from PLL, PLL made a major misstep this year that would've affected its grade if it had occurred within the report's research period. "The show made some attempt to separate [Charlotte's] transgender identity from her mental illness," GLAAD writes, "but ultimately she was the latest in a long series of transgender women portrayed as psychotic killers in mainstream media." GLAAD hopes that "when the series returns next year, it makes an effort to further humanize Charlotte beyond being yet another psychotic trans stereotype."
HBO did well as always but also said goodbye to two of its queer-inclusive shows, True Blood and Looking. Really it's about time HBO started featuring more female lesbian and bisexual characters (I miss Kima on The Wire, y'all), as most of its most legendary accomplishments in LGBTQ representation come from exquisitely crafted male characters in critically beloved shows like Six Feet Under, Girls, True Blood, Game of Thrones, Big Love, Entourage, Oz and The Sopranos. (Many of which honored gay male characters while pushing lady-queers to the fringe.) MTV got a round of applause for Faking It, noting that "perhaps the most unique storyline… was that of Amy's stepsister Lauren, who audiences learned was born intersex." Showtime does "good" too, 'cause of Shameless and Penny Dreadful, as well as The Real L Word: Mississippi and Masters of Sex.
The "Where We Are On TV" report, which I await with baited breath, will contain more revelatory numbers about diversity respective to gender, race and ability status. It'll also give us specific numbers on how many gay men, lesbians, bisexual men, bisexual women, transgender men, transgender women and otherwise-identified humans are on TV. The takeaway from this report is, really, that this methodology no longer tells the comprehensive picture about LGBT representation that we need in this bold new era, although it's definitely served its awesome purpose. Everybody has gotten a lot better: ABC from 15% inclusive hours in 2006 to 32%, CBS from 9% to 27%, The CW from 12% to 45%, Fox from 6% to 45% and NBC from 7% to 28%. We're also seeing so many more queer characters on cable and streaming networks that GLAAD's report doesn't analyze in depth, or at all, like shows on TV Land, Starz and Comedy Central.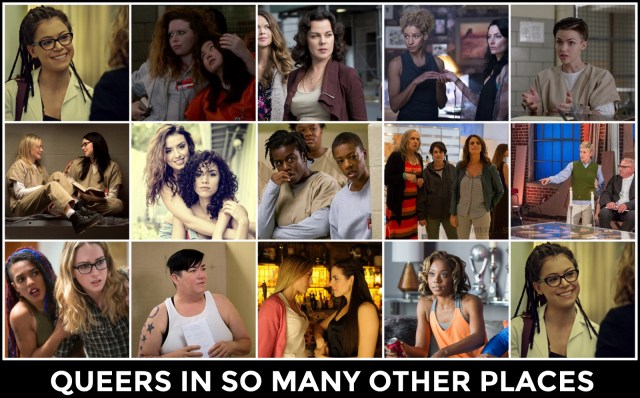 Everybody involved in reporting on LGBT representation in the media has witnessed a dramatic change we're still figuring out how best to cover. But GLAAD has done a great deal to encourage networks to question their representation, and they will continue to do so, even without what I imagine is an incredibly time-consuming report to compile. That spreadsheet in my head is getting harder and harder to keep track of, too… and that's a good thing.