Need an easy, cheap and healthy recipe that is perfect for summer?

Here is the scenario. It's BBQ season and you can't cook. You are that girl who shows up to potlucks with a case of PBR and some paper plates. It's ok, no one is judging you. I myself, at 31 years old, have not used my oven once since last year. Maybe you are also a super poor college student, like I was, and need something you can make and eat over the course of two or even three days. Look no further. My famous turkey chili recipe, embarrassingly the only thing I know how to cook, is a thing that all of my friends seem (or pretend) to enjoy!
"I love hell outta that chili."
– an actual sober textual quotation from famous drunk chef Hannah Hart
The full ingredients for this recipe cost me $25 at Trader Joes in Manhattan and will make up to 5 generous portions. I'm pretty sure you can buy these ingredients for even less money somewhere else where a green pepper is not $5 and you don't have to sell a kidney to pay your rent. I even purchased a $.99 recycled bag to carry my groceries because I seem to forget the collection I already own EVERY SINGLE TIME I go grocery shopping!!
Ingredients: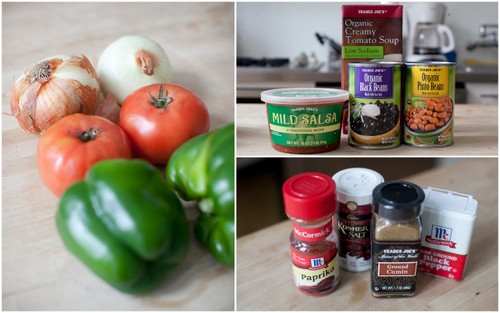 1 10 oz can of tomato soup
1 15 oz (approx) jar of salsa (if you have a sweet tooth you might want to try mango or pineapple salsa for an extra dash of sweetness)
¼ cup of Cumin
¼ Tablespoon of Paprika
Seasoning or salt and pepper for turkey
1 can of black beans
1 can of pinto beans
1-1.5 lbs of ground turkey
2 green peppers
2 sweet or yellow onions
2 tomatoes
Veggie Note: You might find that if you use organic veggies, you'll need 2 instead of one of each. Also if you are making it vegetarian, try two of each veggie. But if you get like a massive green pepper, you'll only need one. Does that make sense?
Directions:
Dice up the veggies (green peppers, onions, and tomatoes), drain the beans, and combine in large pot with tomato soup, salsa and spices. Turn heat to low, stirring occasionally.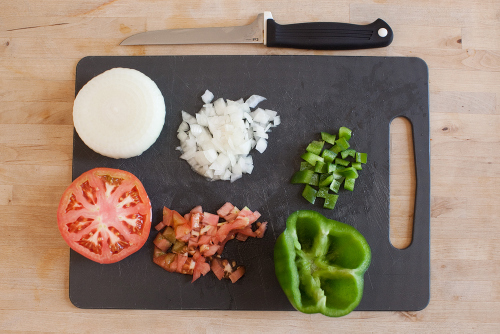 While the chili, sans meat is simmering, season the turkey with some salt and pepper. Put it in a pan, break up and brown over medium heat.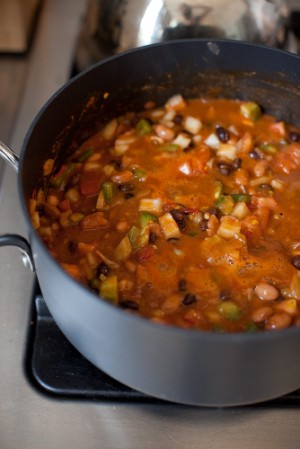 Drain any excess fat from the turkey pan (or not, sometimes fat is delicious) and add the turkey to your pot.
Stir it all in and heat on low for up to 45 minutes. You want all the veggies to be tender.
Turn off heat and let cool for 10 minutes.
This recipe only takes about 30 minutes to prep, 45 minutes to simmer to perfection and 10 or so to cool. I suggest you then top it with cheese and eat it with tortilla chips instead of a spoon, but hey, that's just me. It reheats really well in the microwave.