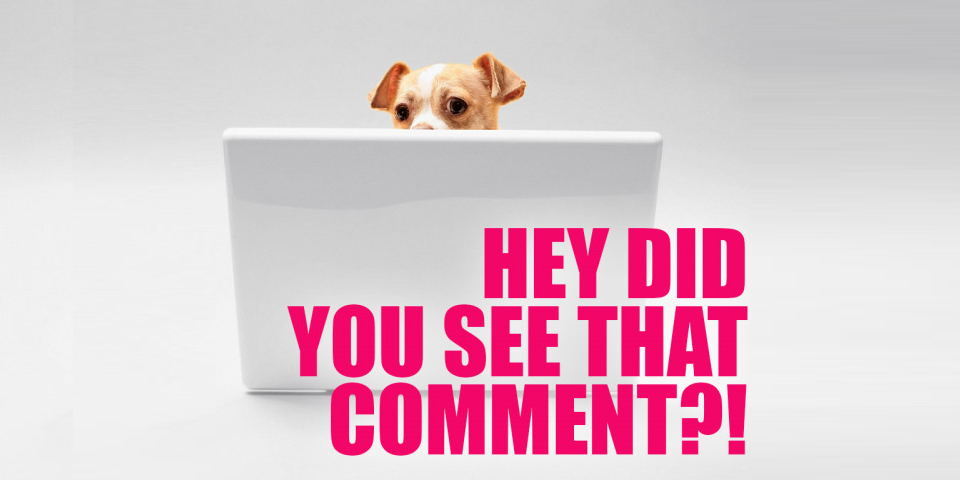 Hi, pals. What do you say to a week like this? I love you! I see you all out there fighting for the good stuff, taking up space, being vocal about your fear and anger, celebrating each other, and I'm just so fucking happy you exist. This Autostraddle family heals me every single day, so thank you, truly, for that. Good? Good.
Also: you're all hilarious.
This week, from her desk in the Vapid Fluff department, Stef brought us this masterpiece of equivocative journalism.
Grease Bats contemplated an inheritance.
Vanessa looked into our past to find hope for our future.
THIS IS VERY IMPORTANT: 10 Halloween Couples Costume Ideas For You and My Dog. Riese is a genius and Carol is the perfect muse.
Chingy's here to help us cruise for casual sex.
This was beautiful and perfect and it must be awfully dusty in here: Supergirl's Nia Nal Is the Trans Superhero I Need. Thank you, Drew.
Vote vote vote vote vote vote vote!
This just in: we see ghosts more than straight people do, and I'm not just talking about that ex who keeps showing up at your favorite coffee shop.
And there were your comments.
---
On Queen Latifah Is [Maybe] Marrying a Woman and [Allegedly] Having a Baby, Our Work Here Is [Almost] Done:
The Ethics In Journalism Award to Bronzey:

On 10 Halloween Couples Costume Ideas For You and My Dog:
The Cirrrrrrcle of Lifffffffe Award to Em, and M. Whitney for the assist: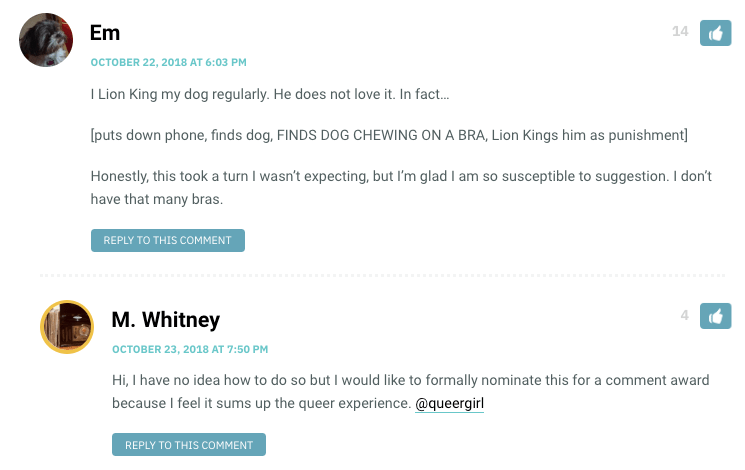 On Also.Also.Also: Terrifying Anti-Trans Trump Memo Terrifies and Mobilizes LGBTQ Americans and Allies:
The Best Life Award to Pipkin, with help from Katie S, Freakazoid, Chandra and Carmen SanDiego: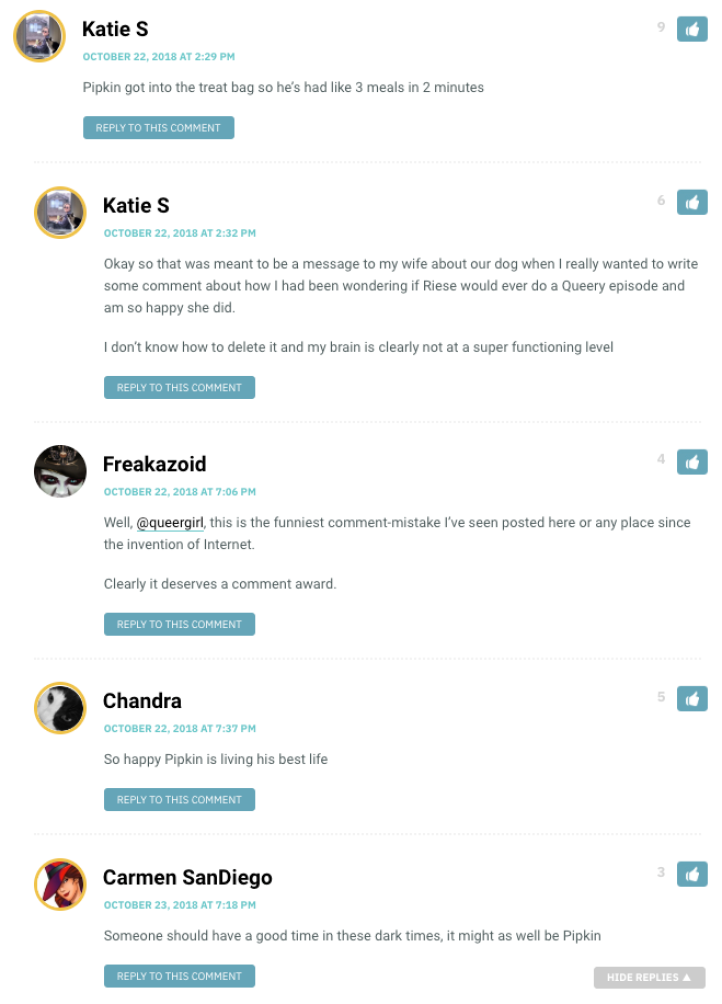 On How to Cruise for the Casual Lesbian Sex You Deserve:
The Reading is Fun-Damental Award to Brianna:

On I Went Looking for Bisexual History, and Found Online Connection and Community:
The Queer Bedfellows Award to Phoebe(But you can call me Pheebs), Faustine, and Lauren: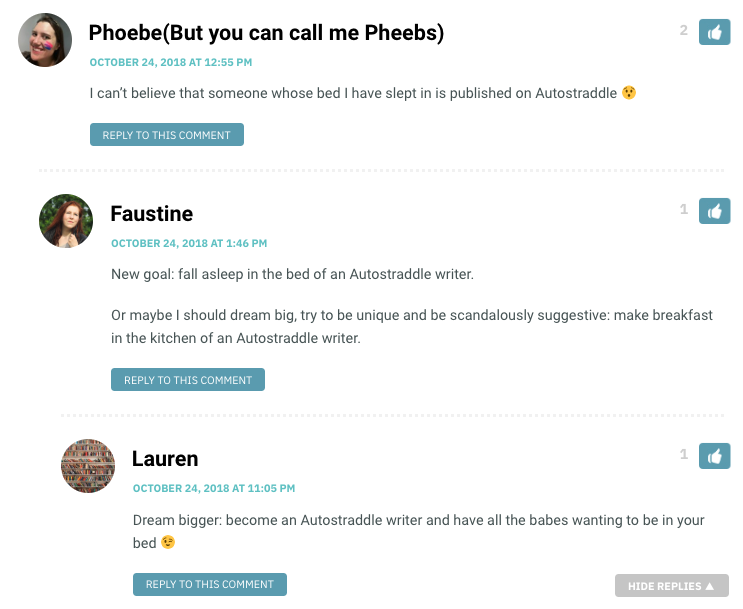 On No Filter: Hannah Gadsby and Jill Soloway Unite For Cuffing Season:
The Ten Years to Life Award to Snaelle:

On Gay People More Haunted by Ghosts Than Straight People Are:
The Afterlyft Award to Caitlyn: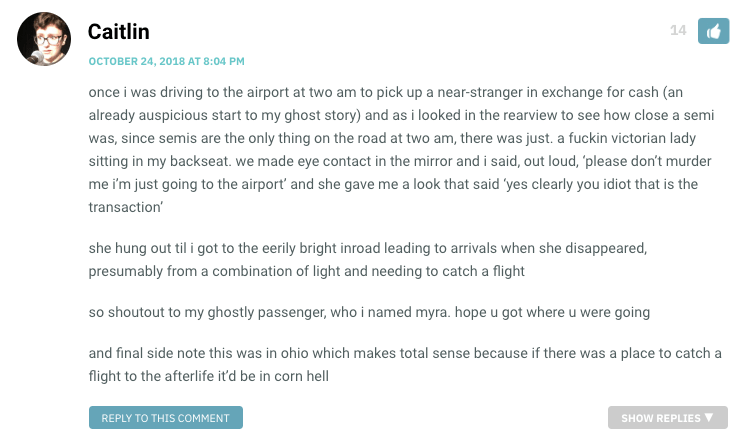 And on Supergirl's Nia Nal Is the Trans Superhero I Need:
The Always Meet Your Heroes Award to Carmen Phillips and Drew Gregory: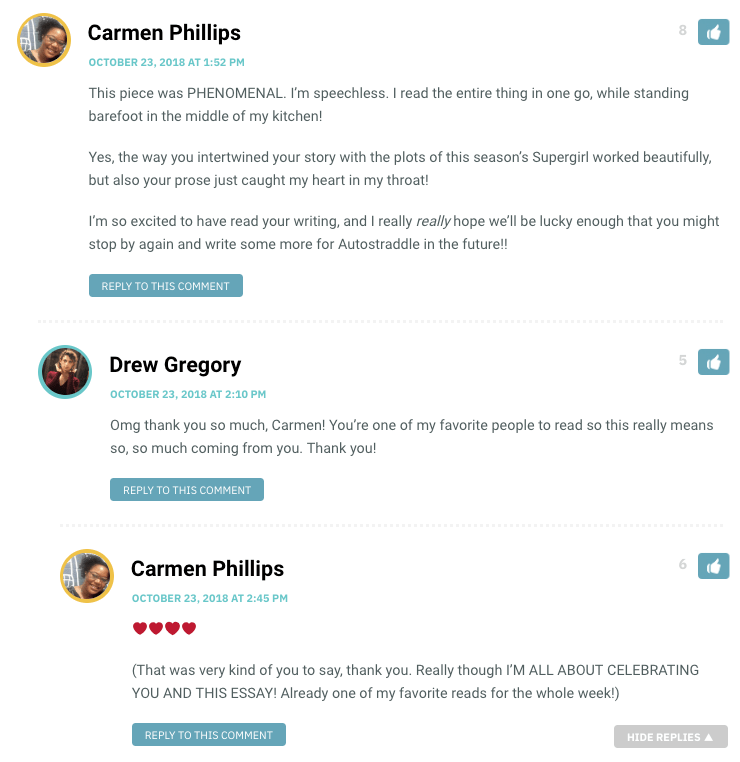 ---
See a funny or amazing comment that needs to be here? E-mail me at queergirlblogs [at] gmail [dot] com!