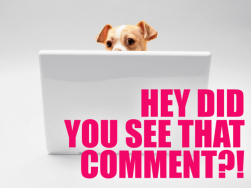 LISTEN: Some days are fantastic, and other days you might need those tiny cans of carbonated wine from Trader Joe's! And if that's your thing, that's just fine! Your life choices are valid. Whatever your preferred beverage, I believe in you.
This week, as always, Heather healed my heart.
Did you vote for the AS March Madness First Kisses final round yet? Omg.
Erin wrapped up 30 Days of Carol. 30 days online, forever in our hearts.
From Mey: You should be reading Moonstruck. And not just because I met Grace Ellis at A-camp once at 4 a.m. in the cafeteria and she was nice to me.
This was astounding and good and honest and you should read it.
Relationship goals from the team! This was very warm and fuzzy.
Were you around for Shennystraddle? There were so many great and terrible posts that day, but I think this was my favorite.
And then there were your comments!
---
On No Filter: Lesbian Jesus Hayley Kiyoko Screams at Giant Version of Herself:
The Bisous Award to Carmen Phillips:

And the Electric Lady Award to Snaelle:
On 30 Days of Carol: Day 29 – An Edible Arrangement for the Person Responsible for Cutting the Richard Scene:
The Never Days of Richard Award to Sally (and her icon):
On Why Did Applebee's Destroy the Lesbian Love Story in Their New Take-Out Commercial?!
The GBF Award to McFly, Caitlin and Elena: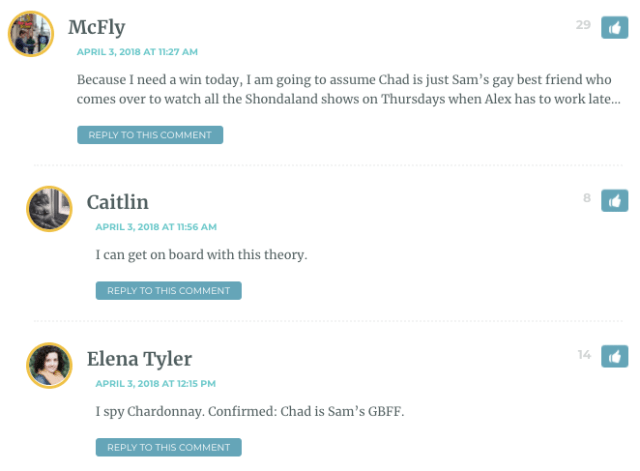 The Something In My Teeth Award to Monique:

And the AO3 and Me Award to Beth:
And on 30 Days of Carol: Day 30 – Dearest:
The Never Alone Award to Rous Rose:
---
See a funny or amazing comment that needs to be here? E-mail me at queergirlblogs [at] gmail [dot] com!