Way back in July I talked to former Autostraddle writer and intern and Lumberjanes co-creator Grace Ellis about her first ever solo series, Moonstruck and now I'm back talking about it again as the series' mystical and mysterious first trade Vol 1: Magic to Brew has just been released. Moonstruck is a slice-of-life fantasy series about a town that has some human residents, but is mostly full of people who are werewolves, centaurs, minotaurs, vampires, witches and other magical and fantasy creatures. Our main character is Julie, a chubby Latinx werewolf barista who's more than a little bit sensitive and more than a little bit gay. The rest of the main cast includes  Chet, a centaur barista who uses they/them pronouns and Julie's girlfriend and fellow werewolf, Selena. What at first seems like a pretty straightforward coffee shop fantasy love story quickly becomes a daring adventure about embracing and celebrating diversity and the things that make you unique.
At the beginning of the second issue, we see Julie and Selena going on a date, but before things can get too mushy and romantic, the magic show they're attending goes really weird. The magician starts going on a rant about the true meaning of magic, and then before the audience knows what's up, he pulls something they didn't even think he could — he turns Chet the centuar into Chet the regular, non-magic person — and then he vanishes. Obviously this freaks everyone out, but especially Chet, who now has to live with the body dysphoria of losing something that was an essential part of who they are. The rest of this first trade follows Julie, Chet, Selena and their vision-having witch friend Cass as they try to figure out who this mysterious magician is and how they can stop him and get Chet's pony butt back.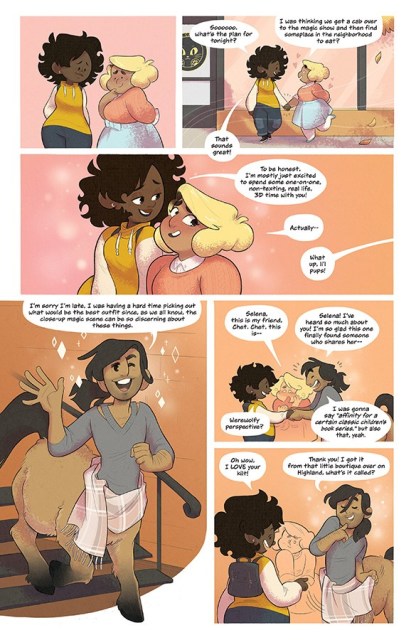 Grace Ellis does a great job at writing a story that feels very much like her. The main themes of the book are about friends supporting each other and people learning to love themselves. Julie is sensitive, especially about being a werewolf and not a "normal" human, and we see her stressing out every time someone calls her "puppy" or she starts to transform. Her girlfriend loves her, but doesn't understand and can sometimes be a little harsh. Chet loves themself and wants their friends to love themselves, but the're also hilarious and zany enough to make even the heavier moments light. Throughout these five issues we see each one learn some lessons about themselves and each other. Ellis also did a great job of giving each character their own unique voice and they work really well with each other in a way that makes their relationships seem so much more real.
The art, by Shae Beagle, is absolutely wonderful. They combine big and bold hairstyles and fashion choices with a great take on body diversity to make all the characters uniquely themselves in a way that helps to emphasize the point the comic makes about celebrating diversity. In both word and art, this book celebrates people who look different from the very small and select mold that people are supposed to fit in. And none of that is even mentioning that they've done a wonderful job designing new and interesting takes on classic fantasy and magic creatures like ghosts and werewolves. Beagle, and colorist Caitlyn Quirk also do an incredible job of making the magic in this world seem real and seem big. When you see the spells and magical forces splashing around the page, there's no way you can think they're a minor part of the story, they seem formidable and leave you with a sense of wonder, just like magic should be.
Moonstruck Vol 1: Magic to Brew is available online and in bookstores now.
New Releases (April 4)
Angel Season 11 Vol 3 Dark Reflections TP
Supergirl Vol 3 Girl of No Tomorrow Rebirth TP
---
Welcome to Drawn to Comics! From diary comics to superheroes, from webcomics to graphic novels – this is where we'll be taking a look at comics by, featuring and for queer ladies. So whether you love to look at detailed personal accounts of other people's lives, explore new and creative worlds, or you just love to see hot ladies in spandex, we've got something for you.
If you have a comic that you'd like to see me review, you can email me at mey [at] autostraddle [dot] com.