You might know Grace Ellis from her work as one of the co-creators and writers of the awesome and super queer all-ages comic Lumberjanes or from her work as Intern Grace, one of the most beloved writers we've ever had at Autostraddle. Well, you're about to get to know her for her upcoming, super amazing, funny, romantic and excited fantasy comic Moonstruck. This all-ages comic, being released by Image on July 19, features art by Shae Beagle and Kate Leth, is about a werewolf barista named Julie and her centaur best friend Chet trying to live normal lives while also dealing with other monsters, Julie's developing relationship with Selena and a magical and foreboding prophesy. I talked to Grace about the comic and how much girl-on-girl kissing we can expect.
Mey: I love this fantasy world with monsters and mythological creatures and a great mix of supernatural stuff, how did you decide which creatures you wanted to feature?
Grace: Well, Moonstruck the series was actually born out of Moonstruck the five-page anthology story, and when I sat down to write that story, I had to think of a plot device that could function as a twist and then a second twist, and that's how I landed on mythical creatures that look like humans. With that device in mind, whatever creatures we went with had to be able to conceal their magical-ness in a variety of ways. We had Lindi, who has snakes for hair, wearing a hat she could take off, Mark turning into a bat, and Chet the centaur stepping out from behind the counter. And then of course, poor Julie wolfing out would be the dramatic peak.
It all worked out really well, though, I think. We ended up with a nice range of mythical characters, and it became really easy to use their respective monster-ness to inform their personalities. I mean, I've been thinking of it this way: In the real world, things like sexuality or race or ability or other marked traits aren't just window dressing, right? They're things that affect how the world sees you, and that affects how you interact with the world and changes your perspective. So in the world of Moonstruck, the characters' monstrous qualities aren't window dressing either; they're essential to who they are as individuals. Being a mythical creature is an OTHER other in this world.
I'll give you an example. Well, two examples. Chet is a centaur, and they can't exactly hide that fact, so they've become very proud of it. They've also gone through their entire life taking up a lot of physical space, so those two traits combine to make one particularly gregarious little genderqueer pony kid. Julie, on the other hand, can hide the werewolf part of herself, and partially because she thinks of being a werewolf as being out of control, she prefers to pretend she's a "normal" human. So Julie is a lot more anxious than Chet.
M: Grace, this is your first time solo writing a comic, what are you most excited about?
G: I'm excited to spread my wings and (hopefully) fly! It's been really nice and also challenging to work on finding my personal writing voice, but I am very proud of this book. It's the best thing I've ever written, I think. I'm excited to dig into some pretty literary stuff with this book, even though it's a book about magic and puns and centaur butts. I did a lot of reading and a lot of writing between Moonstruck and Lumberjanes, a lot of delving into the actual form of comics, a lot of in-depth character and structure stuff, and I'm hoping all of that comes through to make Moonstruck a good, well thought-out book.
M: I LOVE the art, it's dynamic and smooth in a really organic way, and soft in a really really nice way. How did you decide on the look for the book?
G: I know this question is for Shae but I would be remiss if I didn't hop in here to say that Shae's art is unbelievably masterful, it makes me want to cry all the time because it's so beautiful, SHAE I LOVE YOU.
M: What's gonna be the mix of scary stuff (like that premonition) and romance?
G: HA. We've been having a really hard time pinning down the genre, I think partially because of this question. There's definitely more light than dark in this book, that's for sure. There's quite a bit of romance, quite a bit of adventure, and quite a bit of hijinks all happening, but underneath the warm exterior, there are some darker themes. Hopefully it's not too scary, though. Just kind of sad, occasionally. But overwhelmingly, it's happy.
M: Are we gonna see some cute ladies kissing?
G: I wouldn't have it any other way! Issue 2 brings the arrival of Julie's new girlfriend Selena, who is a mega babe, so that's definitely something to look forward to. It's a really queer book. And don't worry! We're going to take good care of your spooky babies, even when the going gets rough in the story. They're in good, safe hands.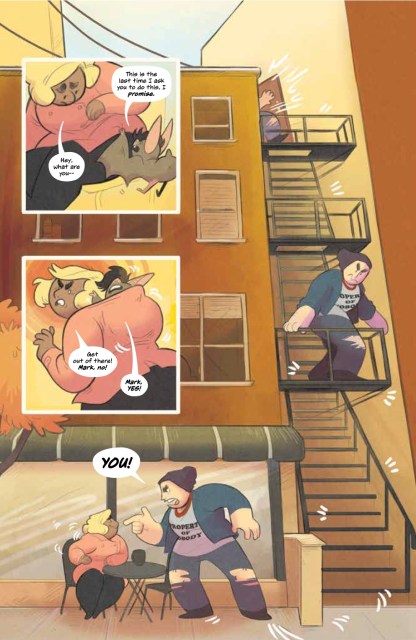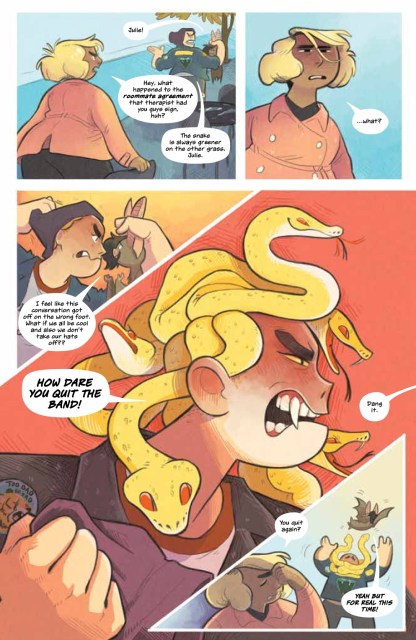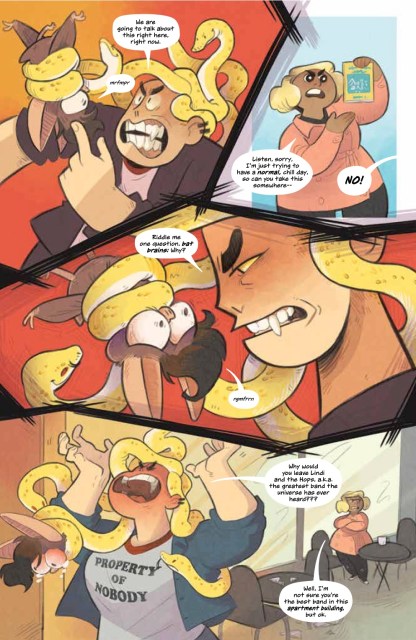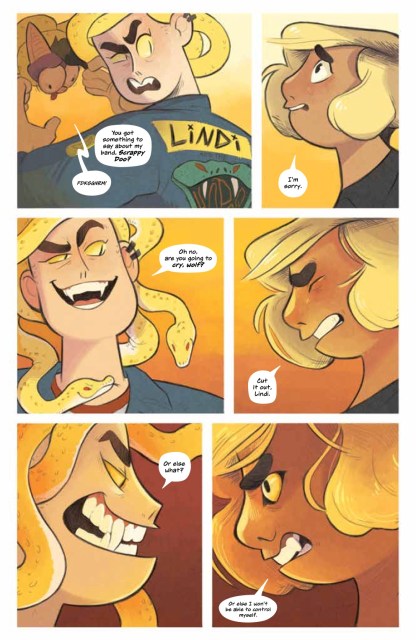 New Releases (July 5)
Angel Catbird Vol 3 Catbird Roars HC
Zodiac Starforce: Cries of the Fire Prince #1
DC Super Hero Girls A Kids Coloring Book TP
Wonder Woman by Greg Rucka Vol 2 TP
Jem & The Holograms Misfits Infinite #1
Giant Days Vol 1 Not on the Test Edition HC
Kim & Kim Love is a Battlefield #1
---
Welcome to Drawn to Comics! From diary comics to superheroes, from webcomics to graphic novels – this is where we'll be taking a look at comics by, featuring and for queer ladies. So whether you love to look at detailed personal accounts of other people's lives, explore new and creative worlds, or you just love to see hot ladies in spandex, we've got something for you.
If you have a comic that you'd like to see me review, you can email me at mey [at] autostraddle [dot] com.