The first time I watch Neelu Bhuman's stop-motion short, FU377, I hide the lower part of my face in my t-shirt because I am embarrassed. This is not through any fault of the film, which is a beautifully sophisticated exploration of familial intimacy, activism and queer heartbreak — but rather because Nain's mum (Amma) is trying to engage her in a conversation about dildos.
As the film explains, "Section 377 of the Indian Penal Code, dating back to 1861, was introduced during the British rule of India, criminalizing sexual activities "against the order of nature," including homosexual acts." FU377 is set in 2013, when Section 377 was reinstated, after having already been deemed unconstitutional and removed back in 2009. The law, which carried a potential penalty of life in prison, was scrapped once again in September of last year, meaning that gay sex was no longer illegal — a poignant moment for Indians, the South Asian diaspora and all of the other former British colonies with sodomy laws that were modeled on section 377 still in place.
FU377 from Neelu Bhuman on Vimeo.
The role of sexual control and enforcement of the gender binary through colonization of Black and brown bodies and lands is referenced often among the queers of colour who are living with the consequences, and yet somehow never enough. This conspiracy of silence has attempted to strip the Desi world of desire and expression despite the fact it is pretty well documented that Indians have, historically speaking, been knowing how to fuck.
Not to be extremely basic but Indians literally wrote the Kama Sutra, one of the most comprehensive and freaky texts on human sexual behavior in the history of the world, and yet for many of us, our lived South Asian sexual experience is heavy with trauma and secrecy. What a trick of the light, to rape, displace and psychologically alienate people on an unimaginable scale and then let them carry the shame of it. Bhenchods.
Mass colonization of Asia was successful, in part, by ruling the sexualities and genders of native people as… wrong. Wrong in comparison to the shame-steeped literal nightmare that is European cis-hetero-monogamy; wrong in its multiplicity; wrong in its curiosity; wrong in its freedom. This redefinition of queerness as worthy of shame is an act of warfare so pervasive that not only do we feel it today, but we have learned to police ourselves with it, from the inside out, and to expect the same from the people we love.
Whiteness, as jealous as it is greedy, relies on South Asian shame as a method of control — not only against us, but also using us to play our part in a global structure that perpetuates anti-blackness in order to protect white supremacy. By shaming South Asians, initially for our abundant sexual expression, and then again, more recently, for not being as """enlightened"" as the Western world in issues of gender and sexuality, we are left to toe a very fine line; Not a wanton Black girl, not yet an innocent white woman, but a respectably sexless paki, still.
FU377's protagonist, Nain, has just been dumped by her girlfriend. She lollops around the living room in a kind of ageless queer misery, bemoaning a future in which she just finds herself a "suitable boy." Amma, her spritely and well-informed mother, does her best to console her, "just because you're partially gay, Nain, doesn't mean you're not gay." She tries to distract Nain from her heartbreak with TV coverage of the activism against section 377, snippets of which are shown on the family television throughout the film. Amma even touches on the possibility of Nain being in love with a man and a woman at the same time — she's comfortable with the ambiguities of intimacy and desire. The film ends with mother and daughter, hand in hand, on their way to join the protests with placards that read, "Love Always, Any Ways, Many Ways" and "FU377″ — but not before Amma teases Nain about her poor stroke game.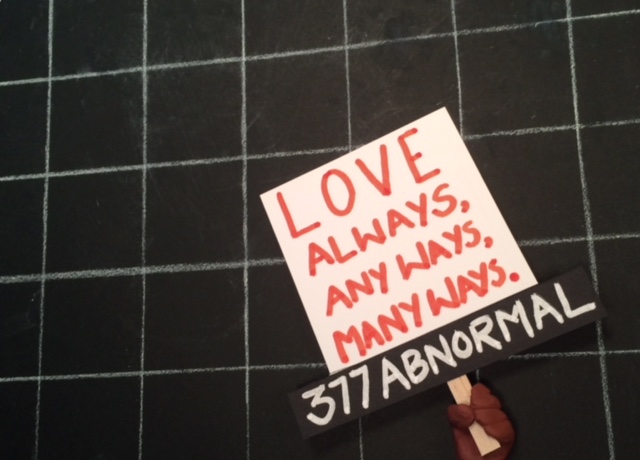 With intolerance of gayness understood as an official marker of how backwards various previously colonized lands are in comparison to "the west" — of how vigorously white liberals should wring their hands over it all — the decriminalization of gay sex in India is sold to us as a tale of savages come good. I know we know better, but that doesn't stop me from having to look at Tina's insufferable face as she tells me about the petition she signed to #Abolish377 and it doesn't stop me from feeling fucking infuriated about it all. What if the abolition of 377 doesn't signal an end, but is like one landmark on a long, long journey of healing from a legacy of colonial sexual trauma. What if it signals communal remembrance, anger, or a kind of decolonization I can feel at the back of my pussy.
FU377 presents us with much-needed affirmation regarding the normalcy and rich history of queerness in communities of color as well as a gorgeous fantasy of brown familial acceptance. When I talk to the filmmaker about this, they are keen to point out that while the character of Amma is based on their own mother (who has represented the film at festivals internationally) the character is ultimately still a fantasy. "It's how I wish my mum was," says Bhuman, explaining that their own mother would never talk quite that candidly about sex.
I have yet to decide if not wanting to talk with my mum about dicks is a result of internal colonization or just my actual personality, but either way I am moved by FU377's ability to do so much; from the energy of the agitated protestors and beeping phones, to the adolescent whines of a young heartbroken queer pretending that she wants to be alone. I watch the film, waiting for the part about shame, but it won't come.
Bhuman's next film TRANSFINITE is a sci-fi omnibus feature film composed of seven standalone magical realistic short stories where supernatural trans and queer people from various cultures use their powers to protect, love, teach, fight and thrive. It is getting ready to travel the film festivals worldwide starting in the Spring of 2019. More about their films at www.filmsofneelu.com.