Hello queermo pals! Welcome to your Friday Open Thread, a place where we come together as a community and chat about our weeks and also whatever topic I can come up with. I'm your host, A-Person-Who-Technically-Doesn't-Work-Here-Anymore-But-Still-Loves-You-And-Wants-To-Do-Friday-Open-Threads. It is sunny right now and I can smell Spring on the air! And I want to hear about your weeks AND ALSO this specific thing I came up with: the thing you are so into right now and you can't believe you haven't been into it all along, gosh, life would've been so much better if you had been! Mostly this is because health and circumstance have forced me to really take self-care seriously, and that means a lot of things for me: the ways I treat my body, the things I put into my brain, the folks I talk with (that's you all!). And I figure all of y'all have some tips and tricks on living your best life and gosh darn it, I want to know them ALL!
I'll go first, and I've got three things to share with you. The first: taking themed baths. You might remember that I touched on this in my Masculine Nerd Witch playlist, but I've gone and kicked it up a notch. This came out of the realization that Lush bath bombs, while expensive, are cheaper than extra therapy sessions. It also came out of being in constant pain and needing to be warm and covered in Epsom salts. I've never felt good in a bathtub (comes with all the body stuff!) and I've discovered the way to make myself feel really amazing in that space is theming my baths—what I'm eating or drinking, what I'm reading, what sort of face mask I'm doing? That sort of thing. Here's the bath supplies for the one I took on Easter!
And here's the stuff for my Spring Cleaning/Vicious Novel Revisions one!
It's basically like throwing yourself a theme party except you don't have to be responsible for anyone else's fun or feelings. You just, like, get to read and write and think and exist.
Second thing: subscribing to Daniel Ortberg's newsletter. I cancelled an Audible subscription that I barely used and instead decided to give my money to Daniel Ortberg, whose new book is rad and who Audrey interviewed on this very website. Somehow, despite being a huge fan of Ortberg's work and teaching it in my class full o' undergraduates, I somehow missed out on the existence of The Shatner Chatner until now? And like, after reading "Things I Imagine Joni Mitchell To Have Plausibly Said At Some Point Despite Never Really Engaging With Her Work,wp_postsI was essentially all TAKE MY MONEY. Because I want to be consuming humor that also challenges my brain meats instead of mindlessly scrolling through Instagram which is the equivalent of sucking on a Sour Warhead every ten minutes except for your mind. I want brain fuel funny; Ortberg is good at that. Plus then I got to read "Impulses I Have Had To Restrain This Yearwp_postsand whooooo boy, that is Relatable Content.
And lastly: cooking recipes out of One Pan, Two Plates. I am a good baker; I am a shitty cook. So I do things like "eat microwaved veggie sausage for three meals a day and also bake a cake with twelve sticks of butter in it and eat slices of that.wp_postsMy wife used to cook for us because she is really good at it, and so the meal/dessert division of labor worked out. But! She is working one bajillion hours a week and my jobs are flexible enough that I could maybe not eat microwaved veggie sausage for all meals if I just…cooked? Enter this book, which we received as a wedding present and is the easiest vegetarian cookbook I have ever cooked from. Might I recommend the Eggplant Rollatini recipe?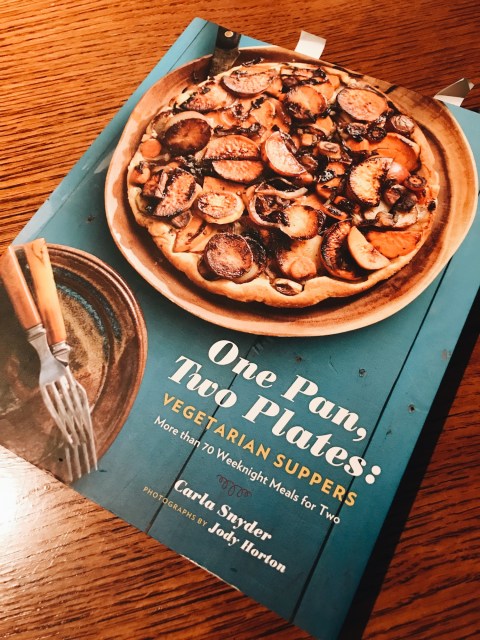 So what about you? What things are you loving tf out of right now that you can't believe you haven't been doing? I want to know! Let's all talk about it in the comments below!
---
How To Post A Photo In The Comments:
Find a photo on the web, right click (on a Mac, control+click), hit "Copy Image URLwp_postsand then…
code it in to your comment like so:
If you need to upload the photo you love from your computer, try using imgur. To learn more about posting photos, check out my step-by-step guide.
How To Post A Video In The Comments, Too:
Find a video on YouTube or Vimeo or WHATEVER and click "embed." Copy that code, paste it, you're good to go!