I am just, just starting to see the other side of that. My hands still sometimes don't work well, and I still don't have a diagnosis other than "maybe you are out of shape and testing positive for an autoimmune thing for no reason" (to be fair, I am super out of shape, inexplicable pain doesn't make you wanna hit the gym). And I have decided: 2018 is the year I learn how to live in my body. What that actually means for me is a lot of stuff I'm not ready to talk about publicly on the internet just yet, and also a lot of boring stuff like seeing all the doctors I have put off seeing for literally a decade and actually going to the gym. But the outward expression of all that work—the interesting bit that you'll see on my Instagram—looks a lot like Masculine Nerd Witch.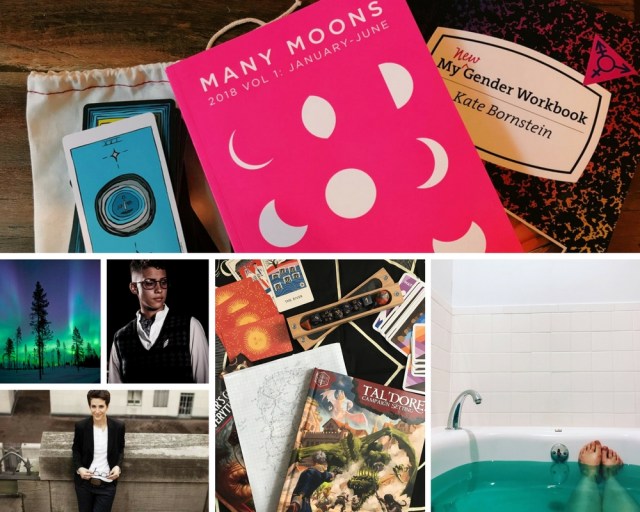 I'm taking back power this year, after a year of feeling so powerless. I've started doing the Many Moons Workbook and gosh darnit, I'm in love. January's theme is love for the self and it's exactly what I needed right now. I'm back to pulling a tarot card for myself every day. And because I hurt all the time, I necessarily have to take a ton of baths. Well, I'm going to make those baths—and a bunch of my self-care—feel as witchy as fucking possible. Bath bombs, salts, face masks that cost literally a dollar and smell like peaches. And aesthetically, I am embracing black as my new color. I've avoided it for literal years because I thought it washed me out and now I can't believe I ever thought I didn't look good in it. I am all set to cloak myself in the darkness; I have lived in New York City for years, it was going to happen eventually.

I'm also reveling in the parts of me that feel most like me—specifically my weirdo dapper masculinity and my nerdiest passions. I'm figuring out what a witch aesthetic looks like paired with my bound chest and standard bowtie. I'm getting really honest with myself about how I want my masculinity to look and feel, and how important it is to me. I'm having a friend introduce me to their most magical anime (I have never actually watched an anime series!). I got me some witchy dice at PAX that I can't wait to jump into a new year of Dungeons and Dragons with—I now run two queer, feminist D&D games and most of my players are writers. I'm revising my novel (with agent feedback this time!), which is set against the backdrop of the gaming industry, so I'm even hella nerdy in my personal creative process right now. Let's be real: I am never not nerdy in my creative process because I am never not nerdy.

Enter the playlist.

https://open.spotify.com/user/autostraddle/playlist/1Kgr2XMpxlzgUyVA56dxp2

My goal with this playlist is to be able to personally use it for pretty much everything right now—am I taking a bath, pulling a tarot card, revising my novel? Or is this the background music to a game of Weave? Or am I just walking through Central Park to a game soundtrack (it happens)? Am I just existing in this world as an intellectual who believes in science and technology AND ALSO is definitely casting spells to let go of really harmful narratives about themselves? Guess what—works for it all. And for those folks embracing their masculine nerd witch sides this year, I hope it works for you, too.

I had a really rough 2017, y'all. I mean, who didn't, but while I started the year with the fighting spirit, I ended it in constant pain with a mystery autoimmune thing and horribly, utterly despondent about it. At one point I was so symptomatic, my hand couldn't close around a pen. I ended the year with a slew of personal life problems and the newfound excitement of having four panic attacks a day. I realized exactly how low my self-esteem was; I didn't believe any of my friends when they told me they loved me.