I am a very lucky woman because next week I'll be getting in bed with Kristin for the second time on February 21st. What an honor! This is no ordinary Getting In bed With Kristin however, because we will be baking in bed. How cute, and fun, and delicious! Oh, and stressful, it's also very stressful. Eating dessert in bed, that's easy, but MAKING dessert in bed? That's something I've never done and feel very nervous about. It seemed like such a great idea when it was suggested, and it still is, but over the last few weeks it dawned on me that whatever I was going to make for this bed baking live extravaganza needed to check a whole lot of boxes. I needed to create a recipe that wouldn't be messy and put us at risk of spilling anything on Kristin's beautiful blanket. I'd never forgive myself. I also needed it not to include appliances/electricity for preparation, be something that can happen start to finish in one hour, and be easy enough to make while also talking and answering questions on camera and trying to sound smart and cute or whatever. Needless to say this was a serious challenge, but the only thing I love more than a challenge is one that involves dessert so did I figure it out? Damn right I did, cause cookies. Peanut Butter Chocolate Chip Oatmeal cookies to be exact.
These cookies take two bowls, bake in 20 minutes, have the least messy batter I've ever met in my life, and based on my solo test run can absolutely be assembled in bed. I just seriously upped my foreplay repertoire. They're wonderfully chewy but still have a solid texture, or as my girlfriend said "still give you something to do" because of the oats. The chocolate chips are perfectly melty if you eat the cookie while still slightly warm, which combined with the creamy peanut butter is almost too much. We all know peanut butter and chocolate are a culinary dream team so I don't even have to explain. Plus, if you use gluten-free oats these cookies are perfect for the gluten intolerant cuties of the world! I bet they'd be just as good with almond or sunflower seed butter too if peanuts aren't you're friend, AND with the right chocolate chips they'd be vegan too. Talk about versatility. They're also basically a breakfast food, especially if you dunk them in coffee like I have all week. Just let it happen. I'm so excited to share this recipe, and make it with Kristin next week! If you plan on watching you could even get all the ingredients ready and make them along with us. It'll be a party! If not I highly suggest you make them in whatever room feels most comfortable to you and get your Cookie Monster on.
Peanut Butter Chocolate Chip Oatmeal Cookies
Ingredients:
2 tablespoons ground flax seed
6 tablespoons warm water
1/2 cup unsalted creamy peanut butter
1/4 cup coconut oil, melted
1 cup granulated sugar
1 teaspoon vanilla extract
1 cup oat flour ( I ground 1 cup rolled oats in the blender)
1 cup rolled oats
1 1/2 teaspoons baking powder
1/2 teaspoon salt
1 cup semi-sweet chocolate chips
1. Preheat oven to 375° F.
2. In a small cup or bowl  (I used a measuring cup) mix together the flax seed and warm water and set aside to thicken.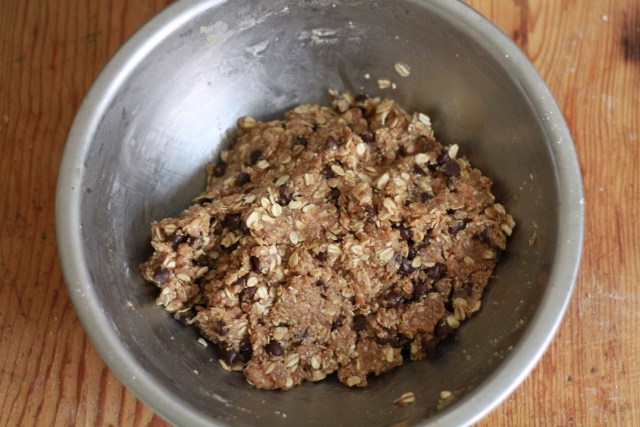 3. Meanwhile in a large bowl, whisk together the peanut butter, coconut oil, and sugar until fully incorporated. Next whisk in the vanilla and flax mixture. Lastly add the ground and whole oats, baking powder, salt, and chocolate chips and mix with a spoon or rubber spatula until there are no dry clumps of flour left. The batter will be VERY thick.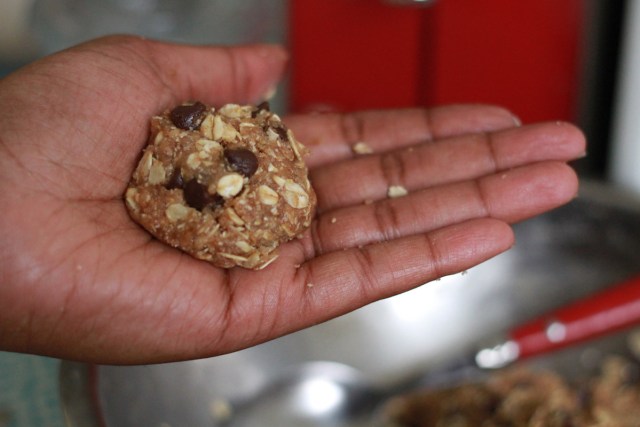 4. Roll the batter into 12 medium/palm size balls and place evenly spaced on a baking sheet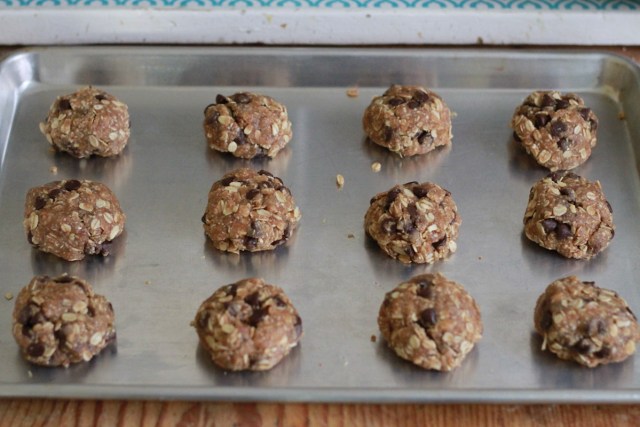 5. Chill the baking sheet in the freezer for 10 minutes. If there's no way a baking sheet will fit in your freezer, you can chill the dough in the bowl for ten minutes before rolling the cookies.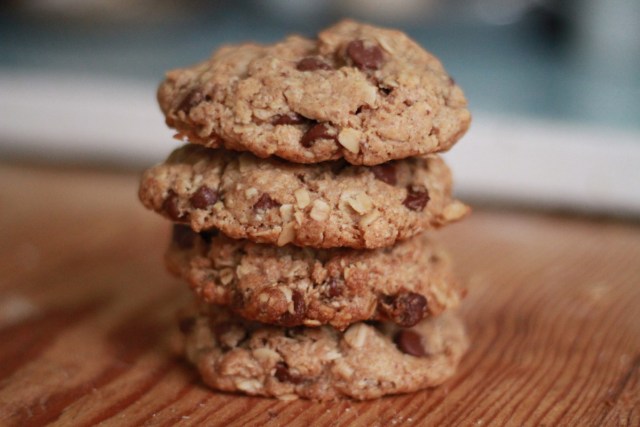 6. Bake for 18-20 minutes. The cookies should still give a little and feel soft in the middle when you poke them. Allow to cool for ten minutes on the baking sheet then transfer to a wire rack to cool the rest of the way. Just kidding eat them now but don't burn your mouth.
7. EAT COOKIES ALL DAY